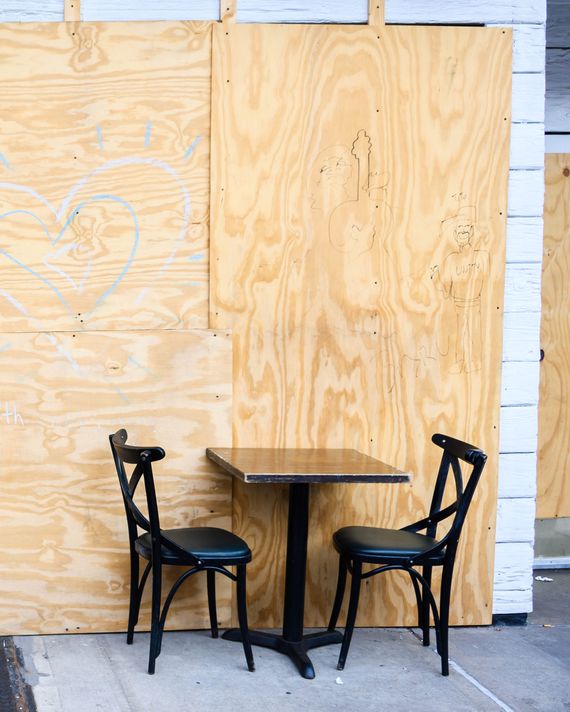 Photo: Noam Galai/Getty Images
This past Saturday, one of the most prominent features of the CARES Act, the enhanced unemployment benefit that added $600 per week to the typical allowance, came to an end. Americans who lost their jobs due to the coronavirus pandemic were left to wonder: What happens now? Details of the so-called CARES 2 package will start to be introduced today. A second stimulus check is likely, but the $600 could be instead replaced by a "return to work" bonus, which would create obvious problems for workers who are unable to find new jobs.
For many workers in New York's decimated restaurant industry, the benefit was the only thing that allowed them to stay afloat for the past four months. Now, these same people find themselves in an even more precarious position than before: They need to weigh the need to go back to work against their fears for their health, and there are no right answers.
In fact some employees may not have a choice. Receiving a job offer, like one from a former employer that's reopening for outdoor dining, can make a worker ineligible for unemployment benefits. That's what almost happened to Natalie — a server at a high-end Manhattan restaurant who asked Grub Street not to use her real name — when it looked like "Phase 3" reopening would entail limited indoor dining.
After the restaurant shutdown in March, "I didn't hear anything up, until a week before Phase 3 was going to happen," Natalie explains. She says safety was a major concern when she got the call about returning to work. "I tried to ask questions, like 'What are you doing about PPE?' But all of those questions were shut down." She says a colleague's concerns over reduced income were similarly evaded. Natalie says she's looked for jobs at other restaurants, and interviewed at a less-upscale business in Brooklyn, but was dismayed after speaking to a server there. "She had worked three days in a row, 12 hour shifts per day — something ridiculous like that — and she made 600 bucks that week."
Those who do go back to work in restaurants are often picking up fewer shifts, and making less money than before. And the jobs that do exist are few and far between. "It's slim pickings, and a lot of places aren't offering any hours," says Trina Quinn, the former sous chef at Red Hook Tavern. "What I'm starting to look for is people who are advertising their safety protocol. And by word of mouth, you see who is abiding by, or actually practicing these protocols. It's just really stressful."
Quinn left Red Hook Tavern in March, after the restaurant shut down, and decided not to return after she says ownership failed to deliver on the raises they had promised her staff before the pandemic hit. Management "forget that those people working those hours for them every day also need to make an income that allows them to have a life outside of work that isn't in poverty."
When Quinn's wife Jessica — the former executive pastry chef at the Flatiron District restaurant Rezdôra — was bumped down to a schedule of two days per week, she qualified for unemployment. Under the CARES act, the two were able to exceed their previous income, even when they both had salaried positions. "It's not that you're being paid more to stay home," Jessica says. "It's that restaurants weren't paying a living wage to start."
Jessica has since left her job to reassess her career while Trina looks for work, a task that has now taken on an air of danger. "Outdoor seating is terrifying because you're exposing yourself to so many other people," Trina says. "Front of House is constantly interacting with them, and so is the Back of House, and it doesn't seem worth it." She says that the stakes are simply too high. "It sounds dramatic, but we're all thinking it: I don't want to die just because I went to work." She adds, "None of us have insurance."
"It's impossible to be completely safe," says a former server at a Tribeca restaurant who asked to remain anonymous. She originally went back to work in June, when the city began to allow outdoor dining, and saw a wide range of risks, from both customers and co-workers. "Within the restaurant industry, there's this doomsday feeling," she says, "so people are quite reckless — going to a party and then going in to work." The reasoning for the parties, she says, amounts to, "If I have to come into work and put myself at risk, why not?" She quit her job three weeks after outdoor dining began and has since found a job in another industry.
For Nafissatou Bande, a baker at Colson Patisserie in Brooklyn, the return to work has been less stressful, but still with a few bumps along the way. Bande was laid off on March 29, along with the rest of the staff, so that the bakery could figure out their safety protocols. In June, her managers called her to hire her back, but she expressed concern about her hour-long subway commute; when they called again, after the MTA began nightly cleanings, she asked for time to find child care for her 2-year-old daughter who could no longer stay with Bande's grandmother; once she did, she went back to work. Now, she works in staggered shifts with the same group. One week they work three days, the next week, they work four, switching off with another group. If Bande gets sick, she'll receive 60 percent of her pay, even though she only started working there in February. "I was glad to come back, because I was really tired of staying home," she says, "and it's not like [the $600] is something that's going to be here forever. It feels safe." For some workers, the prospect of long-term job stability is more important than a short-term surge in cash.
For others, especially those who rely on tips, the CARES act offered the most stable option. For Chad, a server who has worked in the front of house of restaurants for 13 years and asked to only be identified for his first name, the difference between his income as a server and the CARES-subsidized unemployment "is that it's consistent, predictable, and dependable — it's the same every week," he says. "Which is something that we are not afforded in restaurants." That, he explains, is one of the most difficult parts of restaurant work. "You just don't know how much you're going to make."
Chad — who was laid off on March 15 when de Blasio announced the citywide restaurant shutdown, and has no current plans to return to work — says he's seen friends go back to work and receive less money than they were initially promised, suddenly thrust into a situation where they're not making enough income, but are unable to receive unemployment again if they quit.
As Natalie describes it, the pandemic and shutdown showed how many operators were willing to sacrifice their staff's safety to keep their restaurants afloat. "That's the thing with restaurants: they're always like, 'We're here to take care of you, we're a family operation,' but it's bullshit!" she exclaims. "Even the most hardened people in this industry are starting to wake up and realize just how fucked up everything is — there's no health insurance, there's no system in place to take care of us financially or health-wise. So the only thing we have is this CARES act, which shut us up for a bit." Now that it's over, she says, "we have nothing to depend on."
Some see this as a tipping-point moment, one from which there is now no going back. "There's been a baseline we've all accepted for a long time, and there was this unspoken, undisclosed way of doing things," says Jessica Quinn, the pastry chef. "I don't think that's going to be an accepted norm anymore, and I think that's going to be a shock to employers — it's a crucial moment."