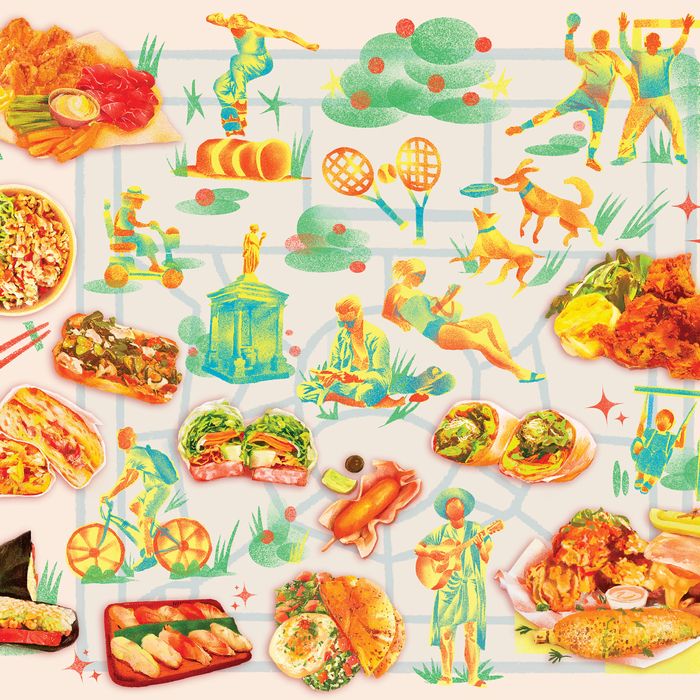 On the Venn diagram of eating strategies during a pandemic, picnicking is where takeout meets outdoor dining, and if you snag the right socially distanced plot of turf on the right balmy afternoon, it's better than both. Tompkins Square Park might not exactly be the Great Lawn, but it benefits by its proximity to some of the city's funnest, funkiest kitchens, many of which have pivoted to picnic-friendly fare.
1. Hearth
403 E. 12th St., at First Ave.; 646-602-1300
With his new "picnic basket" for two (actually packed in a shopping bag), Marco Canora provides everything but the blanket: chickpea-flour pancakes with olive tapenade, sunflower-seed hummus, fava-bean salad, giardiniera, butter beans with pesto, and half a Tuscan fried chicken. Plus brownies for dessert.
2. Momofuku Noodle Bar
171 First Ave., nr. 11th St.
Preorder on Caviar or just walk up to the makeshift sidewalk counter to procure David Chang's iconic buns, seasonal vegetable sides, and a heap of spinach-and-chile-sauced chilled noodles fiendishly designed to cool you down and light you on fire simultaneously.
3. Superiority Burger
430 E. 9th St., nr. Ave. A
Pounce and click at the stroke of noon on Mondays, and you could be the proud owner of a preordered grab-bag lunch: hoagies on Wednesday and Thursday and veggie burgers on Friday, all paired with a side and a dessert brimming with Greenmarket bounty.
4. Foxface
80 St. Marks Pl., nr. First Ave.
Although this quirky takeout-window kitchen has expanded with online groceries and outside dinner service, it made its name with lovably esoteric sandwiches that now must be ordered online for time-slot pickup. The Smoking Fox — smoked pork rib, coleslaw and pickles, and calibratable hot sauce — is like a cookout on a roll.
5. Noreetuh
128 First Ave., nr. St. Marks Pl.; 646-892-3050
As a testament to its picnic primacy, fried chicken can be found in parkside vicinity in the classic southern style, Tuscan spiced, and, at this Hawaiian-inspired spot, battered with mochiko flour and accompanied by Hawaiian-style macaroni salad and King's Hawaiian rolls. Order a batch of Spicy Spam Musubi for an appetizer.
6. Hanoi Soup Shop
119 St. Marks Pl., nr. Ave. A; 212-995-5010
Crunchy with raw vegetables and fragrant with herbs, Vietnamese summer rolls make perfect picnic fare. Get the combo — one pork sausage, one soy-garlic tofu — and supplement it with a brisket bánh mì and the tropical-fruit shake of the day.
7. Empellón Al Pastor
132 St. Marks Pl., at Ave. A; 646-833-7039
The tacos are terrific, but the eminently portable corn dogs, made with the same masa the kitchen uses for its tortillas, are what you want for a picnic. Get some queso on the side for dipping.
8. Cagen
414 E. 9th St., nr. First Ave.; 212-358-8800
It's not every park that has a world-class sushi joint a half-block away that's willing to pack up a 14-piece omakase to go.
9. Cafe Mogador
101 St. Marks Pl., nr. First Ave.; 212-677-2226
Meze by the pint is great for a crowd: Pick any combination of hummus, cucumber yogurt, falafel tahini, labne, and tabbouleh, plus a five-pack of some of the puffiest pita in town. (Bring serving spoons, and no double-dipping — it goes without saying.)
10. Nowon
507 E. 6th St., nr. Ave. A; 646-692-3867
The best dry-aged double cheeseburgers in town, plus Shin Ramyun chicken wings, smoky pickles, elote, and deviled eggs. If there's a better Korean-American-inspired picnic spread in New York, we don't know about it.
11. Sunny & Annie's Deli
94 Ave. B, at 6th St.; 212-677-3131
The sheer number of crazy-genius combos at this 24/7 bodega can turn the most resolute sandwich aficionado into an indecisive wreck. For a spillproof picnic, though, you want the Special BLT wrap: a neatnik assemblage of sprouts, bacon, tomato, watercress, cheddar, and avocado as well designed as a Swiss watch.
12. Bobwhite Counter
94 Ave. C, nr. 6th St.; 212-228-2972
The best picnic food is fried chicken, and the best fried chicken is Bobwhite's. A three-piece plate (one thigh, two drumsticks, and a biscuit) is a steal at $7.50, so load up on the sides.
*This article appears in the July 20, 2020, issue of New York Magazine. Subscribe Now!