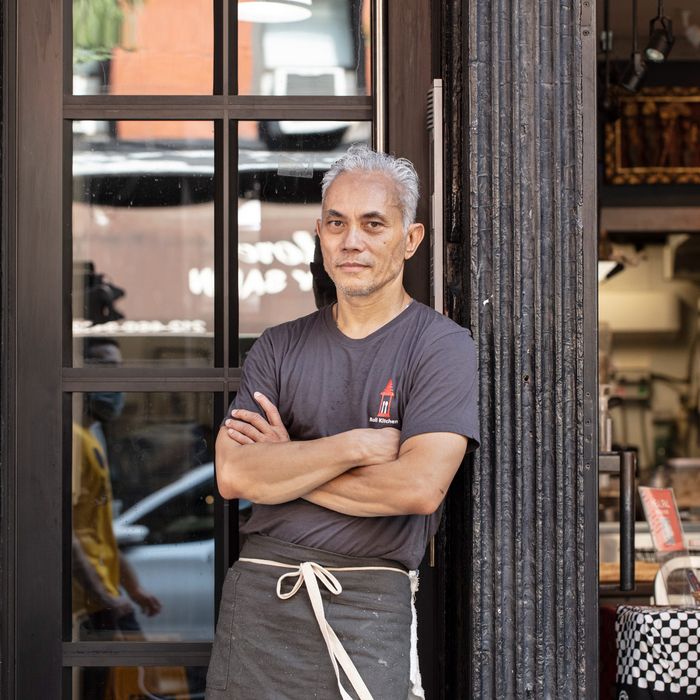 Jazz Pasay, outside his restaurant Bali Kitchen.
Photo: Melissa Hom
Opening an Indonesian restaurant in Manhattan means starting with that country's five national dishes: rendang, nasi goreng, satay, soto, and gado gado. Or at least, those are the dishes that Jazz Pasay started with when he opened Bali Kitchen in the fall of 2017. The chef and fashion designer, a native of Sulawesi with roots in Jakarta and Bali, came to the United States in 2012 to marry his American husband. But in a city with roughly 5,000 Indonesian residents, Pasay also wanted to find ways to continue engaging with his culture, and to bring more of it to his new home. He knew about the dearth of Indonesian food and culture in NYC, and the greater U.S. in general. So, he started looking for a place to cook.
"We opened the Indonesian restaurant because we wanted to introduce Indonesian food and Indonesian culture to New York," Pasay explains. "Not many people know Indonesia — they know Bali, but they don't know Indonesia."
He knew at the time that it would be a challenge. He opened, on a stretch of 4th Street between First and Second Avenues, just a few months after the closing of Kopi Kopi, another well-liked, casual Indonesian restaurant in the West Village. Bali Kitchen was just one of a handful of restaurants in the entire city — most in Queens, many serving a broader menu of Southeast Asian food — to serve any Indonesian cuisine at all. (To build customers, and engage with New York's Indonesian community, Pasay has also helped to organize and participate in the monthly Indonesian Food Bazaar in Elmhurst, Queens. It's here at the St. James Episcopal Church where strictly Indonesian food was served monthly, and Indonesian restaurants from as far away as Philadelphia could serve their food to the immigrant community.)
Pasay's involvement in his community and commitment to promoting it to a larger audience are what make the closing of Bali Kitchen — scheduled for the end of the week — so heartbreaking for its fans. To them, it was both a restaurant and cultural hub.
"I'm bummed," laments Anna Katomski, a public-health professional who spent a significant amount of time in Indonesia. "It wasn't white people appropriating Indonesian food," she says.
"It's hard to come by traditional Indonesian food," said Manhattan resident and tech start-up manager Krupa Patel, who also found Bali Kitchen to be a welcome destination after returning from Indonesia. "They offered diverse dishes that you could find all around Indonesia, like Sulawesi and East Javanese cuisine," he says. "It's really a loss for the community."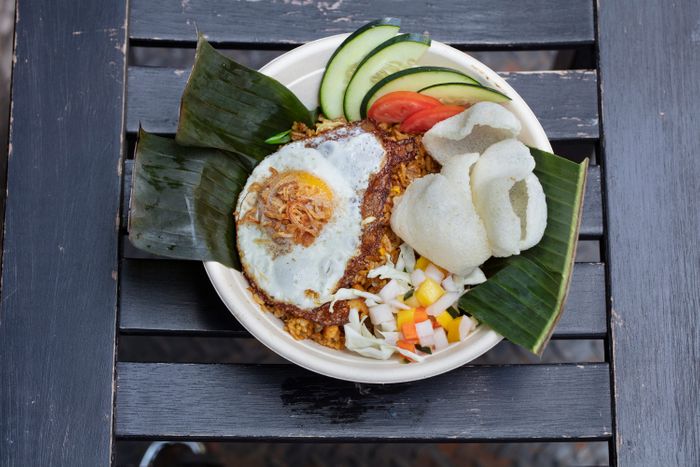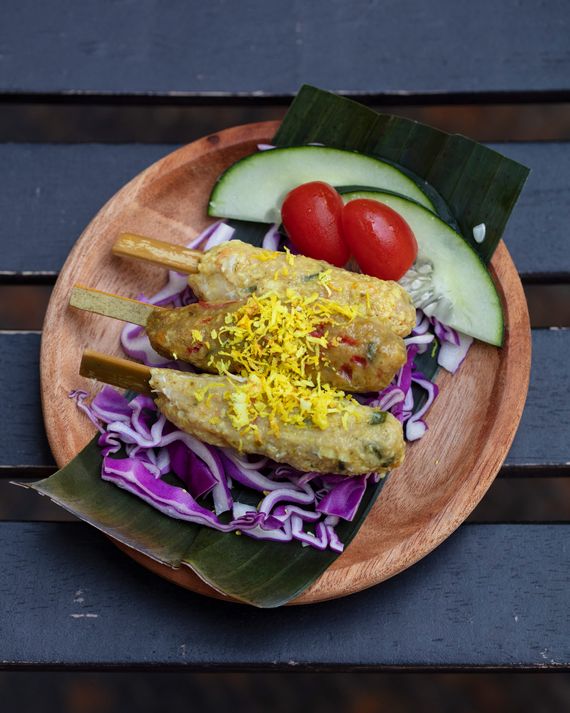 For a time, Pasay's business defied the odds. Building a restaurant that bears the namesake of perhaps the most well-known island in Indonesia gave Pasay a chance to hire Indonesian immigrants, many of whom had previously worked at Kopi Kopi, and introduce the East Village neighborhood to dishes that defined his and his employees' upbringings. "My staff is so happy to be here because they have the same vision for Indonesian food," Pasay says. "They want the city to know about how good it is."
To build his menu, Pasay selected recipes from Sumatra, Java, Sulawesi, and Bali, and incorporated staple items that Americans were more familiar with, such as chili sauce (sambal), peanut sauce, soy sauce, and fried foods like perkedel, a fried Indonesian snack of potatoes and minced meat. His nasi goreng, perhaps the most well-known Indonesian dish, is filling, well seasoned, and — recognizing Americans' aversion to room-temperature food that is popular in Indonesia — served quite warm. Pasay's dishes often reach far beyond the Balinese cuisine that often typifies the country's food.
Still, Bali Kitchen remains a unique project — founded by a queer, Indonesian man; run by Indonesian immigrants; serving Indonesian cuisine as envisioned by its owner's own childhood — and it struggled to attract the kind of customer base that many other Southeast Asian and Western, gentrified neighbor restaurants could.
Notably, while the challenge to make Indonesian cuisine more mainstream in Manhattan certainly exists, Pasay pointed out the harsh reality of the situation: COVID-19 has placed enormous pressure on even the most stable-seeming restaurants, and nobody is safe in this business climate.
Though Pasay was able to reopen Bali Kitchen in May for takeout and delivery, he simply hasn't been able to make the money that would be necessary to sustain his restaurant. "It's sad, but it's really understandable," Pasay says of this downturn. "We got a lot of our business from catering to the offices. The offices are now already closed down for four months. And then there are the NYU students — a lot of international students — who are not here anymore." He adds that all the tourists are gone, too. "We just suffered a lot," he says. "We have to do what's best to move forward."
There are fewer than a dozen Indonesian restaurants in Manhattan right now, and without Bali Kitchen, it will be even more difficult for fans of the region's food to find traditional, affordable versions of its most famous dishes. But Pasay hopes that his closing and others like it become a wake-up call for the city, and that ideas like Bali Kitchen can one day last in major cities.
"I'm still going to continue introducing Indonesian food and culture to America," Pasay says. "I'm quitting my restaurant, but not quitting my mission."