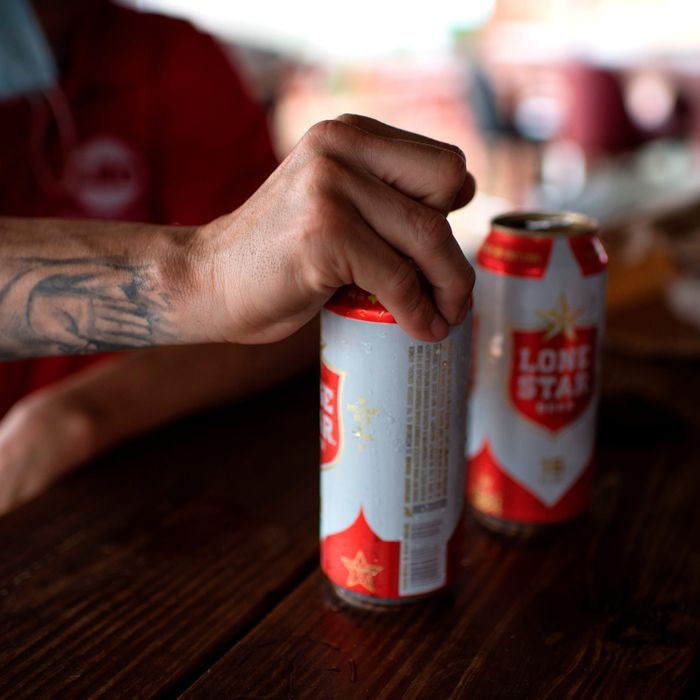 Photo: Mark Felix/AFP /AFP via Getty Images
Around the country, bars and restaurants reopened and then, in some states, re-closed for business, as the coronavirus continues to spike. As businesses reopen, service-industry employees have raised concerns, including restaurant owners not doing enough to keep workplaces safe for themselves and customers; overcompensation; and that they are being forced back to work. In states including North Carolina and Texas, business owners are not required to disclose if an employee gets sick. For one immunocompromised Texas bartender, that led to a confrontation with her bar's owner, who didn't want anyone to know she'd gotten sick. (In their state, some business owners have banned masks; on June 26, the state ordered bars to shut down, as the coronavirus surged, and three days later bar owners sued.) She talked to Grub about her experiences during the last few months.
I'm immunocompromised, big time. I got sick at the age of 28 with a rare kidney disease. The doctors said for somebody to get the disease at my age was super, super rare. But I've been working the whole time. I've been in the bar industry for 20 years, and I've never lived through anything like this. You get hate from all sides, you've got some people supporting you, and you've got my boss, who thinks this pandemic is fake.
I had some issues with my kidney that took me to the hospital, and I had tested positive for the coronavirus, so they took me to the hospital's COVID ward. I had a fever. I had the GI symptoms more than anything. I was vomiting. It kept weighing on me, whether to say anything at all, because when I was sick, my boss was pressuring me not to say anything.
I researched it a lot. I asked my friends who are being transparent with the restaurants where they work, how it went. They told me they were nervous, but it turned out people were responding positively: Thank you for being honest; thank you for being transparent; this shows integrity.
I just wanted to tell my regulars, and I was warned not to. My boss has MS, and kept bringing that up. He would say, "I'm immunocompromised, too, so I'm putting myself at risk, and" — you've probably heard this a lot — "I think I had it back in January, so I should be fine." That's how people justify it: "I'm not going to get sick. I'm pretty sure I already had it."
That might be true, but that's no reason not to take this seriously — especially if you run a business that caters to the public. We're a family restaurant. I couldn't go back to work and lie about having the coronavirus to people who are immunocompromised. I had a friend call me. She told me how scared she was that her 4-year-old had the coronavirus. He had a fever, she had a fever. Her company is a really big company, they stayed open and basically paid her to keep her mouth shut.
It's sad. I promoted for this guy. I really believed in this restaurant. But since COVID started, a lot of shady things have gone down. I could've definitely called the workforce commission and gotten everyone in trouble, but I needed to make money. I worked when I was on chemo. After my kidney transplant a few years ago, I started working again.
People that I work with wouldn't wear masks; they'd wear bandanas, and they'd never wear them on their faces. I told my boss several times, "We should do a picture where all of us are wearing a mask, and we should stick with it so people feel more comfortable." He didn't want to do it. Even when we were just doing to-go orders, I wanted to wear a mask. My boss looked at me and said, "You can't wear a mask." I asked why and he told me, "You wear a mask, it's gonna scare everybody." I was about to quit, but the next day the government implemented masks for employees, and he called me to say, "Well you can wear your mask now."
Our restaurant is next to a big lake. When we first reopened to the public, we had people from different parts of Texas come in. One group sat there and made fun of me the whole time for wearing a mask. People would laugh at me. Like, "Hey, you can take that down and breathe, you know us, we're regulars, we don't have COVID."
We couldn't have big parties, but those groups wanted to come in anyway. We would have to separate them, and they'd start drinking, and 20 minutes later, they would be hugging each other, loving on each other. We'd have no control of the situation. It was very frustrating.
All of the employees, I'm telling you, didn't take it seriously. We couldn't find anyone to come back to work. We needed a manager, so the boss hired one of our regular alcoholics. Working with this guy, he would get so drunk, he was skimming off the drawer. I've been working in bars 20 years and I've never been $50 short. He was also racist. He called one of our servers an "African hood-rat." He would never wear his mask. You had to keep reminding him. I hated it.
It's scary out there in the restaurant industry. People are scared to come forward because they're working their jobs that they're supposed to be working. They've got kids, they're being told to hush. People are so desperate right now to make money that they'll do anything to get past it. I think they are like, "I better keep this job because I'm not going to be able to get another one, and unemployment is going to be hard." I can see where people are coming from. But I personally cannot lie, when it comes to health, and someone really seriously getting sick because of me, because my boss couldn't come out and say that he had an employee test positive.
If he'd done that, yeah, we would've been closed down for a week and lost some money. But you shut down for 24 hours, get the restaurant professionally cleaned, and you get everyone tested. Make sure everyone comes back negative and then reopen. It sucks, but it sure beats closing down for good.
Just to work through this and have to hide my health from the public — I'm not going out like that. I'm not going to lie. I care too much. I can live off the tiniest amount of money. If I have to get a job at a grocery store, that's fine. But I'm not going to keep bartending at the same place and having to lie.
I'm not coming back. It's just not safe for me. I'm getting out of the business. I don't know if I can work in this situation, with my immune system, and it's the only thing I know. My cousin donated a laptop to me, so I can get on there and find other jobs I can possibly do after a few months of unemployment. I don't know how I'm going to pay for medication that I need. These are meds I need to stay alive. I'm scared.