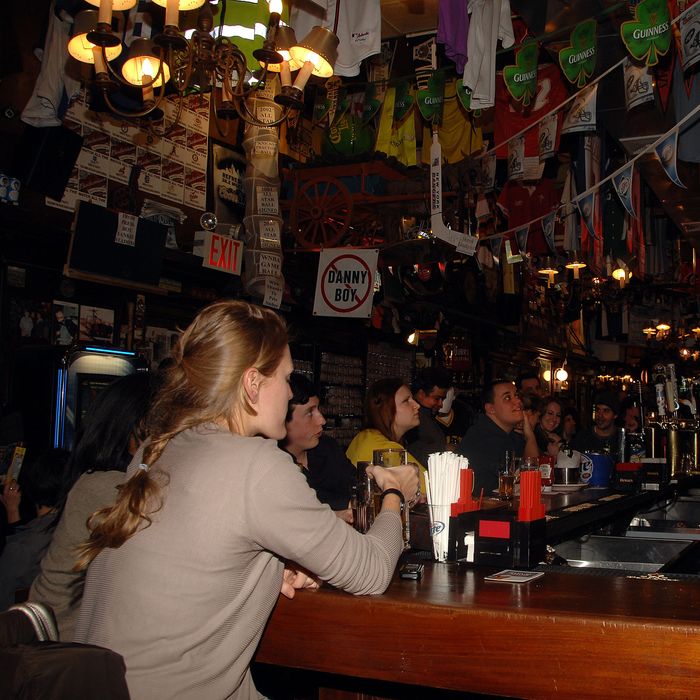 Inside Foley's, which will not reopen.
Photo: Marc Stamas/Getty Images
When Shaun Clancy announced on May 29 that he was closing his beloved Midtown sports bar, Foley's, because of the COVID-19 pandemic, the outpouring of support was immediate. Within a few days, Clancy says he got more than 500 text messages and 300 Facebook messages, including ones from Major League Baseball players, owners, managers, and general managers. On Twitter, it felt like every baseball writer in New York — and plenty from other cities, too — offered their condolences. But Clancy says he also heard from other people with less benevolent motives: memorabilia dealers inquiring about the bar's massive assemblage of sports collectibles.
Foley's had a well-earned reputation as New York City's best baseball bar, one that not only attracted fans and big leaguers and broadcasters and team executives but that looked the part, too, with an incredible collection of memorabilia, including, most notably, more than 4,000 autographed baseballs.
Foley's collection of baseballs mingled the signatures of legendary players with less recognizable baseball names: think scouts, sportswriters, and umpires. Some of the balls were signed by athletes from other sports; others, by celebrities, politicians, and even a pope (John Paul II). George Steinbrenner's ball sat next to Walter Cronkite and Loretta Lynn, not far from Billy Joel, Bono, and Michael Bloomberg. Chipper Jones was just above Elvis Costello and just below Ric Flair. Balls from Mickey Mantle, Sandy Koufax, and Hank Aaron were among the more than 100 signed by Hall of Famers. There was a ball signed by Betty Ford. There was one signed by Ron Jeremy. There were two signed by Donald Trump.
Not every ball represents someone who personally walked in the doors, but any notable figure that did was asked to sign a ball for "the wall."
Foley's memorabilia collection included plenty of non-baseball items, too: a boxing glove signed by Joe Frazier, hockey pucks autographed by Bobby Orr and Mario Lemieux, game-worn jerseys hanging from the ceiling, and a veritable army of bobblehead dolls. But Clancy says he never considered selling it all to extend the life of the bar.
Clancy says he'd gotten some PPP money and had been paying his entire staff of 15 employees since New York City bars were ordered closed in March. But the outlook was too bleak, and the impact was immediate: March (with college basketball tournaments, St. Patrick's Day, and the start of the baseball season) is typically the busiest month at Foley's, and the bar would count on it to make up for the slower winter season. He says offering delivery and take-out wasn't an option, either: He didn't want to put his staff in harm's way, and, he says, Midtown was too empty to make the numbers work, anyway. "Friday evening [on May 29], I stood outside Foley's at 5 o'clock, and in a half hour, four people walked past me," Clancy says.
Clancy says that when he published his video message about Foley's closing — a video that had more than 775,000 views on Twitter by the end of that weekend — he believed that he'd be walking away forever. "I thought this was it," he says. "I was done. There was no future."
But after the "humbling and mind-blowing" outpouring of well wishes, Clancy says he's reconsidering his future. Foley's won't reopen in its former spot on 33rd Street, but he says he's now focused on waiting out the pandemic, however long it may last, and opening elsewhere.
"My plan is that we will come back," he says. "I don't know in what capacity we're going to come back. I don't even know in what city we're going to come back, but my goal is that we will return."
Clancy says that at the time he posted his announcement, he hadn't yet thought about what would become of all the bar's memorabilia, and for the time being, he doesn't have to: He says any Foley's 2.0 will include the collection he's amassed since opening in 2004.
For now, everything has been packed up and moved into storage — a process that Clancy says has been emotional because of the stories he associates with some of the baseballs.
Says Clancy: "I think I've had every memorabilia hound east of the Mississippi, and even some west of the Mississippi, reach out to me. Oh, what about your collection? My collection's going into storage, and when the time is right, it will come out of storage and go back on the walls and you'll be able to come and admire it again. I can't say where, but my plan is that we're coming back."