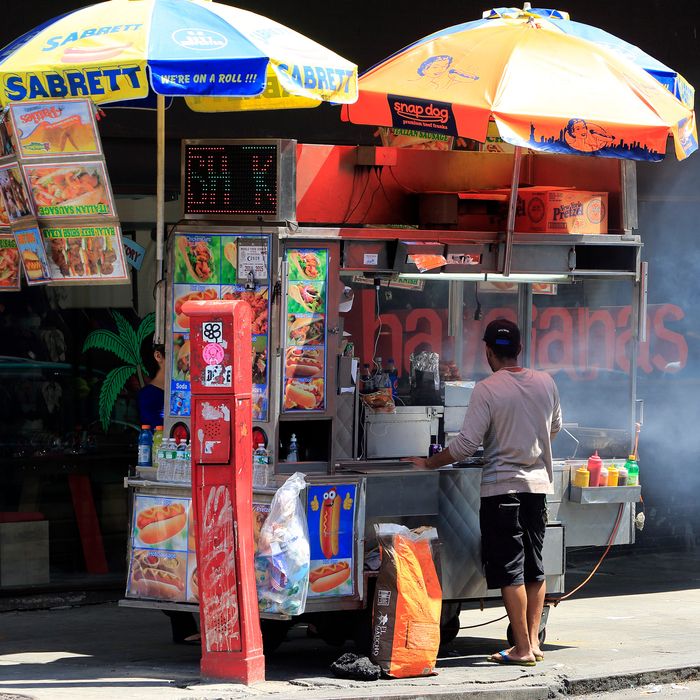 A New York street vendor.
Photo: Bruce Yuanyue Bi/Getty Images
Restaurateurs in cities where protests have taken place over the last eight days have voiced support for demonstrators protesting the police killing of George Floyd. This includes ones who have had their businesses damaged or vandalized, like Gandhi Mahal's Ruhel Islam and Bar Amá and Bäco Mercat's Josef Centeno, who tells the New York Times, "I'm in full support, in total solidarity, with the protesters." Their city's sidewalks merchants are joining them. Last night, a coalition of street-vendor organizations including New York's Street Vendor Project released a statement in "unconditional solidarity" with the Movement for Black Lives. On behalf of vendors from New York to Los Angeles, they write, "We condemn the violence and brutality police are using against those fighting for the right to exist."
The statement, which can be read here, is attributed jointly to the SVP, the Los Angeles Street Vendor Campaign, and Many Languages One Voice, which have formed the National Coalition for Street Vendor Justice. Along with calling for the defunding of police nationwide and addressing recent police killings, the statement notes that the three organizations have been checking in with members and "trusting our lived experiences as street vendors of the harassment we have faced from the police."
In pointing out resources currently being given to police budgets in Washington, D.C., Los Angeles, and New York while other budgets are slashed, they raise a question others have asked about the jarring juxtaposition between the federal government's response to the protests and the coronavirus pandemic. Instead, they share a mutual call for investment into resources, like housing and support for undocumented people, for the health and safety of black communities. The letter ends with a request that members and supporters lend their voices to the call for defunding the police.
Street vendors are disproportionately immigrants and people of color, including undocumented people who struggle to find work or are exploited by businesses because of their status. Police harassment is a reality for them and has continued during the coronavirus pandemic. In late May, street vendors in Corona — which in April was called the epicenter of the outbreak— were given summonses by cops. An undocumented worker told the Jackson Heights Post they have no choice but to be out there, because they aren't getting aid.