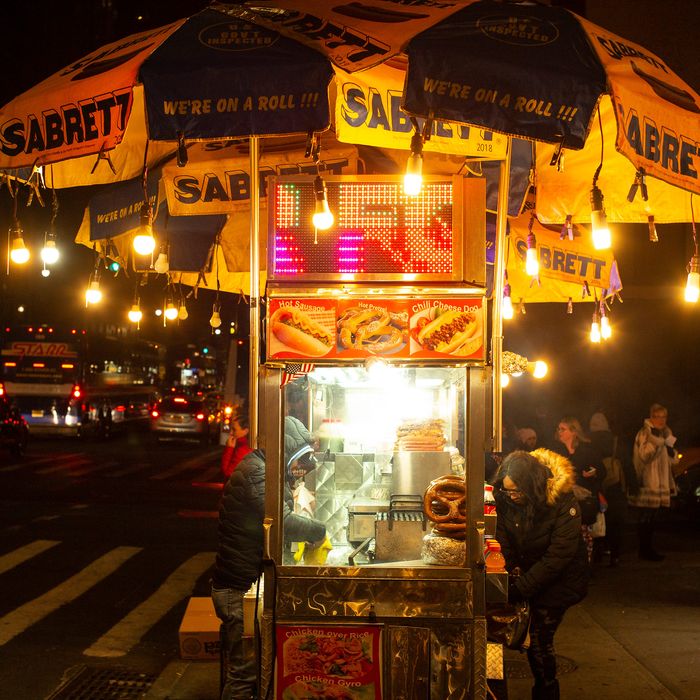 Street vendors have often complained of police harassment.
Photo: Robert Nickelsberg/Getty Images
On Sunday, New York City mayor Bill de Blasio announced that the NYPD will no longer be involved in the enforcement of street-vending laws. Oversight will be the responsibility of civilian agencies, as part of what the mayor bills broader police reform.
In response to news, the Street Vendor Project released a statement calling the announcement "a major step forward to reaching our goal of legalizing street vending in New York City." But the organization — while repeating its support for others calling on the mayor to defund the NYPD — says that it will hold de Blasio accountable for the words. It also calls for actual action to take place, including that de Blasio's statement be integrated into relevant statutes and regulations, communicated immediately to NYPD Commissioner Dermot Shea and police precincts, and for vendors to no longer be "ticketed, harassed, or even approached by the NYPD."
They aren't alone in asking for answers. "Moving away from the NYPD is a welcomed decision, but we await further details of the replacement plan," says the State Senator Jessica Ramos. "We need to legalize street vending so our smallest business owners can be free of harassment."
Ramos, who represents parts of Queens where street vendors are a vibrant and vital part of the local economy, has made street vendors a part of her campaign. Last year, she introduced legislation to remove the cap. "We actually should be investing in these small businesses," she told me in 2018.
While food trucks became trendy early last decade and developed cultural cachet, those trucks tended to be run by individuals who were more media savvy or had more money to put into their businesses. Street vendors, on the whole, tend to be immigrants and people of color. Many are veterans. Others are undocumented people who can be taken advantage of by employers, and who can assert agency over their lives by running their own sidewalk businesses.
Street vendors in neighborhoods like Jackson Heights and Corona have long complained about police harassment and unnecessary ticketing. In October 2013, the SVP held a rally across from a police precinct to protest the police treatment of vendors. Then in 2017, Flatbush vendors spoke out about harassment in response to ticketing by the NYPD, BKLYNR reported then. Outrage was sparked again in November of last year, when police were filmed arresting a churro vendor in the cavernous Broadway-Junction stop. The incident occurred while the NYPD ramped up policing of fare evasion, which has been criticized for criminalizing poverty and targeting black and Hispanic riders. In response to the churro vendor's arrest, de Blasio told reporter Yoav Gonen, "It's against the law and it's creating congestion and she shouldn't have been there."
De Blasio's announcement comes amid calls for police abolition and reform around the country, sparked by the protests over police brutality and the killing of George Floyd. In Minneapolis, members of the City Council have announced they will disband the police department, while in Los Angeles mayor Eric Garcetti has introduced a plan to cut the LAPD budget by $150 million. In New York, de Blasio has been sharply criticized for his poor handling of the protests, lack of control over the NYPD, and vague promises to reform the police department.