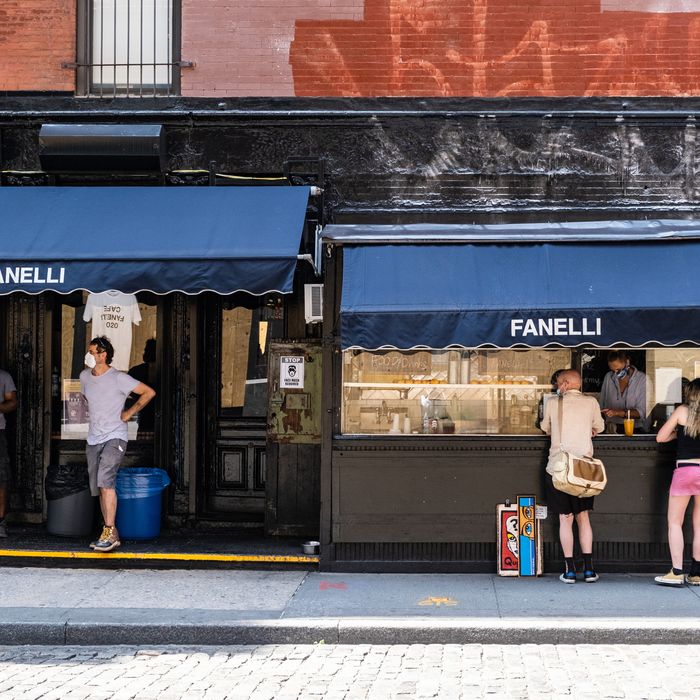 Outside Fanelli Cafe in Soho earlier this month.
Photo: Jeenah Moon/Bloomberg via Getty Images
This morning, Mayor de Blasio confirmed that restaurants can begin offering outdoor dining starting Monday, June 22, as the city officially moves into phase two of reopening. Here's everything you need to know.
So outdoor dining does start on Monday?
It has been confusing, but yes. Yesterday, Governor Cuomo said the city was "on track" to enter phase two on Monday, but de Blasio still had reservations, citing concerns about how the virus might have spread during the weeks of protests. He predicted a more likely phase two reopening at the beginning of July.
But today, de Blasio announced that New York City's coronavirus stats are low enough that the city can begin the next phase of reopening on Monday after all. "We still have a long way to go — we all know that — but based on the really good indicators we've seen today and for days and days before that," he said at this morning's press conference, "I'm very comfortable now saying that we will start phase two on Monday, June 22."
Aren't patios very small, though?
One of the big questions has been how restaurants will manage to seat enough people outdoors to stay viable, given that New York City is not known for its spacious meadows.
Now there is a plan. The city has laid out five ways for restaurants to boost outdoor capacity, which, the mayor promises, are straightforward and do not require excess paperwork:
Curb lane seating: As previously announced, restaurants will be able to set up tables in what would have been the parking area, part of a pilot program that will run at least through Labor Day.
Increased sidewalk seating through October: This just makes sense.
Backyard and patio seating: Restaurants that have backyards and patios are, of course, welcome to use them.
Open Streets seating: Some restaurants will be able to set up in streets that have been closed to traffic as part of the city's Open Streets initiative. The details of this are still a little fuzzy, but it will be for night and weekend dining and should take effect in July.
Pedestrian-plaza seating: Pedestrian plazas, run by business improvement districts and civic associations, will be allowed to work with neighboring restaurants to expand into the plazas, though the BIDs will need to apply for the extra seating through the Department of Transportation.
Will restaurants be able to sell alcohol at their extra seats?
Yes. As long as a restaurant has an existing liquor license, that will extend to all seating. De Blasio announced that restaurants will not need to fill out a separate application with the State Liquor Authority.
Will servers be wearing masks?
Yep.
Will customers be able to use restaurants' bathrooms?
Yep.
How do restaurant owners apply to set up this extra seating?
De Blasio announced this morning: "The application will be simple. It will be online. And restaurant owners 'self-certify'" their readiness to open. The application will be on the Department of Transportation's website tomorrow, and restaurants can officially seat alfresco diners again on Monday (but, de Blasio emphasized, no earlier than that).