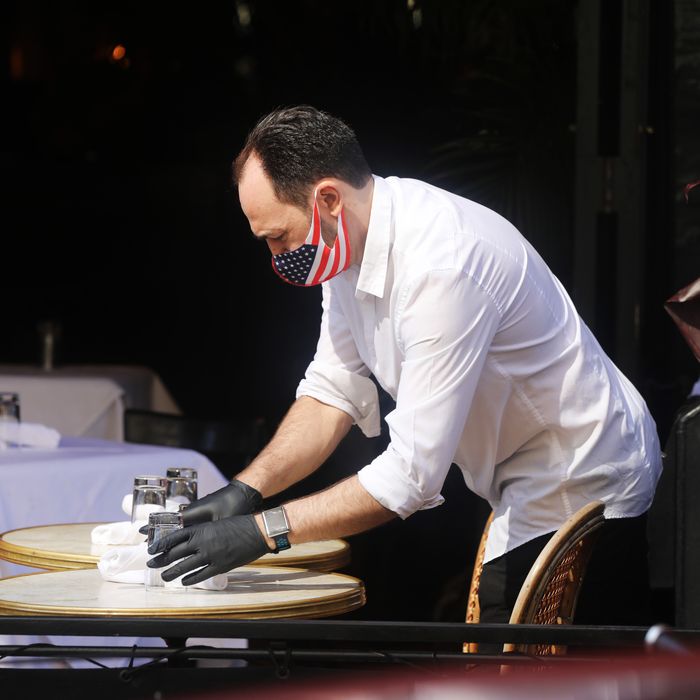 Setting up for service on Monday.
Photo: Spencer Platt/Getty Images
Are you happy about the fact that, all around the country, restaurants are reopening for real? Are you surprised that outdoor dining has actually returned in New York City? Are you possibly more surprised to learn that indoor seating will come back in less than two weeks?
Will you be able overlook the fact that if you head to a restaurant today, you might be seated on a backless stool that's been set up in a reclaimed parking spot?
Do you wrestle with the ethics of eating restaurant food at all right now? Do you worry about the compromised safety of the cooks and couriers who make delivery food possible? Will you be focused on the health of the servers, managers, and bartenders who are now also involved in prepping and serving meals?
Will the sight of plastic surgical gloves on servers remind you that we are still in the grip of a global pandemic with no actual end in sight?
Can you handle feeling like a moderately selfish person if you go to a restaurant, even though you know it will feel so good to do anything?
Will you be able to forget about the fact that more than 38,000 new cases of COVID-19 were reported just yesterday, a ghastly single-day record for America? Will you be able to get through a full meal without thinking or talking about death at all?
Do you think about the fact that just talking to another person — a stranger, even! — will feel somehow luxurious?
Are you ready for a server to potentially deliver a silver tray of hand sanitizer to your table?
Are you still furious over the fact that the people who operate and work in these businesses had their livelihoods completely stripped away overnight? Are you amazed that any restaurants are open at all after one-third of a year with no meaningful revenue and no government help? Do you struggle with the desire to support them if it means possibly compromising your own safety?
Does it seem bonkers to you that many of these workers are being forced back to work even though they would make more money if they were able to maintain their unemployment benefits?
Does it bother you that our government still actively downplays the risk this virus poses? Does it anger you beyond words to read that 22,000 deaths could have been avoided in New York if more stringent social-distancing rules had been implemented just one week earlier?
Are you worried that this compulsion to go outside is going to doom us to live through this whole cycle again?
Do you ever think about the fact that even though we know more about how the virus spreads than we did even in March, people are going to extreme lengths to avoid wearing masks?
Are you ready to leave, like, a 500 percent tip for your meal to acknowledge the very real sacrifices these workers are making for your convenience? Do you think it would be appropriate to order something like cases of beer for the back-of-the-house staff, who are legally not allowed to partake in tips even though they are at just as much risk as everyone else?
Do you worry that by simply enjoying yourself for a little while you'll feel like you're deluding yourself into thinking things are okay, even when they very much are not?
Is it absolutely so weird that there are no right answers here?