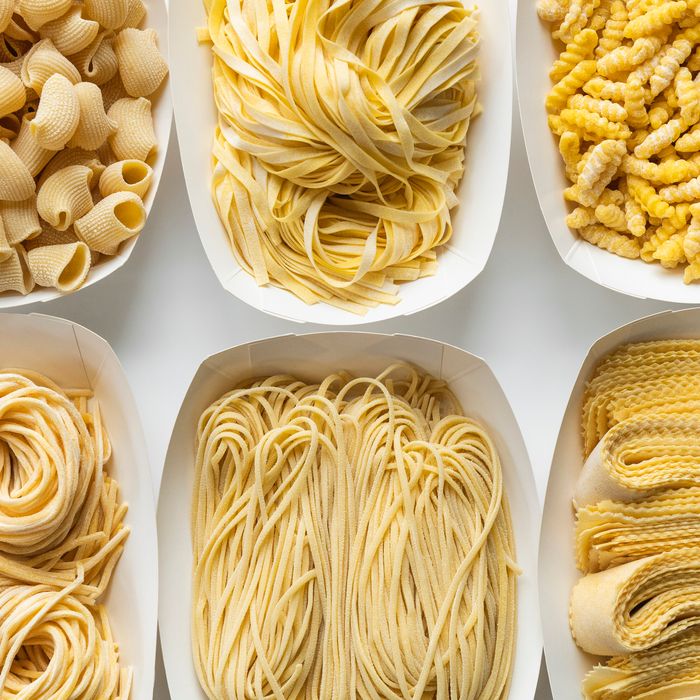 Old Italian saying: Pasta waits for no one. Nothing worse than cold gnocchi or lukewarm linguine, after all. And no one is more committed to upholding that cardinal tenet of primi promptitude than Missy Robbins, chef-owner of Brooklyn's Misi and Lilia restaurants.
"We've always had so many requests for pasta to go, and I've always been really adamant about not doing it," she says. "People—even friends—come in and say, 'Oh, my husband can't make it tonight. Can I have a rigatoni to go?' and I'm like, 'No.' And that just has to do with quality and wanting people to experience pasta as it was meant to be experienced, and that is right away."
Perfectly understandable position for a pasta guru to take.
Of course, crafty pastavores know the way around the rule is to place an extra order of occhi or strangozzi, let it alone, then politely ask the waiter to wrap it up at the end of the meal.
And not that Robbins hasn't been swayed, on the rarest of occasions, by a heartfelt entreaty: "My mom's really sick at home, and she really wanted to come tonight," a customer would claim, and then Robbins's resolve would weaken and she'd whip up an impromptu care package containing the uncooked components for, say, her mafaldine with pink peppercorns and Parmigiano along with handwritten instructions. "We just got to thinking that this was the way to do it," says the chef.
Thus Misipasta was born. Robbins soft-launched the line in February via Instagram, then shut it down when the coronavirus hit.
Now, in a time that almost seems invented for them, the pasta kits are back, available five days a week by online preorder. The rotating menu includes paper-wrapped Misi-made fresh and extruded pastas like the much-sought-after mezze rigatoni, which comes with a jar of "30-clove" pomodoro sauce, feeds four, and goes for $45.
But the pasta project is only phase one of Robbins's grand retail plan. This week, she officially launches phase two, a full-fledged online Italian grocery designed to turn Robbins superfans into Robbins understudies.
"People are always asking me what kind of olive oil or anchovies or fennel pollen I use," says Robbins, so she's put together two weekly pickup food bags under the umbrella name MP Grocery: One collection carries an "Italian tool kit" of 12-to-15 pantry items, and the other contains meat, fish, or poultry selections, plus fresh produce designed to spotlight Robbins's favorite vegetable-whisperer, Patty Gentry, who runs Long Island's one-and-a-quarter-acre Early Girl Farm. "That tool kit has become very refined for me and shaped my cooking voice," says Robbins. "I want to bring that to people. I want them to see why the Calabrian chiles are the only ones we use or introduce them to young broccoli rabe (it's just the leaves) that they won't find in a store."
Down the line, Robbins also plans to launch what she's calling MP Specialties, a rotating roster of dishes, some of which will require a little prep (cooking semolina-and-pecorino-crusted chicken) and others that will simply need to be heated ('nduja meatballs), plus Misi and Lilia staples like butters and vinaigrettes. Takeout gelato and drinks are also on the horizon.
All told, it's the virtual realization of a long-held dream of the chef, who is a confirmed old-school Italian-specialty-foods-shop addict (Faicco's is a favorite). "I grew up going to local pasta stores in New Haven and was always fascinated by them," she says. "When I left A Voce, I thought about opening one, but it wasn't the realistic thing for me to do at the time." Suddenly, the timing couldn't be better.
Misipasta and MP Grocery, at Misi restaurant, 329 Kent Ave., at S. 4th St., Williamsburg; 347-566-3262; mpnewyork.nyc.
$45 pasta kits are available to preorder for next-day pickup five days a week; $195 pantry and $198 produce bags are available for preorder pickup once a week.
*A version of this article appears in the June 22, 2020, issue of New York Magazine. Subscribe Now!