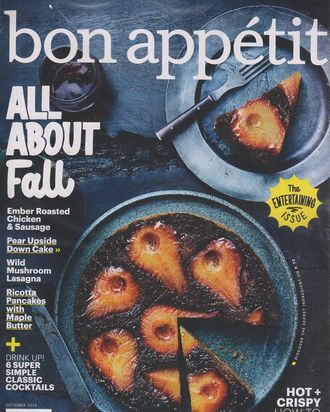 Condé Nast's Matt Duckor has left the company.
Photo: Bon Appétit
Matt Duckor, who oversaw lifestyle programming for Condé Nast Entertainment and was one of the leaders behind Bon Appétit's popular videos, has left the media giant. Business Insider reports that Duckor's departure was announced in a letter from Condé Nast Entertainment president Oren Katzeff. (Duckor confirmed the news to the Times.) Following the resignation of editor-in-chief Adam Rapoport, Duckor was criticized by the magazine's contributors and staffers for issues of compensation for BIPOC employees as well as fostering an environment that discouraged diversity. One Twitter user also surfaced old tweets of Duckor's making jokes that many saw as homophobic.
Duckor held one of the most important behind-the-scenes positions at Bon Appétit, where he started in 2011. He's been at Condé since, including a stint at sister property Epicurious (which was eventually brought under the BA umbrella) from 2014 to 2017. He was one of the chief figures behind Bon Appétit's wildly popular "Test Kitchen" videos, which attract millions of viewers. "Test Kitchen" fans were among those calling for Duckor to resign, with additional attention focused on Bon Appétit drinks editor Alex Delany over a Confederate flag cake he posted to his Tumblr in 2010, a homophobic Vine video from 2013, and sexist tweets from 2012 and 2013. Delany apologized for the Confederate flag cake, calling it "shameful" on his Instagram Story.
The move comes after Business Insider published an in-depth report in which 14 former and current employees, all people of color, came forward to discuss their experiences with Rapoport, Duckor, and what they say as a culture of pervasive toxicity and systemic racism.
In that report, Ryan Walker-Hartshorn, who spent nearly three years as Rapoport's assistant, says of the now-former editor-in-chief, "I am the only Black woman on his staff … He treats me like the help." Walker-Hartshorn describes being denied a raise from her $35,000 salary during her time at the publication, including a conversation that occurred after Rapoport's much-criticized "food is political" newsletter, when he responded to her request by saying she should "consider that this is not the right job for you." Early on in her time at the magazine, Walker-Hartshorn also says that when she asked Rapoport how he wanted his coffee, he responded, "I don't know, like Rihanna."
The report makes clear that this goes well beyond Rapoport or Duckor. Contributor Rick Martinez, who is Mexican-American, shares that former deputy editor Andrew Knowlton once asked him whether he was a "one-trick pony" because his work has focused in large part on recipes reflecting his background. Knowlton, who was at the time one of the most prominent names on the magazine's masthead, apologized to Martinez in a statement to Business Insider. After another incident involving former staffers Alyse Whitney (who has written for Grub Street, the Cut, and the Strategist) and Nikita Richardson (a former Grub Street writer who now writes for the Strategist) talking with Delany and Brad Leone in the "Test Kitchen" studio, the food director at the time, Carla Lalli Music, emailed staff including Whitney and Richardson to not visit without permission. Delany continued to go to the studio.
Following Rapoport's resignation, Healthyish editor Amanda Shapiro has been named acting deputy director, the Times reports. (In 2017, Healthyish published a story on matcha, spirulina, and turmeric that was criticized as culturally insensitive and for which Bon Appétit eventually apologized.) According to the Times, Shapiro insisted on taking the job only on a temporary basis and asked for a person of color to be named the next editor-in-chief.