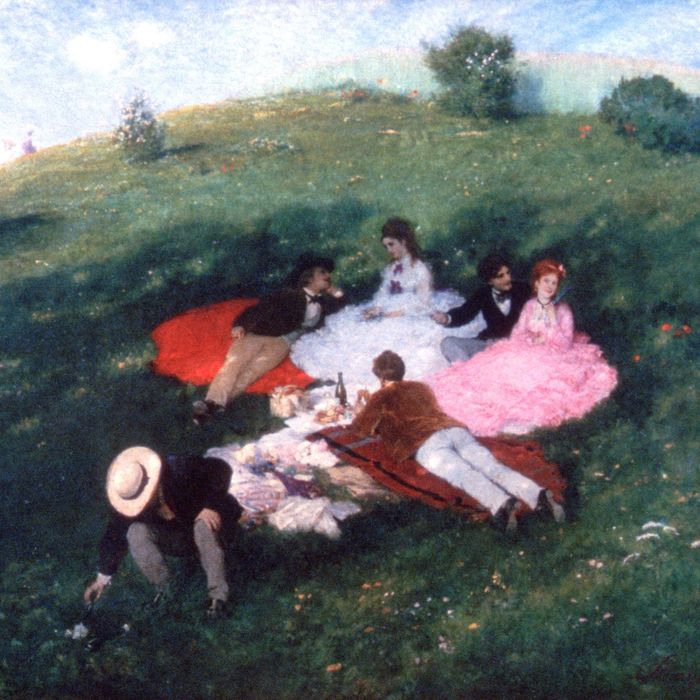 Don't forget your masks.
Art: Universal History Archive/Getty Images
It is the summer of the picnic. It is always, to some degree, the summer of the picnic — picnics, after all, are a classic summertime activity, like eating lobster rolls, or getting severe sunburn — but this summer is even more picnicky than usual. This summer, the picnic is sort of all we have.
"Picnics are the restaurants of COVID," says Ti Martin, one of three co-owners of Picnic Provisions & Whiskey in New Orleans, which is dedicated to the art of picnics. Once, we could share meals with friends in cushy, climate-controlled places, such as cafés, or inside our houses. Now, if you would like to see someone you do not already live with, the safest way to do so is outside, and from a distance equivalent to at least three dachshunds, or one average Latvian man. Add a baguette, and what you are having is a picnic. It is not only seasonally appropriate but socially responsible.
It's true that, picnicking, by its very nature, can be inconvenient. "It's a huge schlep," says Mimi Sheraton, the former New York Times restaurant critic and noted picnic hater. "You have to make the right kind of food, pack it, get it in the car, go someplace, unpack it. It's a drag and it's never really comfortable," she tells me. "Le Dejeuner sur l'herbe looks idyllic. I mean, half-nude women models sitting on the grass with poetic looking young men. I wonder, How are they going to get up? It's going to be awkward."
Still, even Sheraton acknowledges that outdoor dining is quite nice, and that, for those of us without backyard gardens, picnics may have a place. She will concede that "maybe it's one kind of possible diversion from the limitations of the pandemic."
However you feel about picnics, what once was optional has become the only option. If outside is safer than inside, and if there is no vaccine and no treatment, and if we would like to see our friends again, there is no choice but to surrender to the power of the picnic. All we can do now, the gardenless among us, is follow in their footsteps. Martin, for example, keeps a picnic kit stocked with matching gingham linens "permanently ready," in case of an emergency al fresco. I have debated doing the same. We are all picnic people now.
My understanding is that the French are very good at picnics, and Myline Descamps and Claire Obry, the co-owners of French Wink, assure me that indeed, picnics are extremely French. "The word 'picnic' is French, so that means probably French people invented the lifestyle around the picnic," Descamps reasons. The picnic lifestyle, she explains, is both casual and luxuriously slow. There is lunch. There is lounging. Perhaps there is some soccer. Perhaps there are some naps. "For me," she says, "it's more the feeling than the food."
Wendy Weston is the founder and president of Perfect Picnic, a company that offers New Yorkers (and, as of this summer, Hamptonites) frictionless European-style artisanal picnic experiences, so I called her for guidance on my socially distanced picnic journey. She happens to very much agree with Descamps and Obry.
"Picnic," Weston tells me, "is a state of mind." The first and most important ingredient of a perfect picnic, generally,  is "good company," she says. "It's simple. Surround yourself with people you love, and be present." At the moment, it is best not to surround yourself too closely — two baguettes apart is her personal guideline —  and part of being "present" means remembering that nothing is normal, even if it feels that way, and you should sanitize your hands.
Still, she argues, none of this interferes with the basic value proposition of a picnic, which is that it is a very short vacation from your life. Couldn't we all use that right now?
After talking to these picnic experts, and more, I gleaned a few bits of wisdom on how to picnic specifically in the era of COVID-19 and necessary social distancing. Here's what I learned.
The Food
Picnic may be a feeling, but food is still essential to that picnic feeling. Think of a picnic as a subcategory of potluck, Descamps advises, but not just any potluck. "It's important to bring something special." A picnic is a collaborative effort, a mix of ready-to-eat offerings — cheeses, charcuterie, fresh strawberries — and homemade contributions. A quiche, perhaps, or a rice salad, or maybe pissaladiere, a caramelized onion and olive tapenade pizza from the South of France. A savory cake is never wrong.
You want foods that get better as they sit, Weston advises: Romaine holds up better than arugula. Salami is heartier than turkey. Marissa Mullen, the cheese influencer behind @thatcheeseplate, recommends hard cheeses over softer ones, although with an ice chest and proper Tupperware, anything is possible. To preserve crispness, pack your breads and crackers separately. For COVID times, she is a fan of the single-serve mini-cheese board. 
There is nothing that cannot be pre-portioned into a single servings, if you put your mind to it, and the advantage, as Martin points out, is that miniatures tend to be adorable. If you must share, consider an unlimited supply of toothpicks.
On the idea of sharing. Although French Impressionist picnic art would tell you otherwise, sandwiches, single-serve by nature, are in fact an ideal pandemic picnic food, assuming you take adequate protective measures to preserve their structural integrity.
I called Jon-Paul Salonen, a naturalist guide at Yosemite Conservancy for advice, on the theory that any sandwich that can hold up to Yosemiteis probably good enough for Prospect Park. His advice: Wraps, which can then be wrapped again in wax paper, so they will continue to be fine for the duration of the picnic.
For a more traditional two-slice sandwich, the trick is pay attention to the order of ingredients. "We always try to insulate the bread from what's happening on the inside of it," says Tory McPhail, another co-owner at Picnic. He recommends using a nice leaf of romaine on top of the bottom bun or bread slice — a vegetal barrier — and using a cheese layer to keep your meaty fillings separate from your more liquid components. The goal, in sandwiches as in life, is to prevent an oozing mess.
If the sandwich is very large, he suggests wrapping it in halves or quarters: It is arguably the safest way to split a sandwich and also means you're not leaving a half-eaten mound of pastrami on the beach for several hours, accumulating sand.
The Drinks
Wine is the classic beverage of the French picnic, obviously. Specifically rosé, Descamps and Obry tell me. Among its many other merits, rosé is, according to the dictates of French etiquette, allowed to be served over ice. (Another tip: Make sure someone is in charge of ice.)
Counterintuitively, the rosé itself does not have to be French. A mouthwateringly acidic Austrian rose is excellent for picnics, says Michele Thomas, a writer and the assistant manager at Fort Greene's The Green Grape, as is a Hungarian pino rosé: fresh, with ripe cherry notes, and hint of rose across the top, it is an unsung hero of the rosé world, with a price point of  "way under 20 bucks." This is important always, but especially now, as we contemplate the sheer quantity of picnicking that is ahead of us. Either way: Now is not the time for anything heavy or too expensive.
It also just so happens that your standard 750 ml water bottle is exactly the right size for a full bottle of wine, which is how Thomas recommends transporting it. This allows you to avoid both glass and open-container citations, and if you put the bottle in the freezer for half an hour before pouring in the wine, it also acts as a low-budget cooler.
Another option: canned wines, which Thomas notes are exceptionally well-suited to the socially distanced group picnic, since they come in individual, easy-to-chill servings that do not require cups or repeated touching. (She is partial to Vinny.)
Do not let yourself be limited by Frenchness, however! A batch of cocktails is also ideal for picnics — many in fact taste better if you make them in advance — and water is important, for both refreshment and the continuation of life. Instead of using ice packs, Martin likes to chill her cooler with frozen water bottles, which melt into extra drinking water over the course of the afternoon.
The Gear
Part of the deep joy of picnicking is overcoming the unnecessary obstacles you made up. You must embrace discomfort. That means you don't want a ton of gear. If done right, a picnic can be indulgent suffering. If you insist on the comforts of a table, you might as well stay home.
Still, there are supplies that make it easier. For instance, have you considered purchasing a wagon? "That makes your life a hell of a lot easier right there, like a picnic version of a grocery cart," Weston says, assuring me that there are wagons that fold up and fit in closets. Martin agrees: a picnic is a schlep that needs a wagon. I agree this seems excessive, but consider this: it is only June.
It is, they promise, an investment that opens possibilities: with a wagon, you can have a classic wicker picnic basket and a cooler. You can consider reusable plates, and perhaps real glassware.
Here is one crucial item that is extremely important right now: A blanket, which can serve as your own social-distancing barriers. Or, rather than accepting the limits of a standard picnic blanket, Weston suggests spreading out a canvas drop cloth — the kind from the hardware store — because they are cheap and huge and wrinkle-free and have the added benefit of keeping everybody else away from you. "It definitely changes the experience," she says. "It's nice to be able to take the space easily. You're on your own little island." (See? It really is a vacation from life.)
There are other things that you will want to remember all the time, even for non-pandemic picnicking: Paper napkins, or linen napkins. You will want a pocket knife of some sort — why, you cannot know in advance, but it could be important — and of course, you will need a corkscrew. People are always forgetting corkscrews, Obry warns. "The hero of the picnic is the one who thought to bring a corkscrew," she tells me; do not miss your shot at greatness.