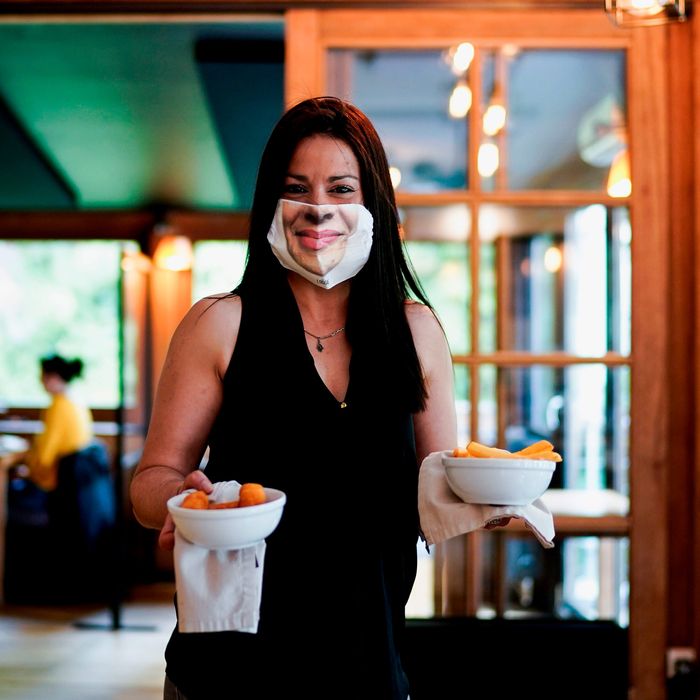 A server in Belgium, wearing a face mask we hope does not come to New York.
Photo: Kenzo Tribouillard/AFP via Getty Images
After three months of mostly dystopian speculation about the future of New York City's restaurants, the state finally released a few more details about how reopenings will work.
And the answer, so far, is: pretty much as we'd all suspected. When restaurants reopen for indoor dining — "going to restaurants," as we used to call it — it will be at half-capacity, with fewer people sitting at more distant tables.
With the exception of a concrete limit on crowd size — "no more than 50 percent of maximum occupancy," according to the governor's new guidelines — the indoor dining rules are pretty much the same as the outdoor ones. Tables are supposed to be at least six feet apart in all directions, and if that's not possible, operators should separate tables with "physical barriers" that are at least five feet high. Employees will be asked to wear face coverings at all times, and diners will be asked to do the same except when they're sequestered at their tables.
Groups of up to ten people are allowed to eat together, as long as they're members of the same party, and communal tables, like bars, are okay "if at least six feet can be maintained between parties."
The state also has a whole slate of optional "recommended best practices," several of which are designed to limit the time diners spend in restaurants, breathing and touching things. Customers should wait outside, rather than crammed together by the weird bench in the vestibule, the guidelines suggest. Restaurants should encourage reservations and urge diners to order in advance.
As for timing, all of this is still at least a few weeks off. New York City just entered Phase One of reopening on Monday. Outdoor dining, part of Phase Two, is expected to start early next month. The earliest that indoor dining — a Phase Three development — could come is in late July.
What will it feel like to eat dinner in a socially distanced fortress, and do you want to? The guidelines do not say. In states that have already reopened for dining, though, business has been slow. Crunching sales numbers, Slate's Jordan Weissmann works out that, as of mid-May, reopened restaurants were doing "just over one-third of the dine-in business they were before." Some of that is because restaurants are operating at limited capacity. But it also suggests that diners aren't rushing back.
Speaking to the New York Post last month, before the guidelines were announced, restaurant consultant Donny Evans said, "I'm not sure I want to go out for dinner, forget about the six feet thing, but waiters in masks … I'd rather have dinner at home." There are two intertwining issues here. One is safety — is eating out worth the risk? The other, of course, is fun.
The days of lingering are over, or at least on an extended hiatus. At 50 percent capacity, restaurants are going to need to turn over tables fast. Restaurants will be very clean and very efficient — "safety, quality assurance, and hygienic measures will become hallmarks of an exceptional hospitality experience," one expert told Eater — and while this is clearly necessary, it is not, historically, why people go to restaurants.
If restaurants can make it long enough to convince customers it's safe, and if the infection numbers don't go up, perhaps we will all come around to this new reality. For example, it will be sort of nice, to have all that space at restaurants. It will be like eating dinner in Montana. Most large group dinners are terrible — ten is a reasonable limit even under ideal circumstances. Under the right circumstances, a five-foot barrier seems potentially sort of cozy. Certainly, it will be useful for having embarrassing public fights, or exchanging privileged information.
There are no revelations in the new guidelines, but they do help paint a clearer picture of what we already knew: restaurants aren't going to feel normal for a long time.
Maybe that is okay. Like so many other things, maybe restaurants shouldn't ever go back to "normal," because normal wasn't actually all that good. "Normal" was a broken system built on exploitation. "We're on the verge of nothing new," warned activist chef Tunde Wey. And it's clear the real goal should be to rethink everything.