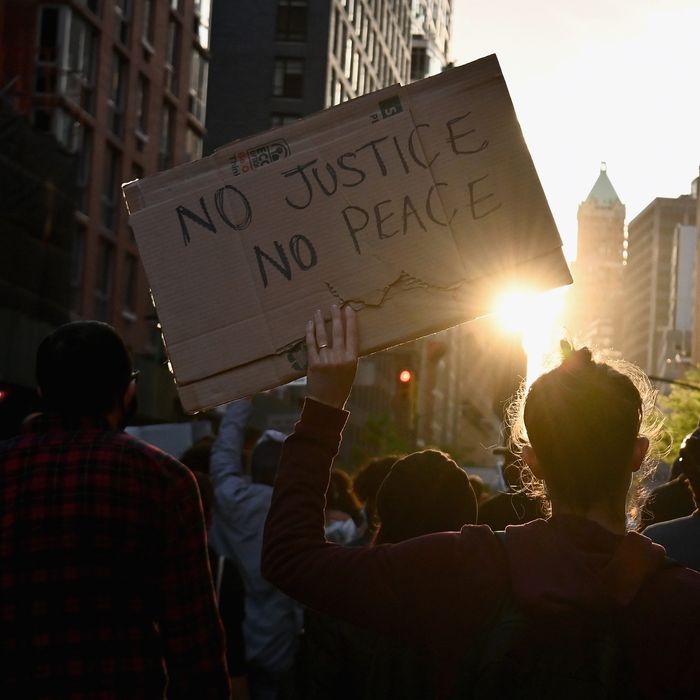 Protesters as the sun was setting over New York on June 1.
Photo: Angela Weiss/AFP via Getty Images
When Mayor de Blasio announced yesterday that New York City would be under an 8 p.m. curfew until Sunday, June 7, it was made explicitly clear that "essential workers" would be exempt from the rule. But it was not clear how that would work in practice. Many in the food world immediately thought of the delivery and restaurant workers who have already been struggling to keep themselves, and their industry, afloat.
The curfew does not apply to restaurant and delivery workers, who are essential employees, as the New York Hospitality Alliance clarifies. But a lot of restaurant operators don't feel that they can — or should — keep their usual hours during the curfew. After the announcement of the curfew, some restaurants that had been open for takeout and delivery, including the MáLà Project and Wildair, simply shut down for the night, while others immediately cut back their hours, allowing workers to get home well before the curfew took effect.
"What I think the curfew is reflecting is that kind of anger on the street, especially after dark," says Yong Zhao, CEO at the Manhattan Chinese mini-chain Junzi Kitchen. "We have to keep our team safe." (Yesterday, all locations closed at 3 p.m. so workers would have ample time to get home.) "Seventy or 75 percent of the staff is African-American," Zhao explains. "They're scared." While the company can give proof of employment that, in theory, workers could show to the police if they were stopped after curfew, many staff members don't feel safe on the streets right now, and for good reason.
But for restaurant workers who are paid hourly, and delivery workers who are members of the gig economy, not working means not getting paid. In theory, nonessential workers out after curfew will be asked to go home, and given summonses if they don't comply. "If people are going about their business or people are on their way home, we understand that," the mayor said. "The curfew is there to allow police to address any situation where a person is trying to do violence to a person or property."
Already, there have been calls to avoid delivery altogether until the curfews lift, but maybe the more responsible approach — which can still help struggling workers and businesses — is to simply plan ahead. If you insist on getting food delivered (and are lucky enough to be in a position where that is even possible), order early, stock up, and — as always — tip as much as you possibly can.