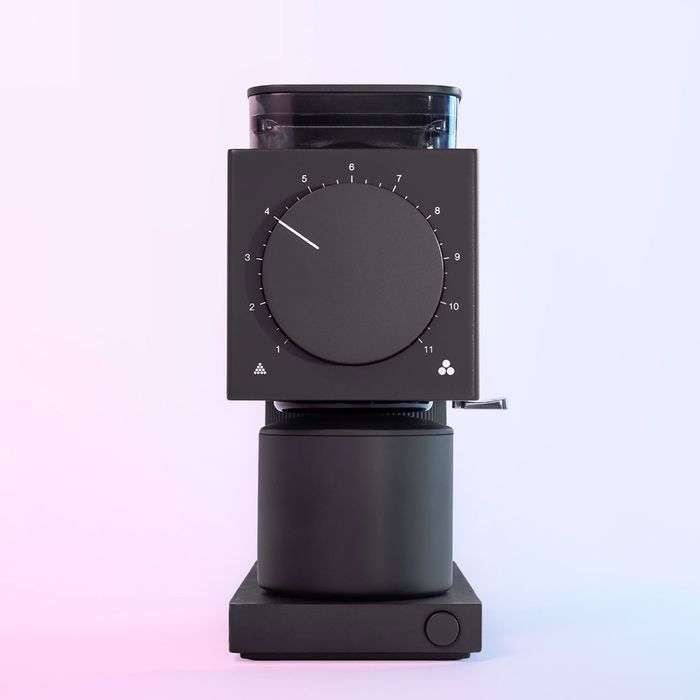 The Ode Brew Grinder by Fellow.
Photo: Courtesy of Fellow
When my daughter was born a couple of years ago, I was lucky enough to spend the first month of her life away from work, at home. What I quickly realized, like other brand-new dads I've spoken to, was that I was more or less useless. Our daughter needed her mom, and the tasks with which I could help — cooking, errands, cleaning up — could be capably handled by delivery apps and a Roomba. So, in addition to those duties, I figured the least I could do was try to make everything as pleasant as possible for my wife. One part of that meant finally figuring out how to brew coffee with the Chemex pot that had been sitting in our pantry. (The first few tries with it had made coffee that was too weak or too bitter, generally not great, and we shelved it.)
So I sought out the best beans I could find. I figured out the mathematically correct ratio of coffee to water. I carefully poured the hot water over the beans in a clockwise fashion. I read all about the vaunted "4:6" brewing method. I began to take meditative comfort in the entire quiet ceremony, and two years later, I still do.
The one thing I did not do was invest in a burr grinder because running a big, immovable grinder would only wake our hopefully sleeping newborn, and I couldn't justify the New York countertop real estate for a device I would use, at most, for 90 seconds a day. So I've made do with our little electric handheld grinder, and it's been more or less fine.
But the curious thing about Instagram ads is that they are either wildly off base (for almost a year I saw ads for Tampa lawn services, despite the fact that I have never in my adult life been to Tampa), or they somehow tap into your deepest retail desires. This was the case with the Ode coffee grinder, sponsored images of which have appeared on my timeline for at least a few months. What can I say? The clean industrial design, matte-black finish, and giant knob looked good to me. (I am a simple creature.) It was the kind of minimal, possibly impractical design that wins Red Dot awards, but all it had to do was chop up coffee beans, so how "functional" did it need to be, really? Even from the photos, I could tell it had just one button: "grind."
Yes, I briefly debated spending nearly $300 on an attractive coffee grinder that I saw advertised on Instagram, but — probably lucky for me — it was, and is, only available for preorder. So I did what any gadget-coveting editor dad would do and emailed the company's PR person to ask if a review model was available. Indeed one was, and a couple days later, a beautiful, sturdy Ode arrived at my apartment.
I unboxed it and set it up, and I can say without reservation that, in person, this piece of machinery is just as handsome as it appears in the marketing photos. It also has those little thoughtful design details that make certain tools more enjoyable to use than others: The grind-catching cup clicks into place thanks to a little magnet. (The satisfaction you feel when your AirPods snap back into their case? It's like that.) The giant knob on the front that adjusts the grind size is as smooth and luxurious-feeling as you'd hope. The lid on the loading bin even contains a dead-simple grinding guide, so you can instantly dial in the grind-size you'd like for however you want to brew the coffee.
The Ode is quiet, but maybe not so quiet that I'd risk using it with a sleeping toddler in the next room. It is also inevitable that some of the dust from the ground coffee will spill on the counter. Still, these are minor complaints, because more than anything, the Ode is exceedingly pleasant to use, and I know that I would be not unhappy to turn it on each morning. I have dialed in a "6" (good for French press, according to the handy guide), and made coffee that way. I have dialed in a pour-over-appropriate "3" and made the Chemex coffee. And the coffee is … pretty good. A more learned connoisseur than I might be able to tell the difference, but my wife and I think the resulting, Ode-ground coffee tastes more or less like the coffee we get when we use our cheapo Krups grinder. The experience is wonderful; the coffee is pretty much the same.
In the next couple days I'll have to send the grinder back, and that will kind of bum me out because going back to the handheld grinder will feel a little bit like returning home after a nice vacation. It will be fine. We'll be happy to get the counter space back, and my wife will still tell me each morning how good she thinks the coffee is. In the end, that's all I really want, anyway, and it's far more satisfying than the click of a magnetic cup.