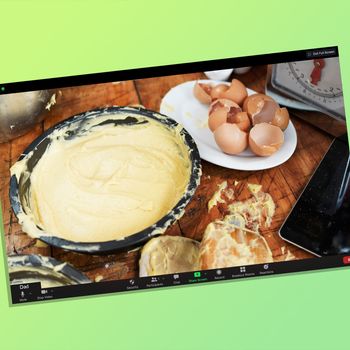 Photo: Cultura/Getty Images
For those who live near their families, Father's Day is an excuse to go home and celebrate dads for all the things they do best — washing the car, having a beer on the porch, not knowing how to shop for groceries. But for many, going home won't be in the cards this year, as social-distancing guidelines have kept us in social bubbles and from seeing one another. That doesn't mean you can't cook together, though. You'll just have to do (most of) it over, say, Zoom or FaceTime, pan-frying your pork chops or grit cakes together, and making some martinis during the downtime. Here are 14 ideas to get you started.
Jubilee's Smothered Pork Chops
Toni Tipton Marie's Jubilee, a compendium of African-American cooking, is rich with recipes you'll want to make staples: the barbecue shrimp, the red beans and rice, the Island banana bread. But you're in need of one fit for a celebration, so look no further than the smothered pork chops: pan-fried chops swimming in a thick, rich roux punctuated with capers and lemon juice and zest.
Zaitoun's Slow-Roast Lamb Shoulder
A showstopper from Yasmin Khan's Palestinian cookbook, slow-roasted until it becomes so tender you can pull it like pork, with a crusty, dark skin courtesy of the pomegranate molasses. You'll have to start marinating it the day before and then roast it four hours — so your Zoom might be more about the sides — but you'll have leftovers for sandwiches for days, so the tradeoff is clear.
Maangchi's L.A.-style Kalbi
Maybe you have a Grill Dad. Maybe you are tired of making the same burgers with him, but you've spent the last few months mostly inside, and are now looking for any excuse to be outside. If you're so lucky to have a grill, then bring the Korean barbecue back home, with a recipe from Maangchi — Youtube's queen of food — for kalbi, the tantalizingly sweet marinated short rib. Plus, she's got plenty of recipes for sides, if you want to make a spread.
Bryant Terry's Spinach and Kale Grit Cakes
There are plenty of recipes to love from the vegan chef Bryant Terry, whose latest cookbook, Vegetable Kingdom, includes this one for spinach and kale grit cakes. The greens get puréed and added to grit cakes that are fried, and served with a cashew-cream based sauce punched up with homemade Creole seasoning.
Superiority Burger's New Creation
Were you planning on bringing home a spread from New York's favorite veggie-burger place? Do the next best thing, and cook one of Brooks Headley's recipes from the Superiority Burger cookbook: The veggie burger itself is a bit of a challenge (unless you're a more experienced cook), so try a simpler dish like the New Creation, a riff on the Philly cheesesteak that's made with yuba and much better than its inspiration.
Bryan Ford's Semitas de Yema
Maybe your dad has exhausted all of his quarantine baking projects (the sourdough croissants, the Chinese flatbreads, the banana bread). Consider baking a recipe from Bryan Ford's New World Sourdough — a book all about the naturally leavened breads of the Americas — like his semitas de yema, a semi-sweet Honduran bread made for dipping.
Andrea Nguyen's Banh Xeo
Vietnamese Food Any Day has become a staple cookbook in my own home, as a guide to cooking the cuisine casually and regularly. There are plenty of recipes to love from the book, but one that sounds out is the bánh xèo, the rice crepes that you wrap in lettuce and herbs and dunk into dipping sauce. It's exciting food without being quite as much of a commitment as other dishes that'll give you that celebratory feeling.
Hainan Chicken Rice
Hailing from the island of Hainan, and popular from sweltering Singapore to streamy Malaysia, Hainan chicken rice is an ideal summer dish: The poached chicken is served room temperature, with fat-slicked rice cooked in the gingery poaching liquids, and, for this recipe, a dipping sauce of green chile, garlic, ginger, and calamansi. (Should calamansi be too difficult to find, you can try a different sauce recipe.)
Pierre Thiam's Chicken Yassa
Chicken yassa is one of those dishes you eat and never forget about. It's a relatively simple dish, though there are plenty of variations, which makes it a good option if you want to be able to take it easy while cooking "together." For the Teranga chef Pierre Thiam's recipe, the chicken is first marinated in citrus, then grilled or cooked in a cast-iron pan, and finally braised in caramelized onions that have been invigorated with bell pepper, white-hot Scotch bonnet pepper, garlic, ginger, and, if you'd like, mustard. (If you're unable to access Thiam's recipe, also available in his cookbook Yolele!, here's another from Saveur.)
Nik Sharma's Dosa
Perhaps you made a mental note of it when food writer and author Nik Sharma published a detailed article about making dosas at home, back in the sourdough days of March, that it was time to polish your dosa skills. If you'd been waiting, now is the time. Sharma's primer on the South Indian rice pancake comes complete with food science and a bit of encouragement for dosas amateurs: "Do not despair, the first one or two dosas are always a disaster in my kitchen."
King Arthur's Cheesy Pan Pizza
Maybe you celebrate Father's Day with an annual pizza night, but you don't have a pizza oven. Or maybe you just saw your friends Instagramming a particularly good looking pizza earlier during quarantine. This recipe comes from the people behind King Arthur, who rest assured know dough, and is pretty dead simple: you don't even have to knead the dough, so there's plenty of time for catching up.
Guelaguetza's Tamales With Mole Negro
Maybe you and your dad are big fans of the great Los Angeles restaurant Guelaguetza. Maybe you both just get a real kick out of tamales. The restaurant is famous for its moles, one of which, mole negro, makes it into these tamales, which are wrapped in banana leaves before getting steamed. Tamales are something families make together — why not over video?
Reem Kassis and Michael Solomonov's Knafeh
Should your pops be a phyllo fanatic, maybe you should take the sweet road with writer Reem Kassis and chef Michael Solomonov and make knafeh, the sweet cheese pie made from phyllo that's soaked in a rose and orange blossom syrup.
Stella Parks's Ice Cream Pie
It's ice-cream season, and this ice-cream pie from BraveTart author Stella Parks is a perfect project: The crust doesn't require any baking, and the ice cream doesn't even need to be churned. Plus, you'll both get your own pie.