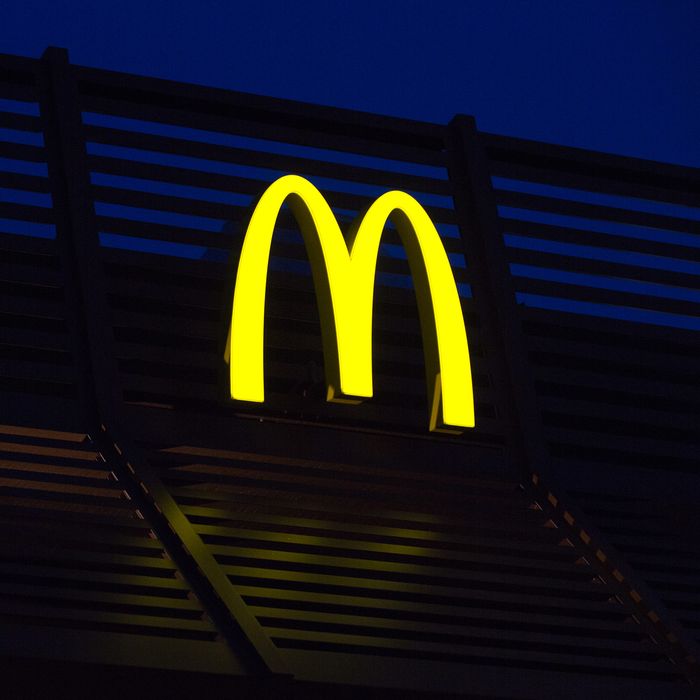 The fast-food industry is built on exploitation.
Photo: Karol Serewis/SOPA Images/LightRocket via Gett
Yesterday, demonstrators around the country gathered for the eighth day of protests over the police killing of George Floyd. Meanwhile, online, Instagram feeds were flooded with black squares, a bit of online activism — morphed out of a campaign by two black music industry executives — that quickly went wrong. As always, corporations have treated the protests as another moment to share empty platitudes, as Vulture's E. Alex Jung puts it "the language of coalition-building contorted into a very immodest fig leaf brought to you by communications strategists." Fast-food chains, of course, seem eager to join in.
Looking at what fast-food companies are tweeting, you might think they stand for something other than poverty wages. Burger King shared a cringey, all-lowercase riff on the company's slogan: "when it comes to people's lives, there's only one way to have it. without discrimination." McDonald's, meanwhile, published a mustard-yellow square and the names of black victims of police violence. "They were one of us," the post reads.
Popeyes quickly deleted a tweet that said "We are nothing without black lives" then reposted it with additional words sharing their commitment to "foster an environment where equality for Black people is a priority." Earlier today, Papa John's — yes, that Papa John's — shared a statement from its CEO saying "Our hearts go out to our black employees." And Taco Bell shared a message from its CEO Mark King: "We don't tolerate racism or violence against Black people."
The emptiness of these statements is so obvious and expected that they wouldn't normally justify notice at all. But these posts feel particularly egregious given that the fast-food industry is built on a foundation of exploitation. More than half of these workers, according to one study, depend on public assistance. This is true not only of the workers employed by McDonald's, Taco Bell, and all these other chains. It's true of those who work for their suppliers in similarly exploitative industrial agriculture and meatpacking plants, and those who live in communities polluted by those industries. Just yesterday, Bloomberg reported that Tyson had reinstated a pre-pandemic policy penalizing absentee workers for reasons including illness. The food itself is ridiculously calorically dense and designed to be addictive; it's cheap because people are paid horribly. And the exploitative practices persist because they most affect marginalized and vulnerable communities.
These same companies — the ones now falsely claiming that equality is a corporate priority — argued hard against the Fight For 15 labor movement, which merely aims to pay fast-food workers a living wage. (That McDonald's finally gave up on fighting a $15 minimum wage in 2019 is not a credit to the corporation. It fought long and hard against the hikes.)
In 2017, Black Lives Matter joined with Fight For 15 in a series of protests in 24 cities addressing issues of racism in police departments and Republican attempts to stifle minimum-wage hikes. At the time, in a statement shared by the American Prospect, Movement for Black Lives organizer Chelsea Fuller said, "the fast-food workers who are going on strike for $15 an hour and the right to a union are resisting the same institutional racism and oppression that fuels police violence across the country." In March 2017, organizers filed a lawsuit alleging that, with authorization from McDonald's, the Memphis police department was allowed to arrest employees and engaged in surveillance and intimidation.
During a pandemic worsened by the federal government's abdication of its basic responsibility to help its own citizens, these statements of "solidarity" from exploitative corporations feel even more cynical. This week's national protests were sparked by the police killing of George Floyd, but they've also happened as — and speak to the fact that — the coronavirus pandemic has, once again, exposed America's generations of inequality and anti-black racism: Black people are dying at twice the rate of other communities, and black business owners and workers have been disproportionately affected while being left out to dry.
What have the chains actually been doing to take care of their workers? Just last week, workers at a McDonald's in Oakland went on strike after they were allegedly told to wear masks made out of dog diapers while four workers had tested positive for COVID-19 in the days before. This protest followed ones the week before by hundreds more McDonald's workers, and others earlier in the pandemic by workers at chains including Taco Bell, Burger King, and more. These workers have been deemed essential while working in an inherently exploitative system without the necessary protections.
The problems exist beyond the corporate level to franchisees, too. Just a couple weeks ago, Insider reported that James Bodenstedt — whose company operates Wendy's, Taco Bell, and Pizza Hut franchises — had donated $440,000 to Trump's reelection, and was participating in the White House's (laughable) restaurant industry roundtable. As a result, Wendy's came under criticism from thousands of Twitter users who expressed their disappointment and called for a boycott with the hashtag #WendysIsOverParty. Yesterday, Taco Bell posted a tweet saying the corporation doesn't make donations to presidential campaigns and has no control over franchisee donations.
Of course, you can't expect a fast-food company to follow up feigned support for any movement with condemnation of a franchisee who supports a president that stands in obvious defiance to that movement's core values. That would require that the original statements to actually mean, and stand for, something beyond self-promotion. It's not that McDonald's, Taco Bell, Papa John's, and other chains don't stand for something. They do. They stand for the rotten system that protesters are rallying against in the first place. A more carefully worded statement can't change that.