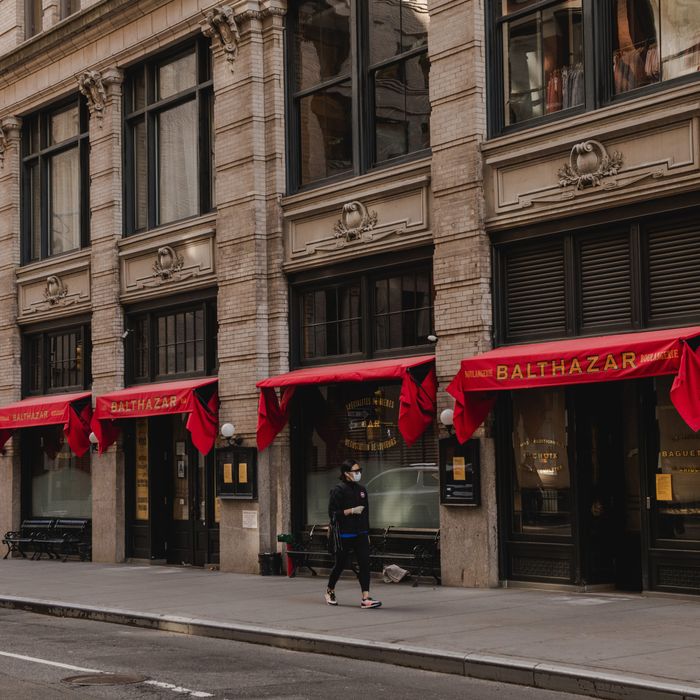 Insert seats here.
Photo: George Etheredge/Bloomberg via Getty Images
Nearly three months after New York City's restaurants were ordered to close their dining rooms in response to the coronavirus pandemic, Mayor de Blasio announced at his morning press briefing a new initiative with a focus on reopening those shuttered businesses. De Blasio didn't offer many specifics, and the timing of the announcement was surprising — given ongoing anti-racism protests, an unprecedented citywide curfew, and continued criticism of tactics being used by the NYPD — but the statement nevertheless confirmed a report from NBC New York's Andrew Siff that indicates the city will allow restaurants to co-opt streets and space currently reserved for parking.
Phase One of reopening in New York City is still set to begin this coming Monday, June 8. De Blasio said that Phase Two of reopening, which will include restaurants, could begin in early July. When that happens, de Blasio said the city "will provide a plan" to help restaurants establish outdoor seating, and "will provide a massive expansion of curbside seating" and open space.
The benefits of opening more outdoor space to diners are obvious: They will allow diners to practice social distancing while operators — who have not been able to operate normally for three months but have seen little to no meaningful financial support from the government — will be able to expand seating and, hopefully, begin to recoup lost revenue.
What will curbside dining look like? Last week, Rockwell Group — one of the city's most well-known restaurant designers — released a series of renders and plans that might give diners some sense of how eating out will look this summer, and beyond: