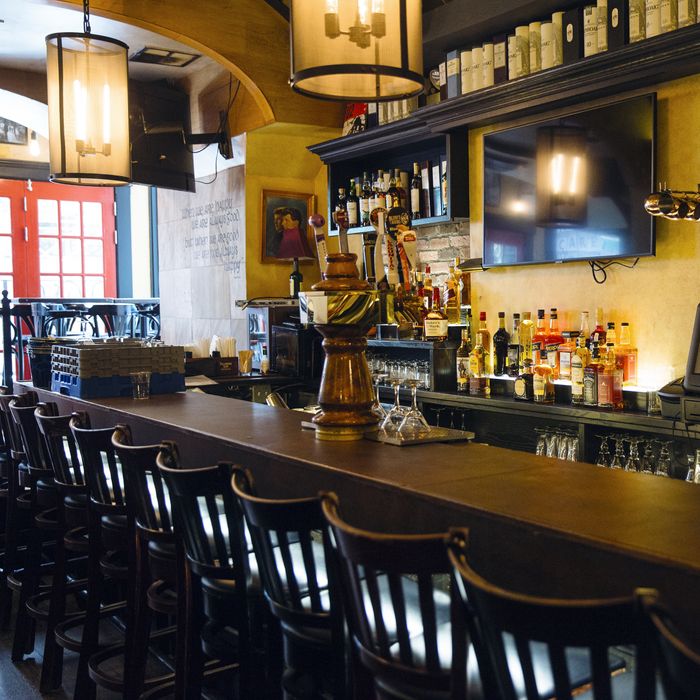 Don't fill the seats. Even half of them.
Photo: Angus Mordant/Bloomberg via Getty Images
Around the country, the headlines have been the same. Area bars ordered to shut down once again as coronavirus cases spike to record highs. Owners voluntarily close bars because of coronavirus cases. This was happening across the U.S. from Miami to Iowa City to Los Angeles, as 31 states saw a rise in cases and 15 states saw cases remain the same. On social media, and in the press, photos and videos circulating show customers huddled together, few if any wearing masks, in bars, outside bars, in line for bars. In one video taken at a Jersey Shore bar by journalist Josh Axelrod, a masked security guard can be seen trying to get groups of unmasked patrons to stay apart. It was clear then, and now that so many states have eased lockdown restrictions, it is even clearer: As desperate as everyone is for this pandemic to end, reopening bars was a mistake in these states.
Last week, when the United States reported a record-high of 40,000 coronavirus cases on Thursday, and bars were closing, New York City was gearing up to enter phase three of its own opening on July 6. This would allow for bars and restaurants to bring back indoor seating, at a reduced capacity of 50 percent. Many people reacted to this news with trepidation and shock. Is action being taken too soon because our government doesn't want to offer rent relief or real, substantial financial assistance? Here in New York, it is hard to have any faith, seeing as how working people have been left out to dry (still, no rent relief!) and knowing what we now know about how Mayor de Blasio and Governor Cuomo — no, not just Trump — failed New Yorkers.
Don't forget that in early March, when the reality of the pandemic was unavoidable, de Blasio told people to go out. He resisted calls to close schools or restaurants, up until two days before the restaurant shutdown. As for Cuomo, he reacted negatively to the idea of a shutdown, responding to de Blasio's belated call for a shelter-in-place order by saying, "I have no plan whatsoever to quarantine any city." By May, New York had nearly ten times as many cases as California, ProPublica reported, arguing that de Blasio and Cuomo's sluggish responses "undeniably played a role in the dire human toll the virus has exacted. A city health official told ProPublica, "We had been pretty clear with the state about the implications of every day, every hour, every minute." As the New York Times reported last week, "more than 22,000 deaths in the New York City area could have been avoided if the country had started social distancing just one week earlier."
The city is also tumbling through its reopening: owners leapfrogged regulations to offer outdoor dining, social-distancing enforcement has been racist in its policing, and Mayor Bill de Blasio admitted there's no actual plan to enforce the Department of Health's guidelines for reopened bars and restaurants. But yesterday, it was reported the city might not actually bring back indoor dining so soon, with Mayor Bill de Blasio saying, "We've come too far in this fight to throw that progress away." (New Jersey governor Phil Murphy also announced that his state will "postpone indoor dining indefinitely.")
We are now several months into this pandemic, and while there is still so much more to learn, we do know at least two things: The government is not going to bail out the people who need help, and everyone needs to wear a mask. As epidemiologist Mark Lipsitch tells the New Yorker, wearing masks and avoiding indoor activities with strangers "are the two most important things" to do for people hoping to avoid the virus (i.e., everyone).
It's hard to ignore how obvious it is — was — that reopening bars seems to be a particularly foolish mistake. These businesses are the last places anyone should be going right now — no only customers, but also employees. One way to describe most bars is a "crowded, poorly ventilated indoor space." This is also a way to describe the places you're most likely to catch coronavirus. How is that connection not obvious to everyone?
We are now seeing the results of this in states that were hurriedly reopened by callous officials sick of the tyranny of sheltering-in-place, like Texas lieutenant governor Dan Patrick, who infamously said in March "As a senior citizen, are you willing to take a chance on your survival in exchange for keeping the America that America loves for its children and grandchildren?" For what? There is a disconnect between the desire to pretend there is nothing wrong, and the very real threat still posed by COVID-19.
Last week, Texas and Florida — where the states governments has been accused of suppressing data on coronavirus cases — became the first states to roll back their reopenings. Clearly these decisions have arrived too late. On Friday, Florida recorded a then-record for single-day cases of 8,942. That record was broken the following day, when the state recorded 9,585 new cases. (On Sunday, seven states posted record highs for new cases of coronavirus.)
Coronavirus spikes are not just happening in those states that rushed to reopen. Last week in Los Angeles, Mayor Eric Garcetti urged people to stay home, even as businesses continued to reopen. In lieu of local action, Governor Gavin Newsom ordered that bars and nightclubs close in seven counties including Los Angeles. But yesterday, California again broke its record for most coronavirus cases in a day, exceeding 8,000. Last Thursday, Delaware governor John Carney announced he would be delaying phase three of the reopening plan. In Birmingham 18 bars and restaurants temporarily closed because of coronavirus. In Allegheny County, Pennsylvania, the government ordered bars to shut down today after health officials say they saw "alarming spikes" in positive tests. In East Lansing, Michigan, more than 100 cases have been linked to a single bar, causing local health officials to ask people who went to the bar to self-quarantine.
The time for action is now, but that action continues to fall on private citizens — business owners and workers alike — forced to feel their way through the dark. Yet, here we are, talking about reopening bars in New York City, while the coronavirus flares up all around us. Are we going to stand up, or let ourselves get knocked back down on our asses?