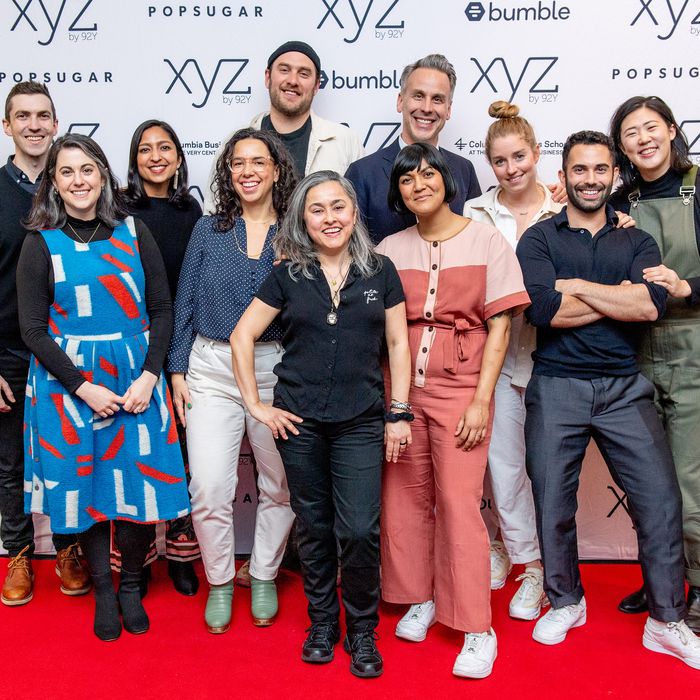 The
Bon Appétit
crew and former editor-in-chief Adam Rapoport in February.
Photo: Roy Rochlin/Getty Images
Yesterday, Bon Appétit editor-in-chief Adam Rapoport resigned following a staff outcry sparked by an Instagram post of him in brownface. The photo was resurfaced by the writer and wine professional Tammie Teclemariam, prompting some employees to speak out about his tenure, including test kitchen assistant editor Sohla El-Waylly, who was the first to call for Rapoport's resignation and raised issues of unequal pay for work in test kitchen videos. El-Waylly wrote that "only white editors are paid for their video appearances." (Some test kitchen editors are on contracts with Condé Nast Entertainment — the company's video wing — and so get paid more and can spend more time on video.)
In response, many of her test kitchen colleagues said they will not appear in videos until compensation issues are addressed. Senior food editor Molly Baz posted an Instagram Story asking others to commit to not appear in videos until their "BIPOC colleagues receive equal pay and are fairly compensated for their appearances." Senior food editor Andy Baraghani, test kitchen director Chris Morocco, and Brad Leone made similar statements. After her post, El-Waylly spoke with BuzzFeed about her experiences at Bon Appétit, saying the job she was hired for didn't require her to go on camera, but that her responsibilities were quickly expanded and she was asked to "stand in the background" during shoots.
On Twitter and Instagram, Condé Nast head of programming for lifestyle and style Matt Duckor wrote that there will be changes made to compensation. In response, critics called for back pay and for Duckor to step down.
Last night, Condé Nast tweeted about its commitment to creating "a diverse, inclusive, and equitable workplace" and commitment to fair pay. The posts were met with criticism from former employees and other journalists:
This post has been corrected to accurately reflect the response to Duckor's statement.