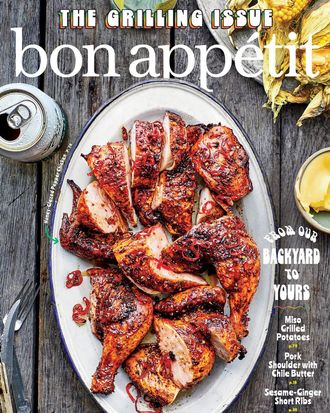 Bon Appétit
employees are calling out their editor-in-chief Adam Rapoport.
Photo: Bon Appétit
Bon Appétit editor-in-chief Adam Rapoport announced in an Instagram post that he has stepped down from his job, following calls for his resignation from outraged staff and contributors.
Over the weekend, food writer Illyanna Maisonet tweeted about messages she received from Bon Appétit editor-in-chief Adam Rapoport. The messages were sent in response to her tweeting about Bon Appétit rejecting a pitch about Puerto Rican rice fritters, and Rapoport's responses were criticized as, variously, tone-deaf, disrespectful, and full of hot air.
Today, the wine professional and journalist Tammie Teclemariam resurfaced an Instagram post of Rapoport wearing brownface. Posted in 2013 by his wife, Simone Shubuck, the photo depicts the editor in a do-rag, wearing a large silver chain, and captioned "#TBT me and my papi @rapo4 #boricua." In response, many Bon Appétit staff members took the unprecedented move of publicly calling out their editor-in-chief and calling for his resignation, though, as others are pointing out, the reaction is in response to broader concerns about the magazine under Rapoport and his track record on diversity and race.
Those calling for Rapoport's resignation include Test Kitchen assistant editor Sohla El-Waylly, who posted on her Instagram stories that she demands "not only the resignation of @rapoport but also to see BIPOC given fair titles, fair salaries, and compensation for video appearances." She adds that she's "been pushed in front of video as a display of diversity," and alleges that "only the white editors are paid for their video appearances." In a tweet, Priya Krishna, a Bon Appétit contributor (and occasional contributor to Grub Street), writes that Rapoport — and the systems that allow for actions like this — needs to be held accountable.
Others joining the call include editorial assistant Jesse Sparks; Joseph Hernandez, the magazine's research director; and associate editor Christina Chaey. (As Hernandez himself points out, these employees are risking reprimand from Bon Appétit's owner, Condé Nast.) Photographer Alex Lau also weighed in, explaining that he left Bon Appétit because of its issues around diversity that affect both employees and coverage. The food writer Julia Turshen, a highly visible voice and leader in the industry, has also called for Rapoport's resignation. The writer Jia Tolentino says she pulled a story from the magazine in response.
Since Rapoport took over Bon Appétit in 2010, the magazine has dealt with several controversies, including over the "How to Pho" video, and broader criticisms about its white-centric point of view.
Here is Rapoport's resignation post:
This post has been updated to include news of Rapoport's resignation.