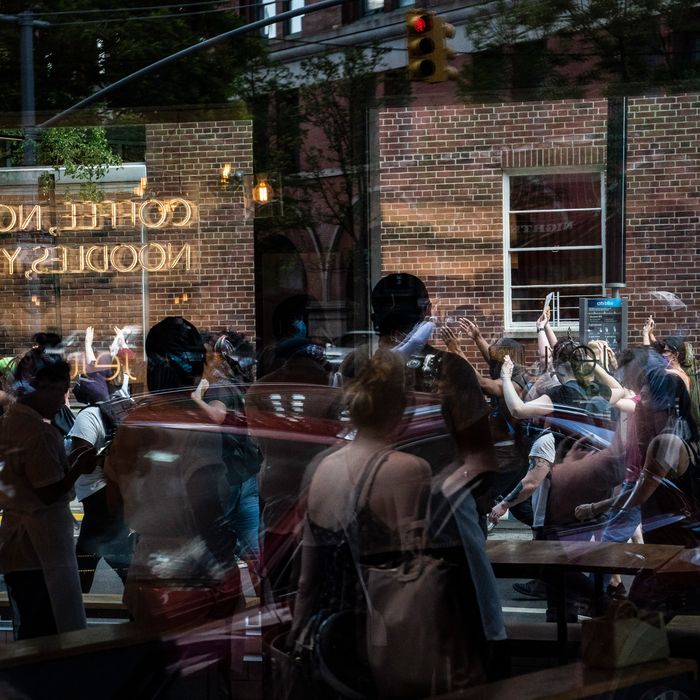 Protestors in Washington, D.C.
Photo: The Washington Post/The Washington Post via Getty Im
Protests against the police killing of George Floyd spread around the country starting Friday, with demonstrations from Fairbanks, Alaska, to Newark, New Jersey. Some of those protests remained peaceful, but many demonstrations escalated, with widely documented police violence and some turning to looting and property damage.
Messages from many restaurant owners and chefs who businesses were affected echoed those of Gandhi Mahal's Ruhel Islam, whose reaction to his Minneapolis restaurant being damaged — "let my building burn" — spread across social media last week. In the Washington Post, Ruhel's daughter Hafsa expands on the message, saying that while she first felt anger, her dad's words led to a realization that "for years, protesters tried peace. It didn't work. If this is what it takes to get justice, then it will have been worth it."
"Our window can be replaced. George Floyd can't," chef Ria Dolly Barbosa wrote on Instagram of her Downtown L.A. restaurant Petite Peso. The Los Angeles Times reports that her restaurant was one of a number that were either looted or damaged. Others include Nancy Silverton's Chi Spacca and Mozza2Go, where a fire broke out; Ludo Lefebvre's Trois Mec and Petit Trois; Josef Centeno's Bar Ama and Bäco Mercat; and others. Centeno posted photos of the damage, criticizing Donald Trump, prompting some to ask how they could help. In a follow-up post, Centeno asked those who offered to donate to give instead to Black Lives Matter, the Bail Project, and the African American Policy Forum's Say Her Name project. In that second post, he wrote, "We are ok—even if we don't know what the future will hold. What we do know is #blacklivesmatter."
Many state and city economies were starting to reopen, including Los Angeles, and others voiced varying degrees of support and frustration. The Los Angeles Times noted Lefebrve's Instagram post, in which he writes, "we must all protest for George Floyd and the rights of all black Americans. But we need to stand together against the violence and destruction of our communities." In a second article, the Los Angeles Times reports that D-town Burger Bar Los Angeles owner Pedro Mojarro spent the night trying to protect his business, which has been — like the entire restaurant industry — struggling through the coronavirus pandemic. The New York Times also reports on concerns of business owners about how damages will affect their livelihoods. Deli owner Hussein Aloshani explains to the paper that he stayed outside his business, telling people, "Please, I don't have insurance!"
Still, most have expressed that their support for the protests — and anger and frustration over police violence and anti-black racism — override other concerns. When Michelle Brown's Washington, D.C., tea house Teaism was on fire, her first words, on Twitter, were "before anyone puts a single word in our mouths. Black lives matter." Even after she found out the fire destroyed artwork and her 21-year-old tea chest, she tells the Washington Post "any kind of issue like this seems pretty minor … I think the protests are great, and I think they are warranted." The paper reports similar responses from Founding Farmers co-owner Dan Simon, who wrote on Twitter that "if I need to 'suffer' some broken property, let's be real, that isn't suffering." Dolcezza co-owner Robert Duncan tells the Post that a table and chair broke three plate-glass windows at his restaurant, saying, "if it's a window that's broken, it's not that big of a deal."
In New York, where protests have taken place across the five boroughs, restaurateurs have also voiced support for the protests on social media. Brooklyn Haitian restaurant Grandchamps posted a photo of its "Black Is Beautiful" sign, and La Morada shared Gandhi Mahal's Facebook post, writing "this is what solidarity looks like!" In Crown Heights, Ode to Babel (a black-owned business) announced that some proceeds will go to the Minnesota Freedom Fund, and Greenpoint's Achilles Heel closed on Sunday in solidarity with the protests. In the East Village, Superiority Burger announced it would add an extra day of service and donate all income from the busiest day to Black Visions Collective.