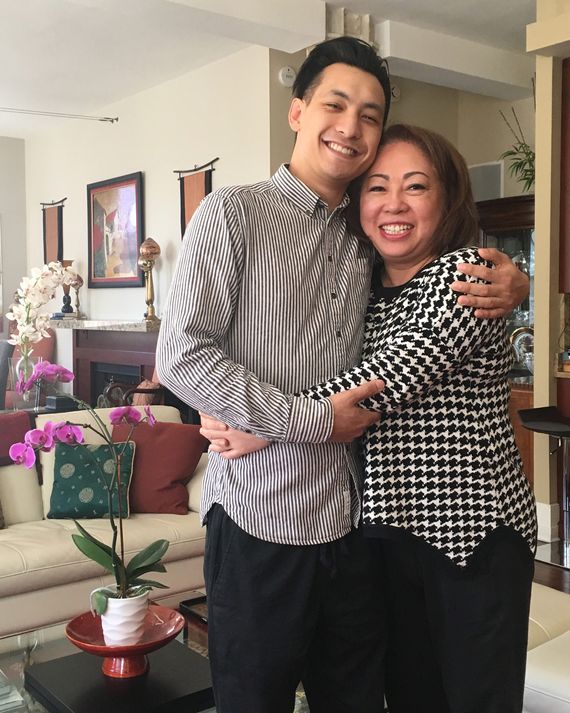 Anh Tuyet Nguyen, right, with Di an Di's Timothy Tran.
Photo: Courtesy of Timothy Tran
Anh-Tuyet "A.T." Nguyen was not a chef. She wasn't a restaurant owner, a manager, a busser, or a porter. She wasn't someone who'd spent years in the industry, running one place that held on against the tidal wave of rising rents, or opening a small empire of establishments that shaped the New York restaurant scene. She won't be credited with popularizing a particular dish, or drink, or style of service in the five boroughs. But she had become, those who knew her say, one of the most important people to New York's Vietnamese restaurant community — a mother figure and mentor who was a bridge to American culture for Vietnamese immigrants and a link between generations for Vietnamese-Americans. On April 7, they lost her, when she passed away from COVID-19. She was 64.
"For the Vietnamese community here in New York, I would say we considered her to be one of the, if not the most, prominent leaders for our community," says Helen Nguyen, who runs Saigon Social on the Lower East Side. Nguyen, who is unrelated, adds, "There wasn't a Vietnamese restaurant or business owner that I felt she didn't know and didn't have a good relationship with."
Anh-Tuyet was born on February 29, 1956 in Gia Dinh, Vietnam, outside Saigon. After the fall of the South Vietnamese government, her family settled as refugees in San Antonio, Texas, when Anh-Tuyet was 19. But she left Texas for Wisconsin the next year because an older refugee threatened her life, as well as her family, and stalked her after she refused to marry him. (More of her life story, as told to one of her nieces, can be read here.) In 1981, she met her husband Robert B. Pollock in Minnesota — they worked for the same company — and they moved to New York in 1999 following his promotion. She subsequently retired and got involved in arts and culture organizations and nonprofits, including Film Forum; Dance to Unite, where she was the president of the board; the Vietnamese Heritage Center, where she was one of two sponsors in 2019; and the Joyce Theater, where she served as vice-chair until her passing. The couple split their time between Tribeca and their house near Lake Tahoe, where she became ill. Initially, her nephew John Nguyen says, she was turned away from the hospital, having been told it was safer to stay home.
"She had some symptoms, a cough and fatigue, but she'd been traveling and kind of busy socially. She thought she'd been getting better and was tested, probably, the week before she passed," her youngest brother Corbin Nguyen says. "She just, overnight, got hard of breathing and her health just fell." She was only admitted to the hospital after she stopped breathing, John says, when she was helicoptered from Lake Tahoe to Reno.
Later in life, Anh-Tuyet became something of a maternal figure for her siblings, and, eventually, their families. "She had nieces and nephews that she loved dearly and provided for," he says, choking back tears. "Those are her children."
Everyone she mentored whom I spoke to describes her as someone who was deeply invested in their lives and always showing up. She was someone who offered essential guidance on running a business and making good food, who always checked in whenever she was in town, and who helped connect them through events she ran and dinners at her house. She was someone, they say, who wanted to see the Vietnamese community in New York flourish.
"I feel like a big part of me is gone," says Timothy Tran, who was the general manager of Greenpoint's Di An Di until the city's restaurant shutdown. "She met me and asked about what my purpose here in New York is, and I was thinking that I want to build a Vietnamese community here in New York City. You know, eventually maybe have a V-Town together," he explains. "I think she would have been a great person for that, and someone from her generation to tie together that connection between our generation and our culture and restaurants and her presence in New York City."
Anh-Tuyet helped shape the lives of others in the industry, too. There is Nhu Ton, who immigrated here from Vietnam in her early 20s. They met five years ago when a friend invited Ton to Anh-Tuyet's birthday party. Anh-Tuyet brought her to museums, introduced her to American friends, and exposed her to new foods and restaurants — things that Ton couldn't dream of paying for at the time. Now, Ton is a co-owner of the Bronx restaurant Com Tam Ninh Kieu with Anh-Tuyet's nephew John, a purchase that was made possible in part because Anh-Tuyet and Pollock gave her an interest-free loan of $10,000. "She helped me to understand the restaurant business," Ton explains. Later she adds, "I am not who I am today without her."
"Whenever I think about A.T., I think about how she always encouraged young people. She always connected people, she never judged anybody," says My Sophie Nguyen (who also goes by Sophie) the owner of the fast casual Vietspot in Tribeca and the Financial District. "She just accepted people, and let them be, but also guided them to better directions."
"I almost feel like she was a matriarch of the Vietnamese community in New York — just bringing a lot of people together," says Matt Le-Khac, who opened the Williamsburg restaurant Bolero a month before the shutdown. He was cooking at An Choi on the Lower East Side when the two met and Anh-Tuyet had asked if the downtown restaurant could host a Q&A about the documentary Last Days in Vietnam. "She was a surrogate mother to me as well because I met her a couple years after I lost my own mom," Le-Khac says. "She was just what I needed."
"I call her Co A.T. — 'Co' means auntie in Vietnamese. She was very much like an aunt and mother to me," says Helen. "It didn't matter, her support extended beyond just my pop-ups. We would sit and share conversations about anything."
The last time they spoke was around April 1, shortly before Anh-Tuyet passed, Helen says. "She was like, 'Hey you know I've been seeing all your posts and I'm really upset that I was missing all these events,'" Helen recalls her saying of the pop-ups Helen hosted in the weeks before the shutdown. Anh-Tuyet told her she'd be coming back and asked for braised pork over rice for when she did. "Whenever I remake that dish, which I've been making almost every single day for the restaurant, I think of her and how I was supposed to make a delivery to her but I never had the opportunity to."
Others are finding ways, bigger or smaller, to remember Anh-Tuyet. "I had a dream of her just doing what she usually does, basically dancing and hosting people," My says. "I thought, She's happy now, in a world without COVID. And I think I would do what she would do for me, for other people who need help and really aspire to learn and grow."
When John and Ton reopened their Bronx restaurant, Com Tam Ninh Kieu, for takeout and delivery earlier this month, the duo added a new dish to the menu: pâté chaud. They didn't note it online, but it's a special dish for them. The savory puff pastry was a particular favorite of Anh-Tuyet's, one she'd make for holidays every year. "It was something we all looked forward to, and most of the time they would be gone in a matter of minutes," John says. "That dish has a lot of significance to us because it symbolizes her and the way she cared about us and loved to feed us." John says that's one more way Anh-Tuyet made people feel like part of a bigger community. "She loved to cook for people. She loved to cook for her family, for her friends — she really, really loved it."