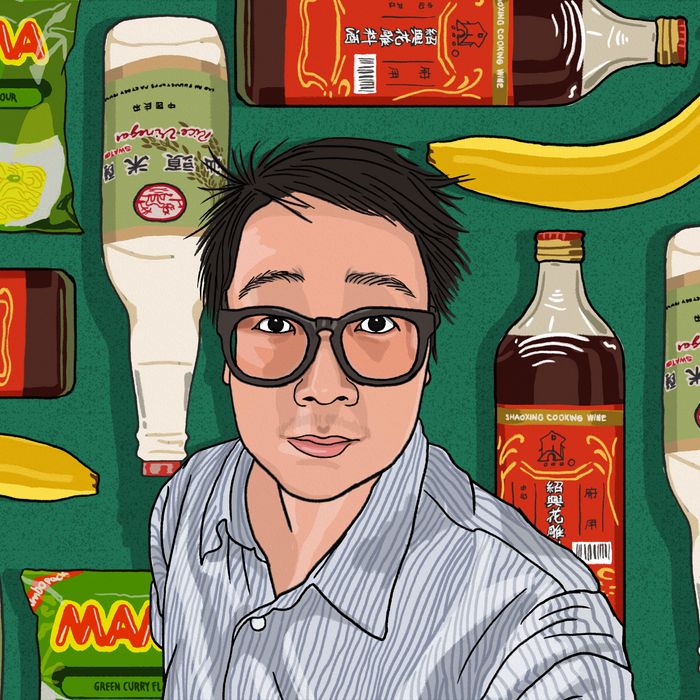 Andrew Kuo with some of his essentials.
Illustration: Margalit Cutler
The painter Andrew Kuo misses Chinatown. Not just the streets but the life of the neighborhood, the dumpling shops, grocery stores, and his treasured dollar stores. "Growing up in New York, going to Mott Street and Chinese restaurants in Flushing was a huge part of my life," he says. "I never really understood a life without it." Kuo still lives downtown with his wife and cats, where he's crammed into a makeshift painting studio and recording episodes of Cookies Hoops, the basketball podcast that has, in lieu of basketball, turned its attention to the Black Lives Matters protests. "Even if you're a hoops fan, there's action around the league in terms of activism," he says. This week, he found himself cooking some leafy greens, weirdly craving a turkey sandwich, and turning to his trusty freezer for some of his favorite frozen dumplings. 
Thursday, June 18
10:45 a.m. Had a big cup of Barry's Irish breakfast tea and two small squares of medium-quality strawberry dark chocolate. I love chocolate in the morning. One of my friend's whole things is that sweets taste better in the morning, and I kind of realized I've been doing that my whole life. I love to have chocolate and tea together, and that's usually in the morning. I have to make sure I don't stay up all night. Chocolate I have before I start my day and a little before I work out. If I'm about to get on my bicycle, I have a few squares, and I feel like that really perks me up.
Toasted an English muffin with cream cheese and green onions. The smoked salmon had maybe gone funky so I skipped it. A bagel is too much for me. I do love a classic Lower East Side bagel, but it doesn't last that long. I can eat half of it. I like the bialy spot on Grand, Kossar's. I love sitting in that window and eating my bagel early in the morning. I'm not a bagel nerd, but I love Black Seed Bagels as well.
Bought vegetable curry and tofu with string beans on rice from Wayla. They've been doing $5 lunch specials during COVID with a pay-it-forward option — for $5 you can have one, and pay it forward — which was a no-brainer. Really tasty. It was already one of my favorite restaurants, and when they did that, I thought it was really touching.
Munched half of a cold tomato with some salt over the sink. It might not be time for tomatoes just yet? Big glass of water. I had bought all the sandwich fixings (the tomato, iceberg lettuce, and mayonnaise) for a turkey sandwich a few days before. And the tomato was just gray and not delicious. In a sandwich that's fine, but I guess I gotta wait until August? Or maybe I'm not picking the good ones?
A little before 7, I chugged a big cup of PG Tips iced tea that I brewed and chilled the night before to prep into a workout (lol). It was the easiest way to get through it.
At night, I finished up the veggie curry leftovers with boiled egg noodles and a giant pile of sauteed snow pea leaves with too much garlic and ginger. It was kind of a really simple attempt at a khao soi. This is the way I cook.
My appetite also kind of went away during coronavirus. Is it because I'm less active? I exercise at home, but I think seeing the Chocolate Factory of amazing foods you can eat in New York City makes me hungry. Not seeing or smelling anything, I'm just like, "Well, whatever, turkey sandwich sounds great."
Dessert was two Little Schoolboy cookies, the Rolls-Royce of cookies.
Friday, June 19
In the morning, I made a rye-toast egg (sunny-side up) sandwich with Frank's Red Hot, which is the No. 1 hot sauce. Sipped a big mug of PG Tips Extra Strong tea with a tiny bit of honey.
I tried to be a hot sauce nerd maybe like a year and a half ago. I was like, "I am going to enter the subculture of hot sauce." I was going to Bedford Cheese Shop, and then there's a hot sauce place in the basement of the Chelsea Market. I realized there weren't that many of them, and a lot of them maybe tasted the same, and that maybe I didn't like heat as much as I liked the flavor of the chili. I went back to my first love, Frank's Red Hot, which is so superior to Red Devil or whatever.
It was a busy day. Didn't eat again until after 4 p.m., when I ate a fistful of too-mushy blueberries, some watermelon chunks I picked up at Essex Market, and two mini oranges. Snuck three small Japanese pickles, too. Weird combo! I was trying to get something in my stomach that wasn't potato chips. Sometimes I'll forget to eat. I also have, when the COVID stuff started, some of us weren't working as much.
I do a lot of cooking at home anyway, but I've reached a point where I'm mentally fatigued a little bit. I think, like, good stuff can come from that. You play the hits at first and then you settle into what real life is. For me that's like a lot of boiled things and lots of soups and a lot of greens and less experimentation and less fanfare. I love that part. But this is so challenging. I don't think humans are supposed to eat like this or act like this for so long. We're not supposed to be trapped and eating with the people just in our space. There's something social about eating that I really miss, and I think after four months, it's something I can viscerally feel.
Whipped up shrimp tom yum flavor Mama instant noodles, which are small portion-wise and pretty solid. Added some mushrooms and drank a huge glass of water. It was just a snack! I swear! A few years ago, before my hot sauce era, I was trying to get into rare ramens. I watched YouTube videos and read up on all the blogs and tried to find the good ones. And then I kind of stopped eating meat, so it was harder. When coronavirus started, I opened up to eating more meat in my life, just to add a little bit of excitement and drama to my day. Now I'm back on the ramen train.
Two glasses of water and an iced tea while I exercised. Is caffeine a performance-enhancing drug?
10:15 p.m. Freezer dinner! Rana mushroom ravioli with sage (does well frozen), good butter, those packaged maitake mushrooms you get in Japanese markets and a lot of garlic. Rana raviolis are kinda nice? I'm a big fan of Bertolli, and that whole part of the refrigerator section in the supermarket. Those are treats. Between those and frozen dumplings from Chinatown, my freezer is packed. I need to get a second freezer. That's my dream — to live in a place big enough for a second freezer.
A little before 2 a.m., I finished the leftover ravioli and snuck a piece of chocolate. Plucked a sour garlic pickle out from the fridge and chased it with a cold glass of water. Had another orange. 
One sip of apple cider I got from the Union Square Farmers Market three weeks ago. Still good but still too sweet. I shut down at 4 or 5 a.m. because I just love being up at night. For many of the reasons that people talk about: It's quiet, it feels like you're alone to do things like paint or watch a movie. My brain just works better then. I try to wake up at 10 and to take a nap at 7 p.m. I like those hours. They suit me well.
Saturday, June 20
Had a cup of Irish breakfast tea and a banana. Then I boiled some frozen dumplings I got from 88 Lan Zhou before COVID. They're my current No. 1. They do such a bad job of keeping a nice-looking restaurant and the food is just out of this world. Weekend breakfasts are for dumplings … always with three-parts rice vinegar, one-part light soy, and some sesame oil. Salt the water!
Finally made a turkey sandwich with a ton of Kewpie and a laughable amount of shredded lettuce. Hadn't had a turkey sandwich for years but was craving it and it was inhaled. Also sliced an orange. I've been buying a lot of oranges.
I don't know where this craving came from. I'd been thinking about it for a long time. Usually it only takes me a few weeks to cash in on a thought like that, but it took me months for this one. What happened was my wife and I went to the Union Square Farmers Market and there wasn't really anything we saw but this beautiful loaf of rye bread. Then it happened. I hadn't been eating that much meat or bread for a while. Then I went whole hog into meat and bread.
9 p.m. Sauteed mustard greens with garlic and ginger. Stole two salmon sushi pieces from my wife's dinner. I hate pan-sauteeting greens, because the water and oil splash everywhere. So I've kind of hacked it by doing a one-pot. I blanch all the greens in a pot, strain them and put them aside. Then I chop up all the aromatics, fry them in a ton of olive oil in the same emptied pot, and drizzle them on top of the greens and it's just as good. I also boiled a couple boxes of past-due blueberries down with a shot of port I oddly had lying around to make a sauce to put over a scoop of vanilla Ben and Jerry's, which is a boring but fantastic flavor.
Earlier in quarantine, I was desperate for Chinese vegetables. In delis and supermarkets you can get broccoli and bok choy and carrots and celery, and all that stuff is great. But I was really missing leafy greens like snow pea leaves, mustard greens, all those vegetables that are not boring and Asians do such a good job at. I was trying to find them and it was very bleak. Places are slowly opening.
There's no infrastructure. Whole Foods can survive because Amazon is bankrolling it. Key Foods probably has money. But there's a dollar store I've been going to near here on Ludlow for 20 years — they have not reopened and I am worried someone might have gotten sick — and across from them a dollar supermarket. They do a great job and I've gotten to know the owners, and it's like one of the best places to shop. There's good stuff and bargains and even veggie hamburgers in the back. I'm worried that they won't be able to get over this hump.
1 a.m. Had my nightly "I'm not thirsty" glass of water, four small oranges, and a tin of sardines in water with Frank's Red Hot.
Sunday, June 21
Boiled some snow pea leaves and doused them in hot oil with garlic, ginger, scallions, and dried chilis. Also whipped up some frozen Pulmuone brand Korean wontons and added chili oil, scallions, soy, and vinegar. Modest portion (four wontons). Cup of English breakfast. They have a whole bunch of these wontons at H Mart. Korean wontons kind of skew sweet for me, the wrappers are a different sensibility. I understand the cravings for mandu, but I've never had that. I prefer Chinese wontons.
Got takeout from Somtum Der on Avenue A: low-to-medium spicy papaya salad (very fishy), spring rolls, and seafood pad thai. This place is great but possibly *too* flavorful? Maybe explains why the portions are tiny. There's so much fish sauce and lime, so I crave it but then the minute I eat it I'm like this is too much. It's one of the great restaurants, I think.
For dinner, I made some soy-sauce egg noodles with mushrooms and scallions. I'm really into a $20 nonstick pan I got a few weeks ago. I realized through YouTube that nonstick pans don't work according to cost. Cheap ones work great! Let the noodles get crispy at the end. It has made frying noodles a joy, because they don't stick and it's very frustrating when they do that. I cannot talk about that thing enough. Followed that up with an orange and a ton of water.
Late night, I ate an apple and one hard-boiled egg with Kewpie and mustard. Sipped some peppermint tea and had a piece of chocolate.
3:30 a.m. Microwaved three Morningstar Veggie Buffalo Wings and ate them with some Japanese pickles. Drank a glass of water. I'm a huge fan — huge fan — of Buffalo chicken wings.
Monday, June 22
Iced English breakfast tea, a cup of water and a banana.
4:45 p.m. Kinda forgot to eat! It was hot but too early in the summer for AC. Leftover mushrooms and greens and two small oranges. The mini ones haven't been great in a few weeks but the next one could be. Shamefully ate four squares of dark chocolate with almonds and dried cherries.
Ate an apple and a bowl of pickled cabbage I made the week before: cabbage, rice vinegar, salt, sugar, star anais, chilis, cinnamon, cardamon, ginger and garlic. I always have a vat of pickled cabbage in my fridge. I always have that going because it's my favorite thing to have with every meal.
Grabbed a fistful of Jalapeño flavor Kettle Chips. NY Deli are the best ones but these are second. Jalapeño is the best snake flavor.
Szechuan Mountain House for dinner! Could this be my favorite restaurant right now? They do such an amazing job, man. I always get the same thing, they have very non-Western dishes like duck's tongue and fish maw, and cartilage. I don't really mess with that. There's this drama to their food that feels like you're having a special occasion. I think it's a real cool place.
Picked up ma po tofu (their best dish), their version of the pickles I had earlier (infinitely better), dan dan noodles and sauteed up my own mustard greens. Greens in Chinese restaurants always seem overpriced to me? I'm probably wrong but they're easy enough to make on the spot. I also do my own rice because I prefer basmati.
After midnight, I heated some Rao's Marinara and dipped a piece of buttered rye toast in it. It was basically like a tomato soup. That tomato sauce is incredible. I don't care that it's lazy and expensive.
What is their secret? I've been trying to figure this out. I think everybody understands how a nice tomato sauce is made. Good San Marzano tomatoes, good olive oil, maybe a little bit of garlic. And then when they came out with their sauce, I could not figure out how they did it. I almost treat that sauce like a stand alone thing.
What's nice is it doesn't have a sharpness I associate with tomatoes, and it kind of reminds me of an Asian style flavor, where it's more round than pointy. It feels like I imagine a Sunday gravy to feel, but without the fuller flavor.
Around 2:30 a.m., I shoved two Double Dark Chocolate Pepperidge Farms Milano cookies into my face. Contemplated making Morimoto instant ramen (air-dried and my current fave) but decided on a handful of blackberries and a cranberry seltzer. I cycled through most of the available ramen I can get in this four mile radius, and the Morimoto ones are surprisingly delicious. I picked up my first pack a week and a half ago, and was like this is spectacular. They're air-dried. The Korean chicken one that everyone is selling, eating, and reviewing online are too much for me. They're too powerful.