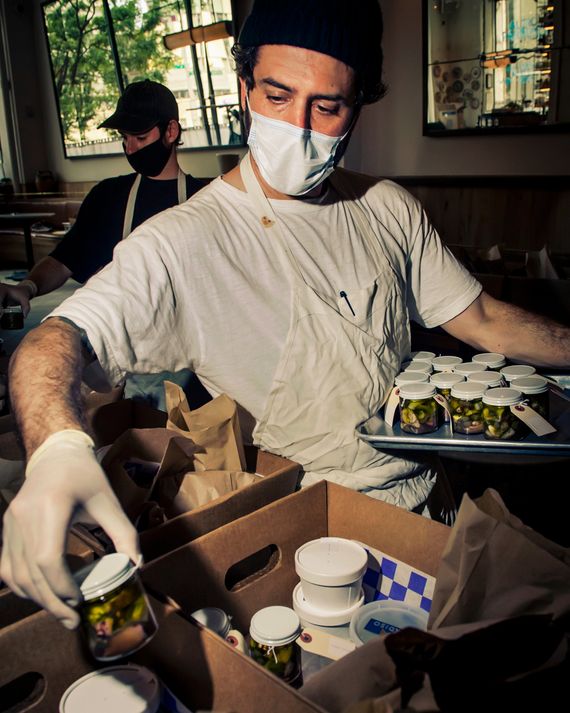 Ignacio Mattos assembling "Take Us Home" boxes at Altro Paradiso.
Photo: Dina Litovsky
Note to self: Never get quarantined with Ignacio Mattos. The chef-owner of Estela, Altro Paradiso, and Flora Bar will make you look bad. Before we ordered one of the new "Take Us Home" provisions boxes he started selling about a month ago at Altro Paradiso in Hudson Square, we had deluded ourselves into thinking that the dishes flying out of the bustling Underground Gourmet quarantine kitchen were actually pretty good.
Now, having feasted for a couple of days on the contents of Altro's to-go box after months removed from the pleasures and refinements of the restaurant world, we know better.
Here we were, thinking we were pretty slick ordering ingredients from the wholesale suppliers to restaurants like Mattos's that have pivoted to home delivery. Here we were, stirring pots. Here we were, deglazing pans. Here we were, busting out the mortar and the pestle. Here we were, in short, cooking up a storm. And here we were — after tasting Mattos's strozzapreti with basil-and-ramp pesto — wondering why.
When the city suspended dine-in service at restaurants, Mattos took stock of his reduced circumstances (limited staff, ingredients that were suddenly hard to find) and the general mood of a housebound populace casting an anxious eye on delivery and takeout. His solution was the box, a mash-up of takeout, gourmet grocery, and meal kit: Blue Apron with super-chef cred.
So on the Sunday of Memorial Day weekend, we serpentined through a surprisingly hectic and largely unmasked downtown Manhattan to Altro Paradiso, where a small scrum had gathered by the entrance. When our to-go box was handed off, we hustled it home and hungrily unpacked it.
Shaped like a wooden milk crate and lined with checked paper, the box holds a bevy of glass jars, cardboard containers, and paper bags whose contents, when combined, compose enough shareable snacks and appetizers and entrées to provide three or four meals for a couple of hearty appetites.
Parched from the trek, we excavated the premixed cocktail for two — a small plastic juice bottle filled with a sweet and spicy thirst quencher called a Scottatura (Italian for "sunburn"). To round out the cocktail hour, we warmed up a batch of crisp and cheesy arancini in the toaster oven for dipping in the accompanying Calabrian-chile sauce, and but for the cramped chez U.G. surroundings, we could have been enjoying the familiar snack at the brass-topped bar of Altro Paradiso. In one of the paper bags, we discovered a slab of oily, chewy sesame focaccia, a new creation from the chef, which went nicely with a couple of dips — one fava bean, one cheese custard, and both so rich and fluffy they approximated buttercream frosting.
Not everything was heat and eat or rip and dip. In a few instances, the meal kit actually required some work. In handing it over, Mattos in effect deputizes you a remotely located Altro Paradiso sous-chef and conveys his instructions on the back of a menu card tucked into the box. For the fresh strozzapreti, for instance, you've got to roll up your sleeves, boil a pot of salted water, and cook the pasta for five minutes. Then you have to "make" the sauce (that spring-y basil-and-ramp pesto) by dumping it into a pan in which you've sizzled some garlic in olive oil (not included). Before you can enjoy the fat-rimmed beef brisket, which arrives presliced in its takeout container, you're asked to warm it up in a 350-degree oven or a microwave, then submerge it under a cup of warmed-up beef jus. Phew!
At that point, if you're closely adhering to the menu-card script, you will accompany the brisket with a plastic cup of red-pepper sauce called bomba calabrese and a side of broccolini, which is flavored with capers and anchovy and meant to be dabbed with horseradish cream. This is all quite delicious, but part of the fun is exploring alternate combinations: Why not, as Mattos proposed by phone when we called him to discuss the new service, chop the broccolini and tuck it and the brisket into the focaccia to make a sandwich, as he and his co-workers did for staff meal? (As unofficial Mattos sous-chefs, we might also suggest shaving on some Parmigiano-Reggiano or provolone, slathering the meat with the horseradish cream, and dunking the thing into the beef jus like a French dip.)
We're not so sure how Mattos might have felt about a liberty we took on our own, adding a can of Italian tuna to his white-bean salad speckled with celery, fennel, cauliflower, and olives to stretch out our supplies even further. But judging by the breezy style of the instructions card, which recommends pairing his preserved lemons with your own fish or lamb, and serving his pork sausages with the lentils or beans every quarantined New Yorker is compelled by lockdown law to have on hand, we don't expect he would have minded.
There is one recipe, however, that should be followed to the letter: Estela's endive salad. The makings for this signature dish come in four constituent parts including an orange you're meant to zest and juice. There's the piquant anchovy dressing; the jumble of walnuts, croutons, and Ubriaco Rosso cheese that Mattos calls "granola"; and two bullet-shaped heads of Belgian endive that you trim, separate, dress, layer over the nuts and cheese, and use as cups or edible scoops for eating the granola. The (minor) effort is worth it. Even our amateur assemblage managed to transport us directly to a window seat at Estela overlooking a stretch of East Houston Street that once bustled with activity at any hour of day or night. Thanks to Mattos and his cardboard box, we don't have to miss the salad like we miss the scene.
*This article appears in the June 8, 2020, issue of New York Magazine. Subscribe Now!