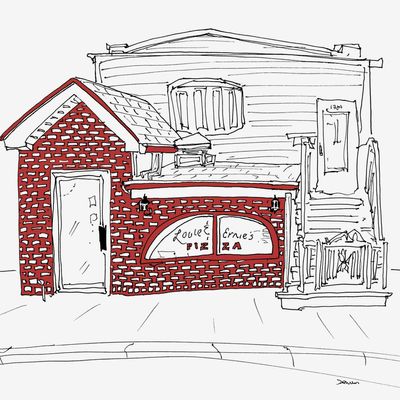 Louie & Ernie's illustrated.
Illustration: John Donohue
Recently, I asked the illustrator John Donohue — who draws restaurant storefronts around the city — about commissioning a drawing of the Bronx pizzeria Louie & Ernie's for my dad. It wasn't a restaurant we ever went to together, but it nevertheless felt like a special place. I first went with two friends toward the end of my time at Fordham, afterward telling my dad — who grew up in Queens and later lived in the Bronx — about the sausage pizza we would have to go get together. As it turned out, he frequented Louie & Ernie's when he lived nearby in Throggs Neck, often enough to remember it after more than a couple decades since living in the neighborhood. (More recently he told me he'd go for the calzones. I never knew my dad to be a calzone guy, these are the things we learn about who our parents were before we were born, I guess?)
Knowing that my dad was once a regular, the drawing felt like the right Father's Day gift, a reminder of a different time in his life, when he was even younger than I am now, and an illustration of how our lives in New York intersected. This was before the coronavirus pandemic, and when I was first asked about it I thought maybe the gift would be a push for us to finally go sometime together, back to the brick building in the residential neighborhood he once called home. Not now, in the middle of the coronavirus pandemic, as the city creaks back open.
Right now, there's nowhere we can go together in the five boroughs, and who knows what places we're sentimental about will survive? It seems plenty. This illustration — a neat drawing that captures the look and feel of the squat house with its brick façade — makes you feel like you're walking back up to the place, an order of two sausage pies waiting for you. Right now, it feels like a perfect gift for a dad like mine, who is sentimental and a bit food obsessed. It's an added benefit that Donohue is donating 50 percent of print-sale profits to the Restaurant Workers' Community Foundation's COVID-19 Emergency Relief Fund.
Donohue's project, called All the Restaurants in New York, has been collected into a book of the same name, and on his website he's published 230 prints that he sells for $95 a print. Some illustrations are of places that have since closed, like Annisa or Great Jones Cafe. Many are places that are considered iconic, like 2nd Avenue Deli, L&B Spumoni's Garden, Nom Wah Tea Parlor, and Sylvia's. One, more likely than not, is a place that means something to you and your dad, too. Maybe you have a dad like mine, who loves restaurants. Or maybe just one restaurant, the one that serves those really good noodles. Maybe you two went to a diner in Jackson Heights together a lot growing up, or this one famous red-sauce haunt after you moved to the city. You can't go back to any of these places right now with your dad, and maybe you aren't even able to see him for Father's Day. But it's still possible to commemorate somewhere that's meant something to the two of you, and thinking about it, this could be the start of a whole collection of restaurant and food illustrations. The illustrator Emily Chen publishes wonderful drawings of dishes from restaurants, like the sheng jian bao from the famous Kang Kang Food Court in the San Gabriel Valley, and offers prints and commissions too. While you're at it, why not get your dad the three kings — bagel squirrel, pizza rat, and pretzel pigeon — as illustrated by Vidhya Nagarajan?