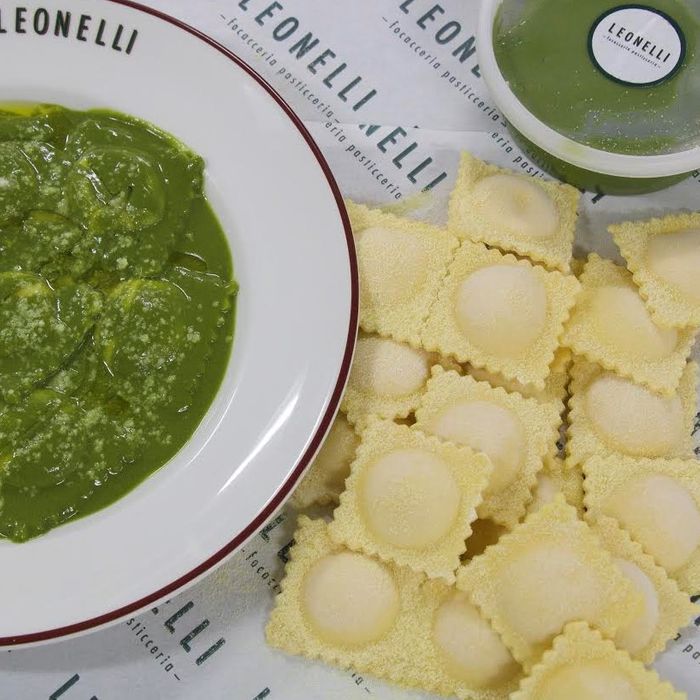 Leonelli's ravioli with pesto alla Genovese.
Photo: Leonelli
On one hand you'd have to be a little cuckoo to order a pasta kit even during a pandemic. Cooking pasta, after all, is not like cooking, say, a turducken or a baked Alaska or a Big Night timpano. Many home cooks can handle the boiling, draining, and saucing just fine on their own. And if it's doing the dishes you're trying to avoid, why not just get your bucatini all'amatriciana the old-fashioned way: delivered and ready to eat? On the other hand, the fresh pasta kits that a number of New York restaurants have improvised during the city shutdown have put both our amateur efforts and quasi-gloppy takeout to shame. Here, a roundup of restaurant-quality DIY noodles and sauces, from frozen ravioli to house-milled radiatore.
Leonelli Focacceria e Pasticceria
27 E. 20th St., nr. Fifth Ave.; 212-451-9495
Jonathan Benno's answer to the pasta-kit craze is 28 ricotta-filled frozen ravioli accompanied by a tub of pesto alla Genovese for four. That's seven ravioli per person if you're keeping track, which you'll want to. $48; pickup only.
Hearth
403 E. 12th St., at First Ave.; 646-602-1300
Marco Canora not only makes the pasta — he mills the damn flour. You get a choice of two sauce-hogging whole-grain shapes (curvy maccheroni or flouncy radiatore, the Ruffles potato chip of pasta shapes) and four sauces, including a punchy basil pesto that will put hair on your chest. Kits for two are $11 to $15.
Rezdôra
7 E. 27th St., nr. Broadway; 646-692-9090
Stefano Secchi got into the kit biz back in April with neat packaging, detailed instruction cards, and a choice of four or five fresh pastas. Among the porky Emilia-Romagna–inspired sauce options, the creamy pomodoro, presumably a sop for vegetarians, was a surprise hit with our pork-loving tasting panel. Kits for two are $39 to $42; optional hunks of good Parmigiano-Reggiano for DIY grating go for $9 or $18.
Porsena
21 E. 7th St., nr. Third Ave.; 212- 228-4923
Credit where credit is due: Sara Jenkins had the foresight a decade ago to build what she called a "pasta restaurant," and since then many competitors, recognizing a good thing when they see it, have followed her lead. Her Porsena crew offers two $32 kits for two: a crinkly chitarra that comes with chopped garlic, cherry tomatoes, and basil that you sauté in olive oil and turn into a sauce; and a thick pappardelle with corn and pancetta.
Xi'An Famous Foods
Delivery only
The famously takeout-and-delivery-averse Jason Wang began selling hand-ripped-noodle kits last month, and we've got to say that putting one together is the most fun we've had in our quarantine kitchen since the pandemic began. If stretching, pulling, twirling, and thwacking a hunk of dough into submission fails to relieve tension and lift your spirits, nothing will. The four-serving kits are packed with everything you need (even the oil), easier to make than you think, and a steal at $26 to $30. Delivery only.
Misipasta
329 Kent Ave., at S. 4th St., Williamsburg; 347-566-3262
Missy Robbins, another former anti-takeout stickler, has capitulated to popular demand with a rotating roster of paper-wrapped Misi-made fresh and extruded pastas like the crowd-pleasing mezze rigatoni, which comes with a jar of "30-clove" pomodoro sauce, feeds four, and goes for $45. Read more about the kits here.
Loring Place
21 W. 8th St., nr. Macdougal St.; 212-388-1831
Dan Kluger's $58 take on the trend is a full-fledged vegetarian meal kit for two available on a rotating basis that showcases his housemade ricotta cavatelli with an umami-rich mushroom ragù so good you won't miss the meat. A recent order came with two Kluger signature salads (sugar snap pea, wood-grilled broccoli), plus asparagus with lemon and chiles, and an assorted cookie box for dessert. It's worth noting that Kluger's is a very loose interpretation of the word "kit," meaning that all he asks you to do is reheat the pasta in the microwave for three minutes or warm it up in a pan.
The Frankies Pantry and Bottle Shop
465 Court St., at Luquer St.; 347-450-1733
With their $75 Cavatelli Pack, the world's most famous pair of Franks (Falcinelli and Castronovo) reveal the secrets to their most famous pasta dish, the cavatelli with hot sausage and browned sage butter. Instructions included, plus Negronis for two and a bottle of Chianti Classico. Fun fact: The kitchen cranks out the little larvalike dumplings in a vintage contraption called a BeeBo cavatelli maker, once produced by the Berarducci Brothers Manufacturing Company in McKeesport, Pennsylvania.
*A version of this article appears in the June 22, 2020, issue of New York Magazine. Subscribe Now!