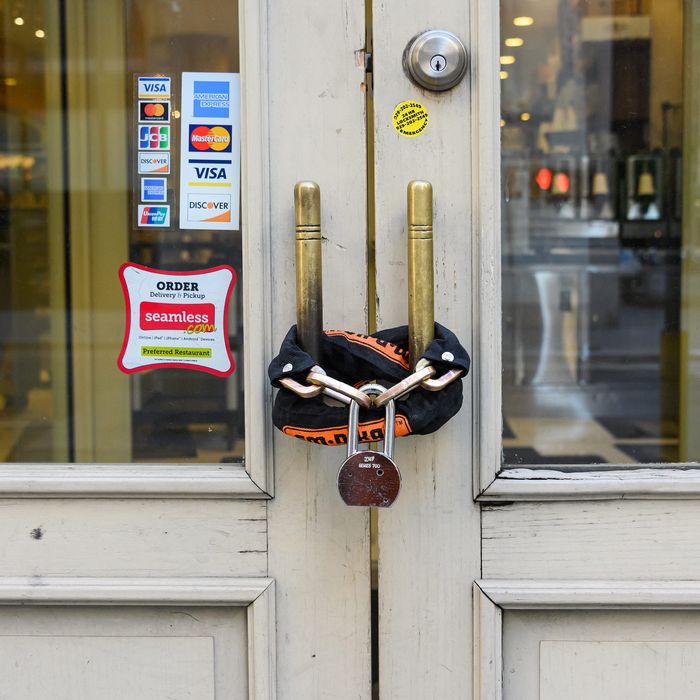 A common sight.
Photo: Noam Galai/Getty Images
By now, it has become a common refrain that New York City's entire bar and restaurant industry is in dire need of assistance. Of course, small businesses around the world are in need of assistance, but in New York — where the cost of doing business is prohibitively high even in the best of times, and the effects of the coronavirus pandemic have been so unbelievably devastating — that desperate need only feels all the more acute. The message has been clear from the beginning: With no money coming in, there is no way to support workers, to pay rent, to pay taxes, or to pay bills. Yet now, more than two months into the government-mandated restaurant and bar shutdown, any kind of real "help" seems even less likely to arrive than it did at the outset.
One argument, a version of which has been made compellingly by the artist Tunde Wey, and explained in a recent New Yorker interview with Helen Rosner, is that the entire industry is so broken — built on a foundation of exploitation, rife with corruption and theft, you name it — that this is finally a chance to start over completely, to reexamine everything and build a more equitable collection of businesses from the ground up. It's impossible to ignore the merits of this approach, although as Wey points out, "I know the restaurant industry is not going to actually die, so I have the space to be very forceful."
But reading the devastating details of the demise of these businesses makes you wonder how any establishment can survive it: lost lives, depleted bank accounts, no prospects for the future beyond starting over from zero, and doing so at a time of complete economic and moral depression, then being necessarily forced to limit the number of guests who can be seated and, as a result, the amount of money coming in. As Toby Cecchini — a co-owner of two Brooklyn bars and a longtime veteran of New York's hospitality industry — wrote recently in the Times:
[W]hat other industry is being handicapped with similar constraints? […] The grocery and liquor stores in Brooklyn where I've been shopping have customers in their aisles cheek by jowl — six-foot measures be damned — with no one objecting. Offices and factories nationwide will open to suggestions and guidelines for safety galore, but nothing officially mandating that they must hobble their production. Why should we be singled out for delimiting?
Clearly, there is no safe way to pack people back into New York dining rooms the way owners would like. There are options — streets being opened to diners, the unlikely scenario that business-interruption insurers be forced to actually cover this very obvious interruption in business — but they're Band-Aids that won't come close to fixing a problem of this magnitude for the length of time it will inevitably drag on.
High-profile bars and restaurants are already closing at a distressing clip: Pegu Club was instrumental in improving bars around the world. Takashi opened in 2010, with a fearless menu of offal at a time when other owners seemed happy to offer the same kale salads and roasted chickens. Momofuku Ssäm Bar was arguably the most important New York restaurant of the last 15 years, but it will be a completely new establishment when (if?) it reopens in the Seaport. Gem Spa was like someone crammed the entire New York experience into a single East Village shop.
And if it's this bad for well-funded spots with unprecedented degrees of media visibility, imagine how terrifying it is for the thousands of immigrant workers and operators who will have no place left to go if their businesses and livelihoods dry up for good.
New York State's Forward Loan Fund, applications for which launch today, feels like it could be a step in the right direction, since it's focused on providing relief to businesses that are actually small (unlike similar federal aid programs). But the loans, in amounts up to $100,000, must be paid back in full within five years, at a rate of 3 percent interest. And that means that anyone who relies on these loans could see their famously "razor-thin" margins — as we've all read so many times over these past two months — become even thinner. In an industry where merely "staying in business" is a badge of honor, choosing to add another expense for up to 60 months is a less-than-ideal solution.
We've all spent the past two months living in a New York without bars or restaurants (at least not as we've traditionally known them). We know that's going to be the case for quite a while longer. We all talk about wanting to see these invaluable businesses saved, but what happens if nobody with the authority or resources to really make that happen offers to stand up? With each day this goes on, we're all finding out.