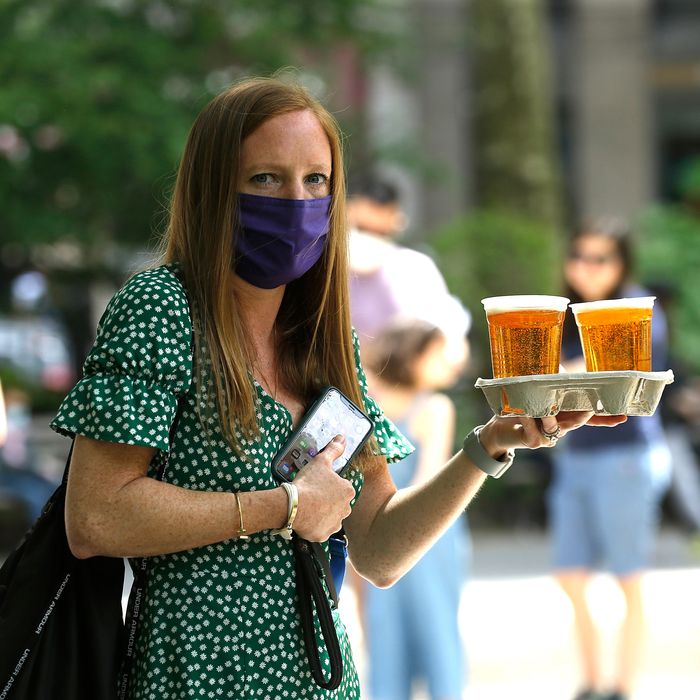 Carrying beers in New York this past week.
Photo: John Lamparski/Getty Images
As New Yorkers start to consider what reopening the city might look like, whenever we're ready for it, the question of how bars and restaurants will figure into this looms large. Already, antsy residents are taking to the streets, ordering to-go drinks from restaurants' and bars' assorted takeout windows, essentially transforming neighborhood sidewalks into makeshift dining areas and bars.
The images of the crowds that circulated incited frustration and outrage, for obvious reasons. Some people wore masks; some didn't. Many seemed to maintain six feet of separation, but others crowded together more closely. It was another opportunity for those of us sitting at home to channel our anxiety: Who do these people think they are? It was also proof that the city needs to put in place better systems, and clearer guidelines, to address this sort of behavior.
As epidemiologist Julia Marcus wrote in The Atlantic, expecting New Yorkers to stay home all summer is like promoting abstinence-only education: it "is not just ineffective, but it's been associated with worse health outcomes." In California, certain counties will allow outdoor seating at restaurants, with well-distanced tables; Rhode Island and Connecticut are adopting similar rules; New York will need a solution of its own, both for the safety and sanity of its residents and for restaurant owners, who will likely be unable to promote healthy social-distancing protocols inside the city's cramped dining rooms.
The obvious answer is to open New York's streets to restaurants and bars. The City Council has already begun to discuss what an expansion of outdoor dining could look like, once the city is ready for it. "We need to start planning how we're going to help our restaurants recover from this crisis, and luckily we don't have to re-create the wheel," says City Council Speaker Corey Johnson, who has already met with the New York City Hospitality Alliance to identify potential open spaces. "We can look to other cities across the world that have started to experiment with ways to have people be able to dine out in a safer way."
Johnson says opening city streets to offer outdoor dining — in essence, expanding outdoor sidewalk cafes — will require a dynamic approach that can be tailored to different boroughs, different neighborhoods, and different restaurants and one that is developed in conversation with community boards, block associations, and business improvement districts.
A crucial benefit of this system is that, if applied thoughtfully, it could serve those neighborhoods that have been hit hardest by the coronavirus pandemic — many of which also have little access to larger parks. "We have a lot of opportunity to create open spaces we can use for multiple purposes that are accessible to everybody," says Philip Myrick, the CEO of Project for Public Spaces. "Streets go everywhere. They're 30 percent of our cities. And unlike parks, they're not a five-block walk from your house. Central Park is great, but you probably don't live within walking distance."
Diners, it seems, are ready: "I've gotten a couple requests for putting chairs and tables in front of the restaurant," says Benjaporn Chua, a co-owner of Plant Love House and Noods n' Chill in Brooklyn. "That would be a really good opportunity for diners and for restaurants, too — because right now, the weather is nice, people don't have anywhere to go unless they buy takeout and have to go to the park. I really want to see it happen."
Simply getting the program green-lit is one concern.There are practical reasons why outdoor seating was limited before the COVID-19 pandemic — sidewalk congestion, noise concerns — but with the city's economy reeling, now is the time to reexamine those priorities to see what can be done — even on a temporary basis. "It's always hard for city agencies and government to think outside the box and not be confined by the typical bureaucratic constraints that have always existed," Johnson says. "It's gonna require creativity and doing things differently — a little bit of trial and error."
The most pressing matter is making sure we can reliably keep people safe. Johnson explains that the burden of buying PPE will likely fall on restaurant owners, but he hopes to find ways to help them afford the expense. "We're gonna have to be very detailed in what we think is safe for [restaurants], and not push the envelope in a way that would feed into another spike or expose these workers," he says.
Those workers might not be as excited about outdoor dining as their bosses are: "I don't know if I trust restaurant owners and management to actually create safe places for people to come back to work," says Hadass Wade, a bartender and former restaurant supervisor in Brooklyn. "Especially if it's left up to owners and management to figure out how best to make their employees feel safe." She guesses that owners, if asked to provide PPE to their staff, will automatically look for the cheapest way to do so — and anyone who's worked in a restaurant will tell you she's almost certainly correct, which means implementing staff-specific safety protocols will be essential in order to ensure everyone feels as safe as possible.
Indeed, when looked at from a certain angle, the idea of alfresco dining can quickly become a Pandora's box of safety concerns, particularly in a city currently lacking in specific guidelines surrounding low-risk behavior — and in an industry that rarely provides sick leave or health insurance to its workers.
Implementing this system would, in other words, require a new level of trust between diners, staff, and ownership. "You have people that don't even believe that coronavirus isn't as big a deal as it is," Wade says. "It's one thing to see those people on the street when you're in the park; it's quite another for those people to be employed in an establishment that's serving you food."
But it is clear that something needs to be done. Most New Yorkers won't be confined to their apartments on 80-degree days, and there is ample space to use, if we're smart about it. If the city found a way to open up streets to outdoor dining, while aggressively protecting and supporting the people preparing and serving food, it could even lead us to reimagining public life as we know it. Myrick, from Project for Public Spaces, remembers a time last fall when he saw a group of people who had pushed a bunch of tables together in Madison Square Park, near the Shake Shack, and set them up like a banquet, with food they had clearly brought from home. "They felt so comfortable in their public space that they could rearrange furniture and bring food to it — being able to use public space for dining and informal socializing like that could be the wave of the future," he says. "We can use that to reknit the city's social fabric and rebuild our sense of community."