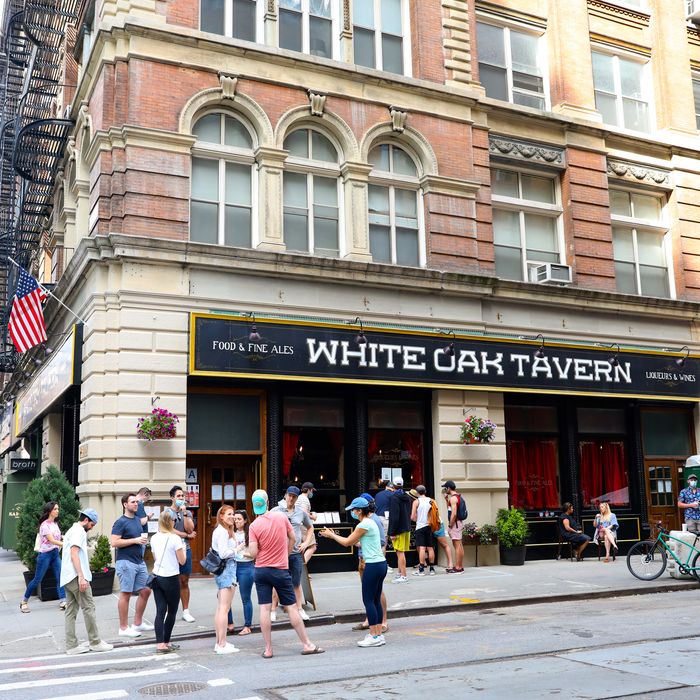 Happy hour in the Village on May 17.
Photo: Jose Perez/Bauer-Griffin/GC Images/Getty
New York is not New Orleans, but a couple weekends ago, along certain commercially thawing swaths of the Upper East Side and the East Village, it was doing a pretty fair impression of it. Swarms of droopy-masked revelers sipped plastic-cup cocktails outside bars and restaurants, raising concerns less about public drunkenness than about flagrant flouting of social-distancing rules, which the police try to discourage when they drive by these sidewalk soirées.
When the State Liquor Authority relaxed restrictions on takeout booze, the intention was to help restaurants and taverns recoup tremendous losses incurred by the cessation of on-premises dining. Wine, beer, and cocktails could be purchased for takeout and delivery, as long as they were sealed or capped, to be enjoyed in the confined comfort of your home. But then came spring and, with it, the collective urge to drink outside, coronavirus or no.
"The weather is definitely everything," says Chris Page, operating partner of White Oak Tavern in Greenwich Village. He started serving drinks to go almost as soon as the state allowed it, both individual size in plastic sippy cups and large format in 32-ounce growlers. It was slow going at first, he says, but when he flung open two of the Waverly Place façade's large front windows and set up an ordering station there, he started attracting dog walkers and locals out for a stroll to nearby Washington Square Park. Business spiked on Friday, May 15, the kind of glorious day that in previous, carefree years would mark the unofficial start of summer. To-go sales were so good, in fact, that he had to double the supply of plastic cups he used to use for children's milk and juice, now deployed for jalapeño-infused Blood and Spice margaritas and three-whiskey New-Fashioneds on tap.
With overall sales way down, Page hopes the state extends the policy. "To-go liquor needs to continue," says the veteran bartender, who feels like he's providing an outlet for neighbors to relieve stress and find some normalcy. "The regulars control the outside area," he says, describing the way they disperse when the sidewalk starts getting too crowded. "They watch out for the place." And the fact that they're content to stand around and drink out of plastic kids' cups means they might be less thirsty for bottled Negronis and double IPAs than they are for old-fashioned in-person human interaction.
*This article appears in the May 25, 2020, issue of New York Magazine. Subscribe Now!