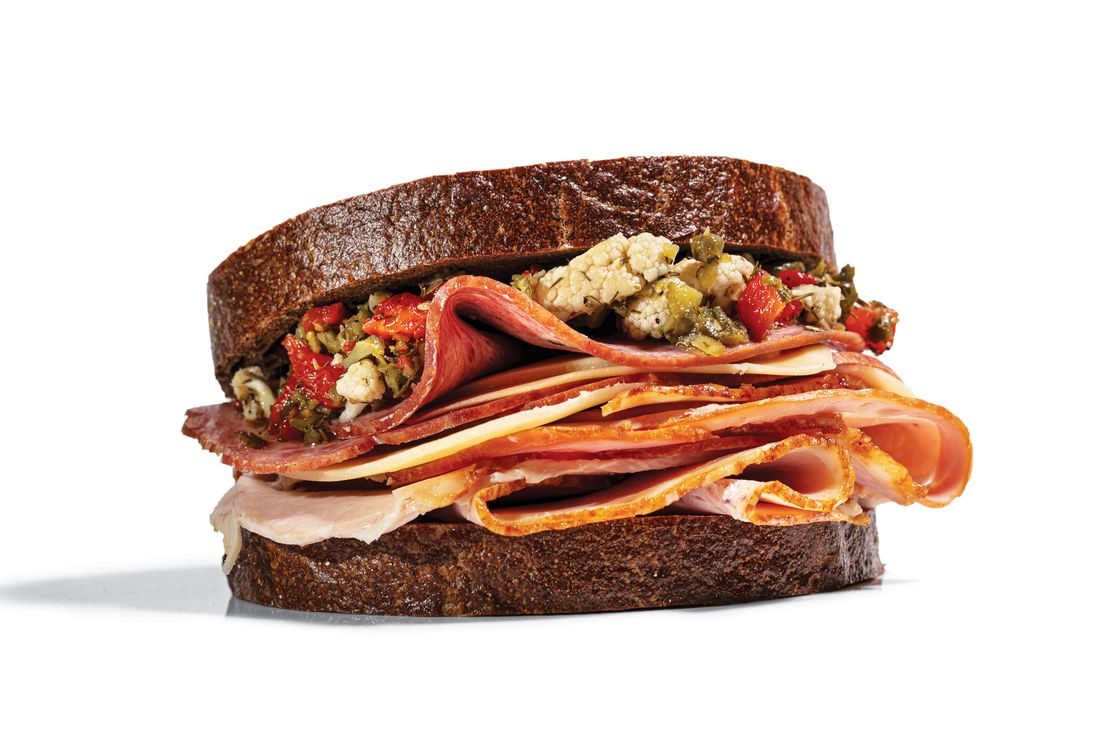 Photo: Melissa Hom/New York Magazine
The news that Veselka, the 66-year-old East Village Ukrainian diner, is back in business with a limited menu for takeout and delivery has not escaped the notice of the national pierogi cognoscenti. "I live in Boulder, Colorado," writes @chrissy_aitch on Instagram. "Am I located in the delivery zone?" Local borscht mavens are pretty excited about it, too. And so is the Underground Gourmet, who is located squarely in the delivery zone, and who has developed over the years a thing for a Veselka sandwich called the Baczynsky: ham plus salami and cheese on a roll. On paper, that combo does not sound like the last word on the subject of sandwiches. And it's doubtful that, unless ballot boxes were stuffed or judges bribed, the Baczynsky would ever win any awards. But what can we say? We love it. The ingredients come from the nearby Ukrainian butcher shop Baczynsky's (a.k.a. East Village Meat Market), for which the sandwich is named, and each one is grade-A and top-notch. The soft, Eastern European–style "cooked" salami is made from an old-world recipe of Julian Baczynsky's, the 97-year-old founder of said meat market. Ditto the smoky ham. The Polish Podlaski cheese adds a mildly tangy note, and Veselka's own giardiniera-like pickled-vegetable relish lends a zingy poor-man's-muffuletta effect. Describing the bread is difficult only because, in our experience, it changes from order to order seemingly at the whim of the kitchen. One day it's a crusty Italian-style number, the next it's a pumpernickel baguette; recently it was slices from a regular pumpernickel loaf baked by the 104-year-old Upper East Side bakery Orwashers.
No matter. The point is that the whole of a Baczynsky is greater than the sum of its parts, and that biting into this super-sandwich is like biting into a bit of the history of the East Village and its Polish-Ukrainian food culture.
This chapter of the history, for those who may not know it, began when Wolodymyr Darmochwal, an agronomist and Ukrainian immigrant, founded Veselka on the corner of Second Avenue and 9th Street as a candy shop–newsstand in 1954. Darmochwal's business grew, and in a few years the shop morphed into a luncheonette and all-purpose social center.
Meanwhile, Julian Baczynsky, also from Ukraine, was smoking hams and hanging sausages on Avenue B. In 1970, he relocated to Second Avenue across the street from Veselka. It turned out to be a good move. By then, Darmochwal's son-in-law, Tom Birchard, was running Veselka. Although Birchard was from Pennsauken, New Jersey, not Kiev, and of Irish-English extraction, and had never even heard of borscht let alone blintzes and bigos, he was a quick study.
After Birchard took ownership of Veselka in 1975, he expanded the restaurant's menu and began buying from Baczynsky's, forging a business relationship that lasts to this day. Now, Birchard's son and partner Jason, who manages the restaurant, carries on the neighborly tradition, and Baczynsky's butcher shop continues to supply Veselka with meat, including hot dogs, pork belly, ground pork (for stuffed cabbages and Ukrainian meatballs), and, during a typical pre-pandemic week, about 200 pounds of kielbasa. Veselka even brings its house-brined chickens across the street to be smoked at Baczynsky's.
Of course, the coronavirus has hurt both businesses. Although Veselka has applied for a small-business PPP loan and Birchard and son are tapping into a rainy-day fund they'd planned on using to renovate the restaurant, Tom Birchard says the future of Veselka is uncertain. "We don't know what the next opening stage is going to look like, but it's certainly not going to be like before." If and when restaurants are allowed to reopen at a percentage of their full-occupancy capacity, "we could kind of limp along at 50 with takeout and delivery, but 25 percent would be tough … and then there's rent."
Baczynsky's longtime Ukrainian-born butcher Andrew Ilnicki who runs the meat market, is more confident about his shop's future. "People want meat; they are buying more steaks, ground beef, pork chops, and chicken," he says. "Business overall is down, but it isn't getting worse, so I think after some time, it's going to pick up and we'll be all right."
Whatever happens, both businesses are invested in each other's survival. It's the spirit of the Baczynsky sandwich at work. "We wanted to do something that highlighted Baczynsky's meats; we wanted to try to support them," says Jason Birchard, recalling how the Baczynsky sandwich came to be several years ago. "And it's the same thing today: We're two small neighborhood mom-and-pops helping each other out, just trying to make a living."
A final funny note about the Veselka-Baczynsky connection: Recently, Jason Birchard was kibitzing with Andrew Ilnicki at the butcher shop when the topic of conversation turned to family trees and shared Ukrainian heritages. "We were just talking casually about family and last names," says Jason. "And what we discovered after some digging is that his grandmother and my grandmother on my mother's side were like second or third cousins and that we were related," he says. "We're relatives very much removed, but now we're like brothers." Nothing further to report at the moment, but wouldn't it be something if Veselka was secretly working on a tribute sandwich called the Ilnicki?
*This article appears in the May 11, 2020, issue of New York Magazine. Subscribe Now!