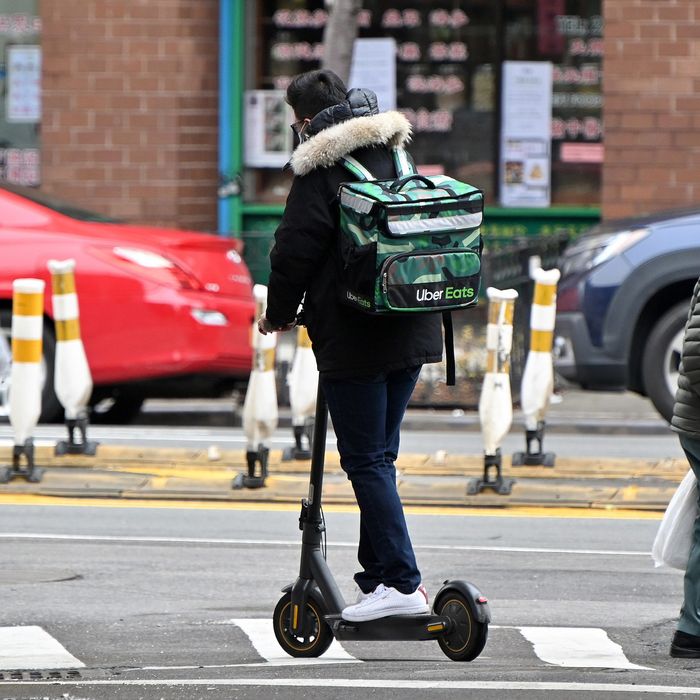 Uber has offered to buy Grubhub.
Photo: Dia Dipasupil/Getty Images
Uber wants to eat Grubhub. The ride-hailing company (which operates Uber Eats) wants to acquire the online delivery platform Grubhub, according to The Wall Street Journal and Bloomberg. Uber approached Grubhub about an acquisition earlier this year, and Bloomberg reports the deal could be reached before the end of the month. An Uber spokesperson tells CNN the company won't comment on mergers-and-acquisitions rumors.
In response to the reporting, Grubhub's stock rocketed over 63 percent. That's more good news for Grubhub, which has seen business boom leading up to and during the coronavirus pandemic. In an earnings call, the company reported record revenues from January through March, as well as that sales were up 20 percent in April. During Uber's own earnings call last week, CEO Dara Khosrowshahi said called Uber Eats "a silver lining to this unbelievably tragic COVID virus." (At the same time, restaurateurs in Chinatowns around the country were reporting plummeting sales as far back as February. Owners in other parts of New York tell Grub Street they'd seen business drop before March as well.)
Some have argued that big tech could come out of the pandemic even stronger, and companies like Amazon and Instacart have been on hiring sprees. At a time when restaurateurs are criticizing delivery platforms for not reducing fees despite the industry being crippled, the deal would bring together two of the biggest food-delivery platforms.