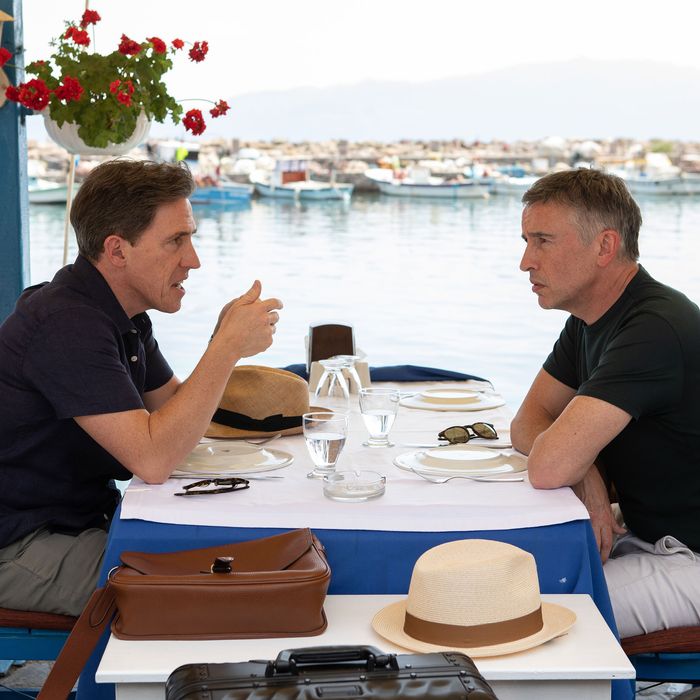 The Trip to Greece
begins streaming in America on Friday.
Photo: Courtesy of IFC Films
If one tallied up the bill, totaled all the food eaten and wine drunk, packed up the delicate porcelain and heavy flatware used over the course of The Trip, there would be enough to provision a small army during a long campaign. As it is, these served as sustenance for two men — comedians Steve Coogan and Rob Brydon — as they bickered, drove, and ate over a period of ten years through England, Italy, and Spain. The series, which existed in its native England as 30-minute installments aired over three six-episode seasons, came to these shores shortened into jaunty feature films. The latest edition, The Trip to Greece, is the fourth and final chapter of the pair's psycho-culinary road trip. Like the previous three, it is directed by Michael Winterbottom, and lards its levity with pathos.
The entire series is essentially a decade-long journalistic boondoggle. A semi-fictional Steve is on assignment from the English newspaper The Observer to swan about the countrysides of the world eating at the best (real) restaurants he — or in reality, director Michael Winterbottom — can find. Steve brings his friend, fellow entertainer and ghostwriter Rob Brydon. Occasionally the pair is joined by an editor at the paper, Emma (Claire Keelan), who flies in for a few days after babying them from afar, and a photographer, Yolanda (Marta Barrio), with whom Steve Coogan makes love. This setup could only have been conceived by someone who has never worked at a newspaper. (I'm still waiting to get paid the pittance I'm owed from work I did years ago.)
There is, therefore, the very present danger that watching Coogan and Brydon on a fantastically financed luxury trip, cramming their Anglo-Saxon maws with professionally prepared food in the world's most beauteous locations, might be unbearable. (Could the film have arrived at a better time? Of course. Any time is better than right now.) Certainly, for all the housebound, socially isolated couch potatoes who will watch this film on their laptops late at night after a failed and exhausting day of trying to balance homeschooling with at least feigning productivity at work, it's out of reach. Surprisingly, then, I watched it without even the subtlest pangs of FOMO.
No one but dolts and craven weirdos are traveling for pleasure these days, so the joy of watching these two men — and Winterbottom is generous with his lens, too, letting the camera linger on the hilltop ruins at Assos and the Technicolor seas of Pylos — is unsullied, a most welcome diversion, though made more piquant by the knowledge that the trip is so near its end.
More than any other "food movie," The Trip captures what it feels like to enjoy a meal. There is no slavering slo-mo of plates being pushed across a pass. Absent, too, are overblown narratives of triumph or defeat that mine chefs' lives as if what was put on the plate could never warrant such adoration without a tear-jerking backstory. Plates are made and we see this in short, matter-of-fact sequences. The diegetic clank of pans on range and crinkle of flame replace Mozart requiems and Beethoven sonatas. This might be art but it's also work. Plates are served, and attention is paid to the professionals serving it. But when the food hits the table, invariably interrupting some animated conversation twixt Coogan and Brydon, it is noticed and then eaten. The Trip films get how even great restaurants ought to be enjoyed: lightly, with less staring and more smiling, with almost reckless gusto, with awareness instead of adoration and, of supreme importance, with friends.
The Trip to Greece, which will be available to stream in America on Friday, is structured as a redo of Homer's Odyssey. It begins in Tevfikiye, Turkey — once Troy — and is meant to end in Ithaca, to which Odysseus, the book's hero, returns. The framing is a neat trick that adds a lot of extra resonance. But if the intention was to be a modern-day epic, times have interceded to turn it into an elegy. Many of the restaurants visited in The Trip — both in this installment and earlier ones — are closed during the pandemic. Though Greece is nodding toward reopening, the likelihood that the world will return in a way that would allow something like The Trip to be made again is slim. It isn't just that the restaurants are gone, but that this mortal coil, too, is slowly uncurling.
After ten years, The Trip has started to feel like Michael Apted's Seven Up series. Both men are noticeably more aged. Brydon's boyish charm is tucked deeper into an ever-folded face. And it is true that Coogan ages well — "You were unpalatable as a young man," says Brydon early on — the old man that lurks inside him is ever closer to taking over. His hair, brown to start, is snowy now, and in the long shots of the men walking, you can hear his knees creaking from afar.
It's not simply because Coogan and Brydon are playing slightly adjusted versions of themselves that The Trip to Greece feels so true. Winterbottom, as he has in the previous Trips as well as in other work (notably Wonderland and Everyday), is a master of accurately portraying the unhurried texture of actual life. No mean feat. Whether or not Steve and Rob's friendship is really real, it's real enough to read, and for me, and so many people who haven't seen their friends in months, it's a welcome tonic to hear and see re-created before me the bonds of amity, the consolation of friendship, the rise and fall of conversations interrupted, as they are here, by the approach of a waiter and pauses to chew.
In the earlier iterations of The Trip, I used to wish that Coogan, the more commercially successful of the pair, would throw Brydon, the more hilarious of the pair, a bone. Why can't he just laugh once in a while at Brydon's impressions? As it turns out, he did laugh but, Winterbottom tells me, he edited those parts out. "It makes me feel awkward," the director says. "I'd rather have other people laugh than Steve." Happily, here he's reconsidered. In this final episode, Coogan frequently dissolves into laughter at Brydon's endless stream of bits. And I, who sit awake at night watching bloopers from The Office just for the joy of hearing Rainn Wilson's guffaw, am pleased. The acerbic antagonism that characterized the first, I'd say, two Trip films has mellowed into a true friendship, one that can withstand both the petty jealousies of the living and the profound loss of loved ones.
In the final installment, mortality chases the men through the Grecian isles. Throughout much of the film, Coogan's father, played in a dream by the great Shakespearian actor Richard Clews, is dying, and Coogan receives updates from his own distanced son. Echoes of Odysseus yearning to return home and his son, Telemachus, yearning for his father crackle through the conversations. There, in stolen moments tucked between meals, folded between bits, and had just out of Brydon's earshot, we see the life that awaits Coogan when he returns home. And if The Odyssey is about anything, and if The Trip movies are about anything, it's returning home.
Over the course of ten years, we've watched Coogan and Brydon eat prodigally at scores of restaurants. But for me, the lasting image of this series isn't of the men a table. It is the two friends swimming in the wine-dark sea. Furiously they struggle as three women — tourists, locals, sirens? — look on from a nearby rock. The way Winterbottom shoots the scene from above, there's nothing but the water and the men in frame. To where do they struggle, and why? With no goal, they seem to be in the middle of nowhere, on a journey with no end. All that can be said for certain is that they're in the drink together. And that is, finally, perhaps all that matters.