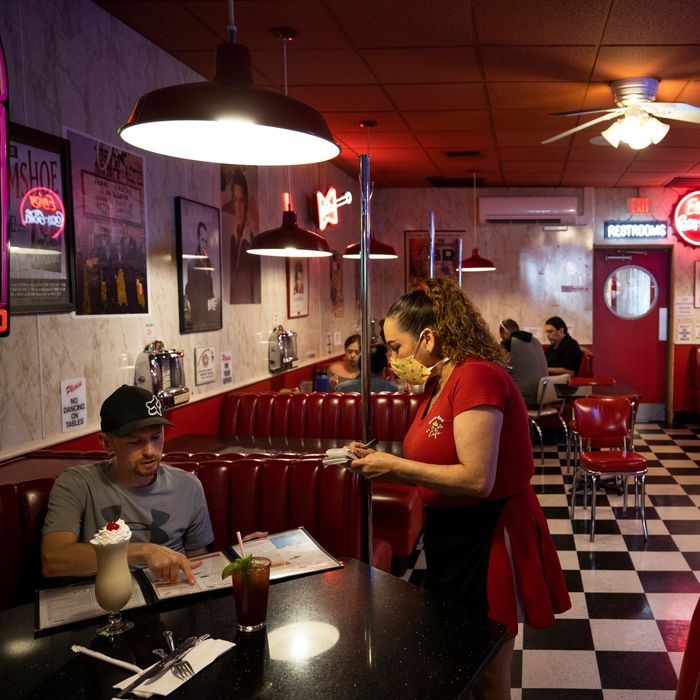 California's Busy Bee Diner, which reopened over Memorial Day weekend.
Photo: Brent Stirton/Getty Images
As states around the country have begun reopening, so have restaurants and bars' dining rooms. Scenes of eager customers — many unmasked, clamoring for burritos and beers — have come out of Texas, Colorado, South Carolina, and elsewhere. Wisconsin residents poured into bars after the State Supreme Court reopened the businesses. New York State has been reopening in phases, too. With Long Island beginning its reopening process, New York City will shortly be the only part of the state still on lockdown. (Mayor Bill de Blasio says he hopes the city will start reopening in June.) But polling shows that well over the majority of Americans have been supportive of measures to stop the spread of the coronavirus. And some restaurant owners and workers say this is all happening too soon and that it puts them in unnecessary danger.
In Rhode Island, a group of restaurant owners and workers signed a public letter advocating against reopening of dine-in service on June 1. Those behind the letter include one of the state's most famous new restaurants, Oberlin; north; and Chong Qing House, whose owner, Wende Chen, had talked about his reservations about opening. Speaking to the Public's Radio, he said in early May, "I am pessimistic about the possibility of being able to open back up within six months."
The letter was published in response to another group of R.I. restaurants, the Ocean State Coalition, asking guests to support regulations allowing for indoor dining on June 1. The opposing group calls this "irresponsible, short-sighted, and dangerous," saying it offers "no specific plans to keep customers and workers safe" and citing reporting on how many people can the virus can spread to from a single person's cough.
The dissenting group also raises the concerns of the well-being of workers in the restaurant industry, which they write "is notorious for various worker abuses," adding that "putting workers at risk during a pandemic is no exception."
There's been opposition to reopening dining rooms so soon elsewhere in the country, too. In Colorado, an operator named Christine Parisi, who runs two restaurants, tells the Denver Post that it seems to her "many places are trying to normalize all the reminders of a pandemic situation, but I cannot get behind that."
Some industry leaders are taking a similar stand. Hugh Acheson wrote in late April that he wouldn't reopen his three Georgia restaurants after Governor Brian Kemp lifted lockdown regulations. New York's Danny Meyer tells Bloomberg "we won't be welcoming guests into our full-service restaurants for a very long time — probably not until there's a vaccine."
Beyond the obvious safety concerns, the choice to reopen can create heightened tension between workers and diners. In Charleston, South Carolina, the Post and Courier reports that people have mocked owners for not reopening their dining rooms, while guests have gotten into verbal arguments regarding the use of masks and have even "berated" servers about dishes. Christine England, who started a Facebook group called Lowcountry Eat Out! tells the paper that a couple of dozen restaurant workers reached out to her and "all said the same thing: This last week has been the worst week of their lives."