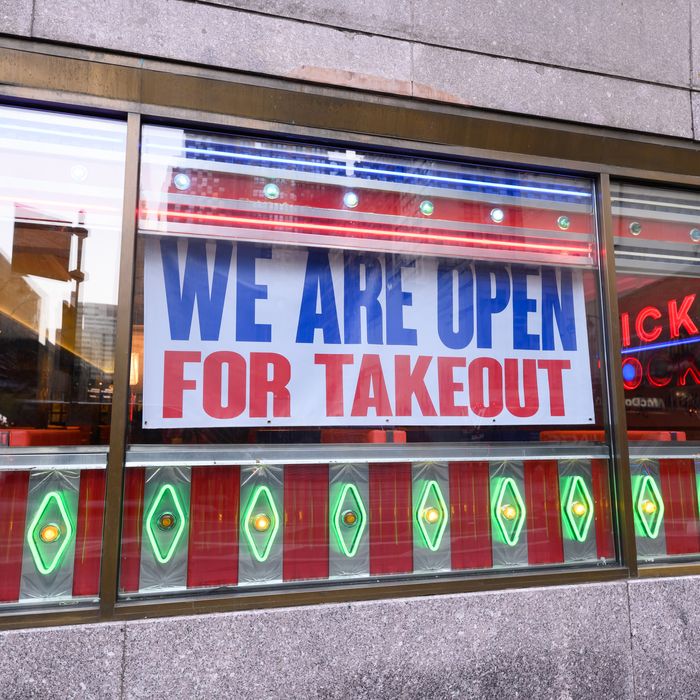 Many New York restaurants that were temporarily closed are now serving takeout and delivery.
Photo: Noam Galai/Getty Images
When the coronavirus shutdown hit New York, Jose Luiz Ortiz, the co-owner of Mama Catalina in Corona, was one of many restaurateurs who opted to turn off the burners completely out of concern for the well-being of his family, staff, and customers. This past weekend, the restaurant did reopen, though, for delivery and takeout, once again serving dishes like bistec encebollado.
"At the time we closed, the spread of the virus was getting out of control. It was important for us to close, especially because our neighborhood has become the epicenter of the virus in New York," Ortiz explains through his daughter, Merelis Catalina Ortiz. "It has been 54 days since we closed. We just felt like, at this point, we couldn't take any more time out of business."
Ortiz is not alone. In the last couple of weeks, restaurant owners across the five boroughs have begun to reopen their businesses, turning on the lights at storefronts that had gone dark. They are all trying to figure out how to cater to curious but cautious customers while ensuring their staff members are as safe as possible. They are also reopening to a world full of uncertainty.
Owners who spoke with Grub cited the accumulation of rent and loss of income (a concern for workers ineligible or unable to get unemployment as well) or that they had felt more comfortable about being able to operate safely. Others say it took time to figure out how to translate their product, land on something they could do safely in their small space, or that their reopening was made possible because of PPP loans. The hiccups of figuring out delivery was one hurdle, though some owners say they've chosen to forgo or are unsure about delivery platforms because of the fees. Still, this gradual return to business offers some glimmer of optimism for operators and potential diners alike during a year of unprecedented difficulty for the industry and workers. This is especially true in the city's Chinatowns, communities that were impacted first and perhaps most severely.
Prominent restaurants that have returned for some form of takeout and delivery after previously closing include East Village neighbors Superiority Burger, dry-pot specialist MáLà Project, and old-school Jewish lunch counter B&H Dairy, as well as Ciao, Gloria, Olmsted (as the "Olmsted Trading Post"), and MeMe's Diner in Prospect Heights. Haitian spot Grandchamps reopened its Brooklyn Navy Yard location, Flatiron's Eisenberg's Sandwich Shop has returned, and Ignacio Mattos's Cafe Altro Paradiso and Estela both now sell weekly take-home boxes and wine bundles.
For many, reopening has just been an issue of figuring out how to do delivery and takeout when that wasn't part of their original business model. Rethinking the way that an entire restaurant looks, feels, and operates can take time. The normal day-to-day of managing multiple locations "seemed overwhelming," says Grandchamps co-owner Sabrina Brockman.
"Everyone is guessing. To me, that's indicative of how antsy people are," says chef Alex Stupak. "And I get it — I'm very antsy." After reopening for takeout and delivery at the West Village's Empellón Taqueria on Cinco de Mayo, he will start doing takeout this Friday at his East Village bar, Empellón Al Pastor. On June 5, he'll start "something extremely limited" at Taqueria, too.
"I would talk to my friends, in restaurants or not, and everyone would say, 'Well, why don't you just reopen? Well, I would love to. It just wasn't that easy," says Superiority Burger owner Brooks Headley. "The amount of money that will come in for what we're doing now, who knows if that'll make any difference at all?"
Last Tuesday, the tiny vegetarian restaurant announced it would be experimenting with a return, offering prepacked vegan meals of hoagies on Bread and Salt rolls, desserts, and a side, available for Thursday pickup. The 65 orders sold out in an hour. For Headley, there are too many variables for à la carte service. Back when things were normal, they could have ten or 11 cooks baking focaccia and scooping gelato in the 300-square-foot space's kitchen. Now they can only have one or two, and Headley has to consider where employees are coming from. Everyone working lives in the East Village. And they're going to proceed cautiously.
"It's not the kind of thing where I can say we'll be open one day this week, two days the next, three days in two weeks," Headley says. "Just as we were talking about it during the morning, before we made it an actual thing, it was, 'Let's do this, let's see what happens.'"
Logistics and supplies were two hurdles to get over for many. That could mean installing things like plexiglass screens, getting PPE, figuring out how employees can safely work in the squeezed and crowded spaces that make up New York, or setting up a space so customers can't come in. For others, it was just a matter of getting the supplies they needed, like cartons or containers, that were taking a long time to arrive.
"We had been talking about it, you know, for a while. I guess, officially, I would say about a month ago. It's basically like opening a whole new restaurant, with the takeout and delivery, because it wasn't something we were doing previously," says Nami Nori's Lisa Limb. The West Village hand-roll restaurant was one of the buzziest places to open in New York this year before it shut down on March 28. The team had been working on delivery and takeout before the pandemic, and even designed special packaging, but had held off on going all in because of loose ends. "We had never ordered the packaging in any quantity because we didn't expect to be doing just takeout and delivery."
The West Village's JeJu Noodle Bar, whose owner, Douglas Kim, closed it because of staff fears about racist attacks on Asians and Asian-Americans, will return with a "totally different" menu. Instead of ramyun, there's a five-course prix fixe with either bo ssam or a roasted chicken glazed with maple soy.
Kim is one of the many operators who says rethinking his menu is the only thing that made financial sense. "The noodle is one of the items people always get as a cheap item — they don't want to pay to a certain degree," Kim says. "They don't appreciate it, like pasta. If you go to Carbone and get pasta takeout, they charge you $32 or $36 for vodka sauce. If we sell noodles for that much, they think we're crazy."
Businesses in hard-hit areas of the city have returned, too. Those include Woodside Kitchen, a Chinese takeout restaurant in its namesake neighborhood; Elmhurst Thai restaurant Lamoon; and Fordham's Puerto Rican and Dominican favorite 188 Cuchifritos. It's been a particularly bleak year in the city's Chinatowns, but Eater reports that Chinatown's restaurants and stores, including Great N.Y. Noodletown and roast-pork specialist Wah Fung No. 1, are also reopening. So has Bep Ga, a chicken-pho specialist on Forsyth, and Joe's Shanghai, the restaurant credited with introducing soup dumplings to a wider audience of New Yorkers.
Especially for restaurants in working- and lower-middle-class neighborhoods, they may feel like they simply can't keep the lights off any longer. Two months without selling so much as an order of plantains is a long time to go without any business in this industry. Jackson Heights' Arepa Lady reopened last Friday after temporarily closing in late March due to a lack of customers. Nothing changed, and the owners say orders have so far been the same. "Rent keeps accumulating," co-owner Alejandro Osorio tells Grub. "Is it better to get a little something than nothing? I don't know."
A handful of restaurant owners, including those from Arepa Lady, say they were able to reopen after getting a PPP loan, though they spoke to frequent criticisms of the program. "It's not enough," both Osorio and Plant Love House's Benjaporn Chua say of their loans. "$20,000 can barely sustain two months' rent for the three locations," Chua says. Her family has reopened their Thai restaurants in Williamsburg and Prospect Heights, in part, she says, because of employees and people in Elmhurst's Thai community who need the money. (Various restaurateurs mentioned the difficult circumstances for undocumented workers or others who don't have work visas.)
"At first, we were thinking we would just open one location, and whoever wants to work we'll put them in one location," she adds. "But then more Thai people started to get news that we are reopening, and there are a lot of Thai people who need jobs right now. So we decided to open two locations, train everyone at one, and give them a job."
The prevailing mood among restaurateurs is trepidation. Marcos Muñoz, who reopened his Latin fusion restaurant Mojitos in Jackson Heights on May 8, says he watched as friends stayed open only for business, not to be there or to get sick. "We were very concerned. We were very scared to reopen," he says. Paul Eng expects to bring back Chinatown's Fong On, which reopened in 2019 as a reboot of his family's nearly 80-year-old tofu shop, by the end of June. But he's not committing 100 percent.
"I'm not in a terrible rush to restart. Simply, I'd like to see what happens. I just would rather, if I start, it be a genuine start," says Eng, who is in a better position than most because his family owns the building and he's sort of his own landlord. He raises concerns about a resurgence in cases, and also acknowledges that business won't be the same because he won't be drawing people from outside the neighborhood. "I can't see being open every day and having the business support the amount of hours and the employees … I suppose most businesses will be purely local for a while."