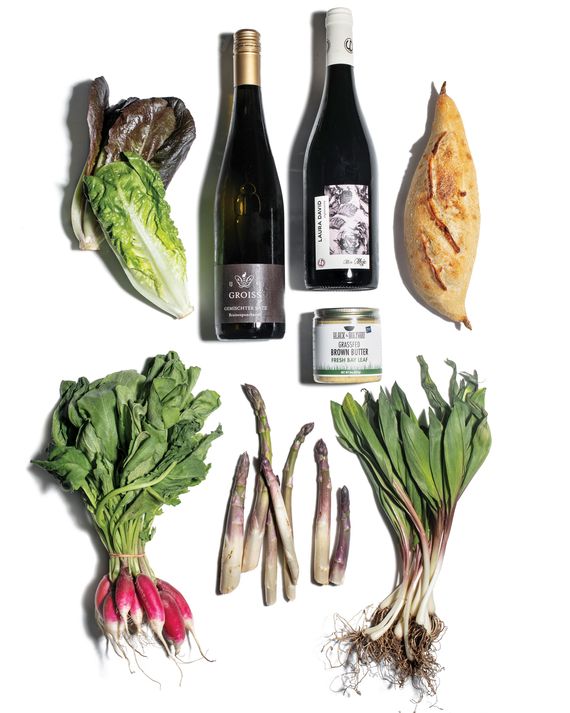 Compagnie des Vins Surnaturels'
CSA Food & Wine Pack
varies weekly, and might include, from top left
: Campo Rosso Farm's Little Gem lettuce; "farmer wines" like an Austrian Gemischter Satz and a Loire Valley Côt, a.k.a. Malbec; L'imprimerie's parbaked demi baguette; brown butter made by Compagnie's chef; ramps from Mountain Sweet Berry Farm; white asparagus from Lani's Farm; and Alewife Farm's breakfast radishes.
Photo: Melissa Hom/New York Magazine
In a season with the world closed for business, the Greenmarket remains open. This is somewhat miraculous, considering that the farmers' market in general, and the Union Square flagship in particular, is in normal times as much a tourist attraction and social hub as it is a place to fill your crisper drawer. Right around now is when sun-starved New Yorkers would emerge from cold and damp early-spring doldrums hungry for fresh signs of life: the pungent ramp, newly dug radishes, slender and stubby asparagus spears — all of which have made their annual debuts, as though the planet hadn't been upended and its population ravaged. But the market itself has undergone a transformation, as has the experience of shopping there. The 44-year-old institution and its participants have had to nimbly adapt to current conditions and find new ways to feed the city.
At 8 a.m. on the first sunny Saturday of May, the park was ringed by three nearly converging lines of shoppers waiting to enter, each proceeding by the now-familiar prescribed distance to the next chalk-marked X as the queue haltingly six-footed forward. At the barricaded entrance, posted signs listed the market's new rules, politely requesting that visitors cover their faces, not touch the merchandise, use cards and electronic payment if possible, leave their dogs at home, and shop alone or split up to cover more ground. And above all, to keep their distance, from each other and the market vendors. As at an overrun nightclub, when shoppers departed, new ones were admitted. "Nice days like this are the most anxious," said the friendly agrarian masked bouncer as he ushered us in.
As veteran marketgoers, we well know to avoid prime-time hours, when the sun is shining and the premises have habitually been swarmed with bulldozing line cooks, dawdling shutterbugs, oblivious aisle blockers, rambunctious kindergartners, samples hogs, and assorted lollygaggers and passers-through. And of course, those intending to actually buy food. But it has long been a truism of the Greenmarket that you don't go there to shop — you go there to shop around. To peruse. To browse. To see whose Green Zebra tomato looks juiciest and whose Tristar strawberry tastes sweetest on any given day; to gather intel, double back, nibble and assess, take your pick. Unlike a rote grocery-store trip, the best way to approach the Greenmarket is not with a list but with an improvisatory determination to let What Looks Good dictate your purchases and your menu.
COVID-19 has put an end to all that, at least for the time being. The Greenmarket has always been an essential business, but now that that term has taken on new urgency, so has the shopping expedition. Speed is encouraged, socializing eschewed (and rightly so). You should know what you want by the time you've arrived at the front of the well-spaced line, and don't expect to sniff the spearmint or taste the horseradish dressing. You won't be able to spy on what the celebrity chefs are bulk-buying, as most of their restaurants are currently closed. And though it might be tempting to chat up farmers and old friends, now's not the time, as the covered faces and yellow-police-tape barrier make disquietingly clear.
For many, crowd control and new protocols aren't enough to justify breaking quarantine to brave a public place where passersby, some seemingly oblivious of personal space and chalked sidewalk markings, are practicing varying degrees of compliance. And so the vendors have been experimenting with newfangled ways of getting their goods into the hands of a nervous public (see Greenmarket's alternative-sales directory at grownyc.org/blog/schedule-changes). Here, a few recent innovations that introduce technology to the transaction.
Preorder, Prepay, and Pick Up Your Produce
A handful of farmers have established online systems meant to minimize wait times and unnecessary contact. But some websites are more user-friendly and efficient than others, and most stands haven't designated a separate cashier for preorders, which means you still have to get in line. Regardless, the process sped up our transaction at Rooted Family Farm, one of the two new outgrowths of farmer Morse Pitts's Windfall Farms (the other, Wood Thrush Farm, is currently delivering to homes on the Upper West Side). Rooted works Windfall's Orange County soil and occupies its Union Square tent; the shared DNA can be seen and tasted in its pristine, pricey salad greens, especially the triple-washed mesclun mix brightened with edible flowers, and the Martha Stewart–paint-palette Ameraucana-chicken eggs.
We also painlessly preordered wild arugula, Tuscan kale, and spicy greens from Eckerton Hill Farm, whose owner, Tim Stark, is best known for his cult-favorite heirloom tomatoes in season. And once the stand hand at Lucky Dog Organic had located our bag, hidden under a tarp, we made haste with our prepaid Magic Molly purple potatoes and a bunch of sweet, crunchy, exceedingly carroty Bolero carrots. We haven't been as lucky with Lani's Farm, the great South Jersey generalist and specialist whose repertoire includes novelties like local turmeric and soybeans. The farm casually accepts preorders via Instagram and email but doesn't maintain a formal online shop, and when we arrived to retrieve what we thought we had requested, we learned we'd been foiled by a computer crash. The good news is Lani's does have a designated area for preorder pickups, and despite the snafu, ours was quickly assembled on the spot.
Door-to-Door (or Make That Farm-to-Apartment) Delivery
In late April, Lani's announced citywide home delivery on Instagram, and demand was so great that the first week's ordering window closed hours before the advertised midnight cutoff. Indeed, delivery seems to be where all consumer spending — discretionary, staples, and Greenmarket—is rapidly heading. Stokes Farm, which returned to Union Square in early May, delivers produce and baked goods hyperlocally in neighboring Bergen and Rockland Counties. Eckerton Hill Farm's seasonal vegetables can be shipped via Goldbelly, better known as an online procurer of more carnal regional pleasures, from Pat's Philly cheesesteaks to Walter's Mamaroneck hot dogs. But maybe the best way to replicate the experience of a good old-fashioned Greenmarket haul from the comfort of your own home is to order from OurHarvest, a six-year-old Long-Island-based online grocer that scours the market for the best seasonal picks from multiple vendors, just as we did in the unhurried, pre-pandemic days, and supplements them with other products you might need to fill your fridge and cupboards. The platform is organized by basic food group and easy to use (though since the stay-at-home order was announced, delivery slots have sold out in 45 minutes), and the selection is concise but enticing, with a focus on local farms: German butterball potatoes and Kennebec potato chips from Mountain Sweet Berry Farm, the Mediterranean succulent agretti from Campo Rosso, beets and herbs from Lani's, Phillips Farms leeks. There is kefir from Tonjes Farm Dairy and goat's-milk feta from Ardith Mae, plus, should you wish to round out your meal, locally made foodstuffs like tortillas and salsa from Corona's Tortilleria Nixtamal and a luxe, quichelike cauliflower tart from Las Delicias bakery in the Bronx. The only thing missing is wine. For that, you can order a $75 CSA Food & Wine Pack from Nolita wine bar Compagnie des Vins Surnaturels, which pairs two bottles of "farmer" wine with a grab bag of produce foraged from the Greenmarket that day. Just like with our shopping forays of yore, you never know exactly what you'll get. Inside ours, we found a slightly bedraggled bunch of radishes, three loose garlic scapes, a tight little head of Little Gem lettuce, and the first purply-white asparagus of the season — the serendipitous essence of spring delivered straight to our door.
*This article appears in the May 11, 2020, issue of New York Magazine. Subscribe Now!