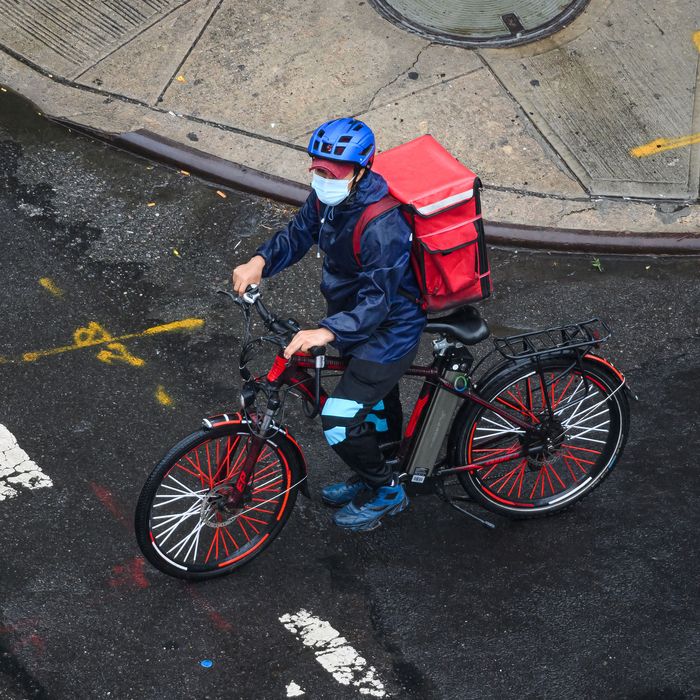 Delivery fees are now capped at 15 percent.
Photo: Noam Galai/Getty Images
New York restaurants are getting a little more relief from the city government. Today, Mayor Bill de Blasio signed seven pieces of legislation aimed at restaurants, other commercial establishments, and tenants. Among those laws are two addressing criticisms of online delivery platforms, including a widely called-for cap on fees imposed by third-party delivery platforms at 15 percent per order for delivery and 5 percent per order for any other charge. The cap will last for the duration of the city's emergency, and for 90 days after. While restaurants are struggling to survive, Grubhub is reporting record revenues, and the company's April order were up 20 percent. (Competitor Uber has approached Grubhub about an acquisition.)
Restaurateurs and service-industry workers around the country have criticized fees from platforms like Seamless, Uber Eats, and others as onerous, and San Francisco imposed its own cap in early April. Seamless has argued against the caps, which the company claims are in fact bad for the restaurants themselves. The other law prohibits platforms from charging restaurants fees for telephone orders that don't result in sales, with penalties of up to $500 per violation. It will also last for up to 90 days after the end of the declared emergency.
"They basically make it impossible for you to make money, and they haven't lessened their fees with everything going on," restaurateur Colleen Bock told Grub Street in April. (She and her husband Ian were weeks away from opening their bar, the Acre, when the restaurant shutdown happened.) "It's always been like this. I don't want to be involved in that system with those services."
Along with those two laws addressing delivery platforms, the city has suspended the collection of indoor sidewalk café fees from March 1, 2020 through February 28, 2021, as well as for outdoor sidewalk cafés during the declared emergency. It also codified de Blasio's executive order that suspended renewal requirements for city licenses and permits during the emergency, extending that suspension for another 45 days.
Additionally, the city has temporarily prohibited the enforcement of personal-liability provisions in commercial leases or rental agreements involving coronavirus-impacted tenants; made landlord threats against commercial tenants for being a coronavirus-impacted business a form of harassment; and protected tenants from threats based on their status as an essential employee or one impacted by coronavirus.