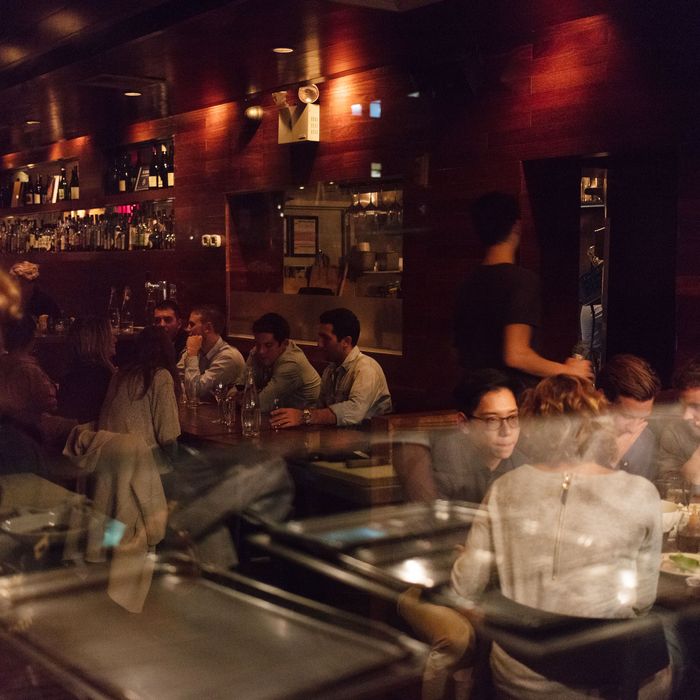 RIP.
Photo: Gabriele Stabile
Momofuku Ssäm Bar, which in Grub's opinion has been the restaurant group's most consistently interesting place to eat, is dead. After nearly 14 years in the East Village, the restaurant will close and reopen in the South Street Seaport space that is currently home to Wayō. So, yes, technically Ssäm will live on, but as the classic American saying goes, it's like "a deadhead sticker on a Cadillac." The ambiance of the redeveloped South Street Seaport is just not the same as the East Village, but then, well, neither is the East Village or Momofuku.
In a statement posted to the Momofuku website, first reported on by Eater, the relocation is billed as part of a streamlining process or, as it's phrased in the announcement, focusing on "restaurants with the most potential." Ssäm Bar's lease is up in January, and it's apparently time to move on. The new restaurant will be a kind of Frankenssäm, with elements of Wayo grafted on, including parts of its menu, tabletop cooking, and karaoke rooms.
This isn't the only change for the Momofuku empire. It was also announced that both Nishi and Washington, D.C.'s CCDC will close. Nishi lasted for a tumultuous few years in Chelsea, opening as an Italian-Asian restaurant before becoming more of straight up Italian one. It never quite landed like some of Momofuku's more successful restaurants. According to the Momofuku announcement, the margins at both Nishi and CCDC were too thin and "neither restaurant had enough cushion to sustain the shock of this crisis."
Unfortunately, we'll all just have to say "see ya" to the original Ssäm Bar while looking at blurry old photos of duck.