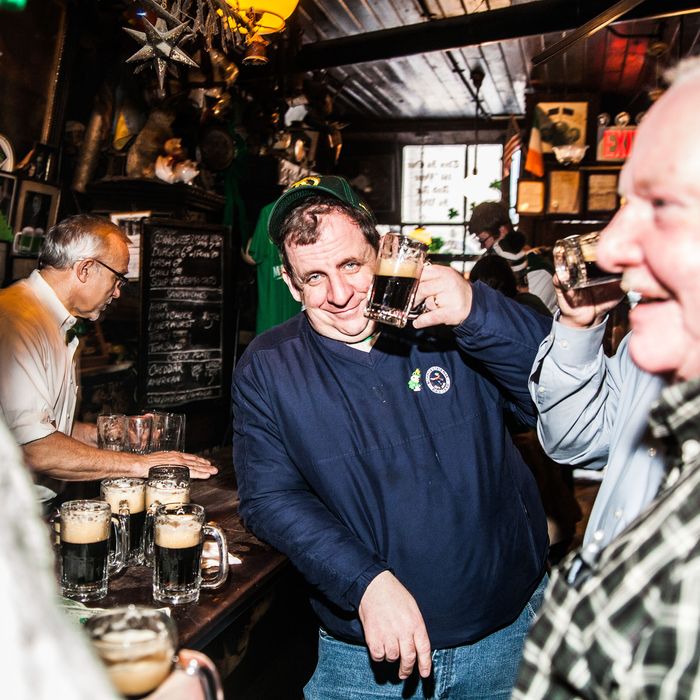 McSorley's in the old days.
Photo: Konstantin Sergeyev
As more and more restaurants around New York City reopen, some stubbornly old-school institutions are returning and bending their steadfast rules. As of today that includes East Village's "resolutely unhip" McSorley's Old Ale House, which EV Grieve reports will now serve food and growlers of beer to go. The bar had temporarily closed back in March, and this two-month hiatus is by far the longest it's ever been closed, bartender Gregory de la Haba tells the neighborhood blog.
According to de la Haba, who is married to owner Teresa Maher de la Haba, McSorley's will sell burgers, sandwiches, and hot dogs along with its beer. The bar will be open every day from 1 p.m. to 8 p.m. over the next two weeks, though it appears plans beyond that are contingent on how the city handles reopening. He also adds that they'll be wearing face masks and have "installed four hand sanitizers," including one by the entrance. On the incongruity of hand-sanitizer dispensers in the 166-year-old bar, he tells EV Grieve, "Doesn't quite go with the décor of the aged and charred wood, but for now who gives a shit. Safety first."
The owners of McSorley's aren't the only ones saying "who gives a shit" about aesthetics or old rules. The Lower East Side's art-scene favorite Lucien is now selling food and martinis to go for the first time in its 20-year history. And earlier this week, it was reported that another ye olde New York institution has also reopened after a temporary hiatus. Williamsburg's Peter Luger, Eater first reported, has tiptoed into the 21st century with delivery for the first time, including through online platform Caviar. (Unfortunately for fans, the food does not come with the restaurant's, uh, trademark service.) In what may be an earth-shattering shock, the restaurant has also, for the time being, begun accepting credit cards — so now you don't have to pay with your debit card!