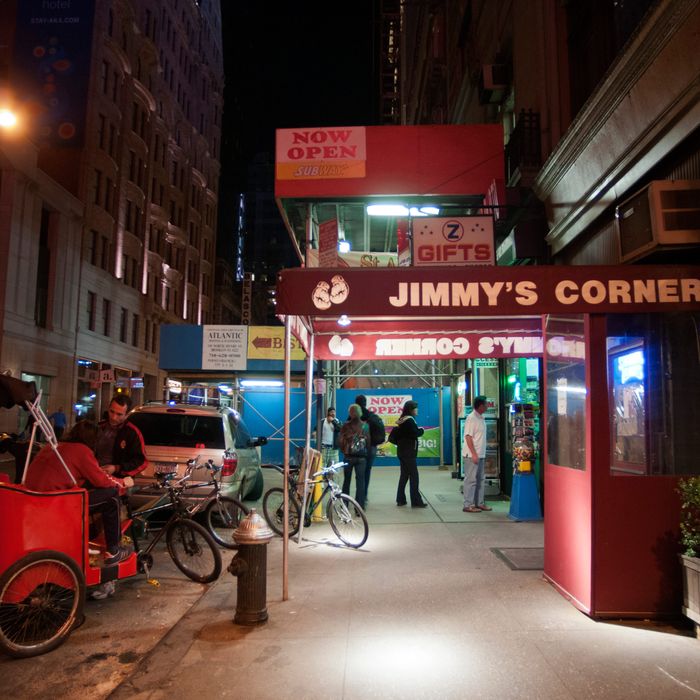 Glenn opened his bar, Jimmy's Corner, nearly 50 years ago.
Photo: Sergi Reboredo/VW Pics/Universal Images Group via Getty Images
Jimmy Glenn, the boxing cutman and owner of Jimmy's Corner, one of the last dive bars in Times Square, was arguably one of the city's most unknown accidental inventors, a quiet transplant from the sharecropping South who spent nearly the last half century — from a dimly lit office behind a jukebox and beer cooler — overseeing one of New York's most successful social experiments.
With his walrus mustache and gentle-giant demeanor, Glenn's secret was not bespoke cocktails. None were on the menu. Menu? His bar didn't really have those, either. "What made the place special is he didn't care who you were or how much money you had — he treated everyone equal," Pete Pharoah, a boxing photographer, railroad conductor and regular visitor, says of Glenn, who died from COVID-19 yesterday. He was 89.
"You really had to try hard to do something that would get him upset," says Ron Scott Stevens, the former New York boxing commissioner and matchmaker, attributing Glenn's unearthly calm to his primary occupation inside the boxing world: cutman. A self-taught cross between shaman and surgeon, these freelance operators of the ring have only 60 seconds between rounds to use primitive tools (bucket, endswell, vaseline) to repair gashing wounds that could save a fighter from defeat, devastating knockout, and prevent lifelong injury.
Like so many, these figures in a boxer's corner start with their own championship dreams. When he first moved to Harlem in the mid-1940s, Glenn wanted to follow the path of Sugar Ray Robinson, his neighborhood hero. But after a brief stint as an amateur, he discovered he didn't have the punch to make it as a pro, and instead found a way to fame without the physical punishment. He ran a gym in Times Square that hosted the greats like Muhammad Ali, Salvador Sanchez, and Boom Boom Mancini. He sparred with Floyd Patterson, worked the corner for a young Mike Tyson and countless others, and pulled together a loyal network of allies throughout the world, taking troubled kids under his wing and looking to steer them to title fights from the back of the bar.
"Guys like me dream of a champion," he once said, describing the futility of his quest. "When a fighter hits ten rounds, the big money pushes the little guys out."
The big money of Times Square never pushed him out, though, and he and his wife Swannie and son Adam Glenn, who now runs the bar, kept to their code of keeping the drinks affordable. Around the corner at the Algonquin Hotel, for instance, every cocktail has the list price of $17. At Jimmy's Corner, a sanctuary for the everyman, the Glenns refuse to comply with inflation, keeping the price of a beer as low as $3.
The $3 beer rule keeps the crowd lively, and it's the kind of bar where it's worth showing up 15 minutes early to see who you might stumble into. "On any given day, you can find a homeless person sitting next to a CEO sitting next to a construction worker next to a boxer — and they're all talking to each other," Adam Glenn, his son, told me yesterday. "Rich, poor, black, white — Jimmy didn't care who you were. He cared what you had to say. Is this an interesting person to talk to?"
The design of the bar itself also forced interactions. The corridor is so tight you have to squeeze past that endless collection of photos of Jimmy with the Greats on one wall, careful not to knock down the frames, and apologize to those on the always-filled stools, to find your way past the jukebox and to the back office. Here, under a fluorescent light, you'd find Glenn, talking to a twenty-something in a sweatsuit, talking ring strategy or trying to secure an opponent for his next fight, another step toward Glenn's dream of fashioning and steering a raw talent toward a championship.
"He taught me every fighter, and everyone, is different, and you have to find that one different thing that motivates them," says Adam Glenn, who grew up in his father's boxing circle and amid the bar's diverse clientele. He recalled a story his father told him dating back from the early 1970s, rough and tumble years in Times Square, when Glenn noticed a man on the street getting harassed by hooligans.
Glenn stepped in to protect the man: Seymour Durst, the former scion of the Durst Organization, the real-estate behemoth that owns their building and so many of the city's elite projects and addresses. The families have been on good terms ever since.
"I remember when [Douglas Durst's] daughters used to come in and play pinball in the back of the bar," Adam Glenn says.
The other secret to Glenn's experiment was Swannie Glenn, his wife, who passed away several years ago. As it happened, Jimmy Glenn met Swannie by having a drink at the same bar they would come to own together. She'd moved to New York from Poland, and the two were opposites. He was tall and quiet; she was short and talkative. He was big-picture. She was detail oriented. Perfect couple, ideal team.
Growing up, Adam Glenn learned from his parents and the bar's eclectic customers that, with the right ethic and attitude, anything was possible. He went to Harvard Law School and started a career as a securities lawyer, but after his mother died, he decided to return and help his father continue to keep the doors open to a place where everyone could afford a drink, and stay on the lookout for that one fighter who, with patience and motivation, could become world champion.
"He started a legacy here" Adam Glenn says. "I want to uphold it."