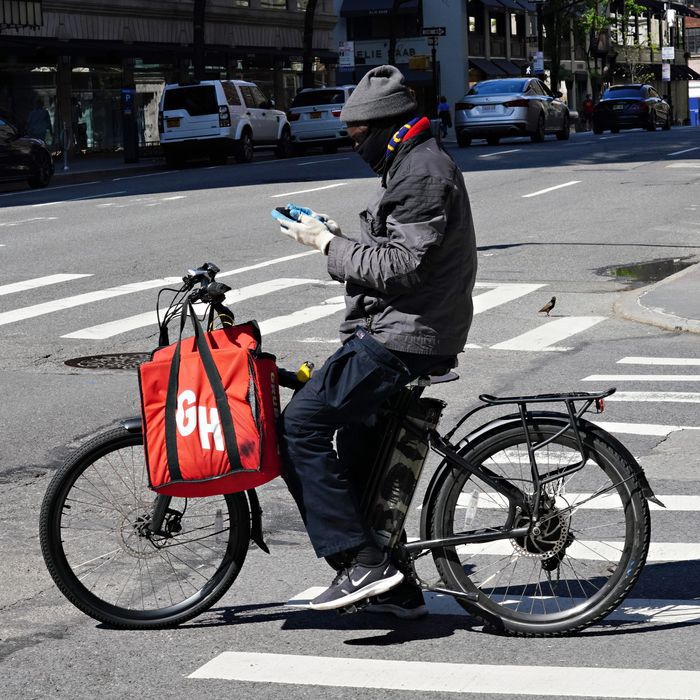 Business has been good for Grubhub.
Photo: Cindy Ord/Getty Images
While most restaurant owners are trying to figure out how to stay in business, Grubhub has apparently been experiencing a windfall. The delivery platform experienced record revenues to the tune of $363 million during January through March, BuzzFeed reports. In its earning report, Grubhub says, "For now, COVID-19 is a net tailwind for our growth metrics." Orders in April increased by 20 percent over last year, and the company is experiencing growth of over 100 percent in many markets.
Grubhub and other delivery platforms have come under pressure for the high fees, sometimes as much as 30 percent, they charge restaurants. Operators say those fees make it so that their deliveries are not profitable even during normal times, but something that has become even more of a concern, because the only business they can do now is takeout and delivery. Through social media, many point customers to their own websites, asking them to order directly from the restaurant.
"We're definitely promoting takeout just to save some money, because of the fees the online systems charge us," Patacon Pisao's Jonathan Hernandez told Grub. Though some restaurants have seemingly done decent business through delivery — and you have pricey ones like Masa selling an $800 hand-roll box, and Carbone offering delivery to the Hamptons for a $2,000 minimum — the owners who spoke to Grub said the best they were doing was breaking even. Others found that it was simply not enough; Arepa Lady was doing only a few orders a day in early April.
While Seattle and San Francisco have put a cap on delivery fees, Grubhub has not reduced fees elsewhere in the country. BuzzFeed notes that consumers filed a lawsuit against Grubhub, Uber Eats, DoorDash, and Postmates in April, and the complaint called the "fees shocking when one considers how little value Defendants provide to restaurants and consumers." Grubhub, which is reportedly only breaking even, says it's helping restaurants by deferring commissions. In the earnings call, executives pushed back against fee caps, arguing that the caps would harm restaurants by limiting how they "can market themselves." Who knew!