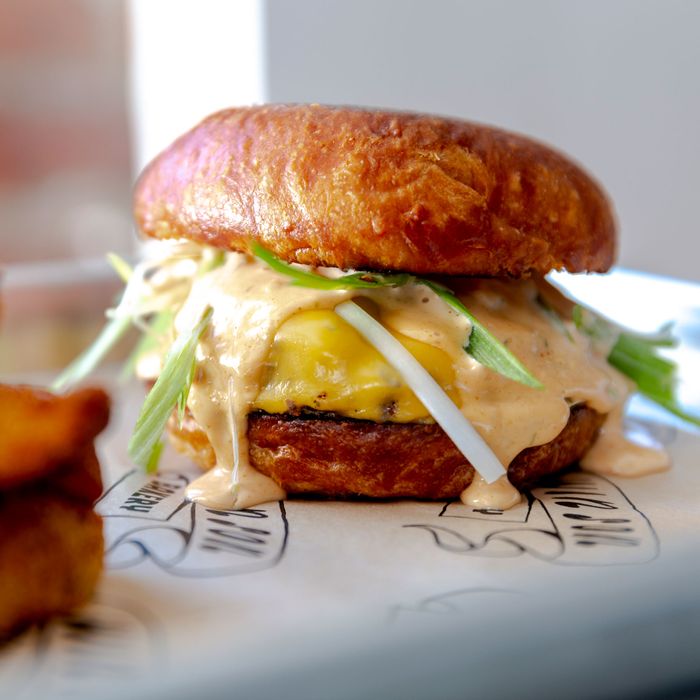 A burger from Win Son Bakery.
Photo: Mark Abramson
Today, Food & Wine released its Best New Chef list for 2020, the first half of its annual package celebrating the industry's new and notable. It's also the first by restaurant editor Khushbu Shah, who started the job last fall. The restaurant industry, right now, is struggling to survive, so as Shah asks in her intro, "Why run this list now, when restaurants as we know them are on indefinite hiatus?" For Shah, the answer is that these chefs are the ones who will rebuild the industry and, in time, "help it thrive in new ways."
She spotlights chefs including Nick Bognar of St. Louis's Indo, whom she praises for his "fully loaded" cooking; Niven Patel of Miami's Ghee, who favors "unfussy, homestyle cooking"; and Lena Sareini of Detroit's Shelden Standard, who works savory elements and ingredients from her Lebanese-American heritage into her desserts. Two New York chefs made the cut too: Trigg Brown of the Taiwanese-American spots Win Son and Win Son Bakery and Eunjo Park of Kāwi, who Shah says "is on a mission to get the world to respect the rice cake." The list is a solid reflection of how the country looks, even if it's on hiatus for now.
Nick Bognar, Indo (St. Louis)
Tavel Bristol-Joseph, Hestia, Emmer & Rye, Henbit, TLV, and Kalimotxo (Austin)
Trigg Brown, Win Son and Win Son Bakery (New York)
Camille Cogswell, K'Far (Philadelphia)
Eunjo Park, Kāwi (New York)
Nivan Patel, Ghee (Miami)
Daisy Ryan, Bell's (Los Alamos)
Lena Sareini, Selden Standard (Detroit)
Donny Sirisavath, Khao Noodle Shop (Dallas)
Douglass Williams, Mida (Boston)