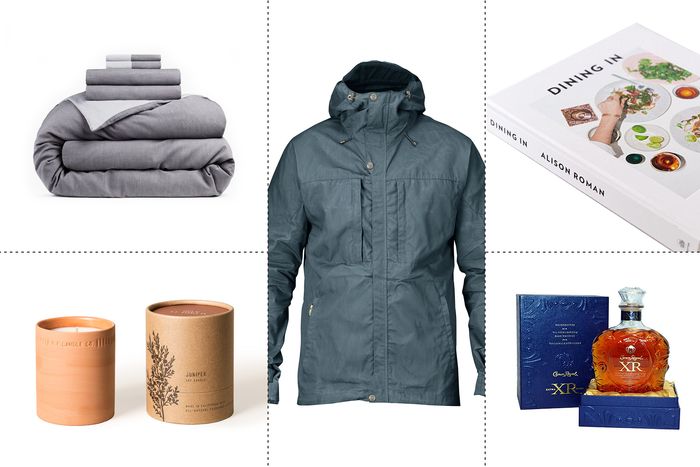 Photo: Courtesy of the retailers
As much of the world pivots to home cooking — and many of us city-dwellers fire up our stoves for the first time in, well, don't ask — we need Donal Skehan more than ever. The Dublin-born TV host and author of nine cookbooks provides daily recipe instruction and inspiration to more than a million fans, with videos that demystify and perfect our favorite comfort foods. (If you haven't seen his viral one-pot lasagna recipe yet, "game-changer" doesn't begin to cover it.)
Skehan is also a dad who can't wait to spend Father's Day in the kitchen trying new recipes with his son, Noah. But for those of us who can't spend the day with our dads, Skehan's doing us a solid. Ahead, he tips us off to his favorite Father's Day gifts — those he loves to give and receive — from the heavy-duty Dutch oven every home cook needs to the Crown Royal whisky that makes the perfect toast at the end of the day. As Skehan says: "All I ask for is a whisky or Negroni by 7pm when the kids are in bed, and I'm happy!" Spoken like a true dad.
P.F.
Candle
Co.
Golden
Coast
My wife Sofie grew up in Sweden and is all about evoking a sense of Scandinavian hygge, so we're suckers for a good candle in our house. Our current favorite is this Golden Coast soy candle with its whiff of redwood, palo santo, and eucalyptus — sure, what else would you be havin'?
Staub
Cast
Iron
7-Quart
Oval
Cocotte
Every modern man needs a good Dutch oven (well, in my book they do), and Staub makes some of the best in the business. This is the gift that will give back — think of all the meals he'll be inspired to make.
Crown
Royal
XR
Extra
Rare
Aside from a Negroni, a whisky is my go-to drink. This one is perfectly blended and ideal for sipping neat or over just one cube at the end of the day.
Alison
Roman's
Dining
In
Cookbook
My favorite food writer who can do no wrong. Her approach to food is simple, fresh, and makes me want to cook.
This bag goes everywhere with me, whether I'm on an in-studio shoot or traveling the world for a TV show. Mine's stood up to tons of travel, and is easily one of the most stylish camera bags on the market.
Aesop
Amazing
Face
Cleanser
Hand soap, face wash, hand creams: Everything Aesop makes has a quiet cool, and they can sell me just about anything. But its non-drying Amazing Face Cleanser is a particular favorite.
Parachute
Percale
Sheet
Set
BEST BED SHEETS EVER. I'm all for getting my 8 hours, and these bed sheets are life-changing. Help Dad make the upgrade, and he'll definitely thank you for it.
Flask
&
Field
Spirits
Mixology
Set
Based in Downtown LA, Flask & Field is my go-to shop for cocktail creating. Their array of homeware is especially inspiring to the new (or newly-inspired) mixologist.
Coming from Ireland, strangely enough I was never dressed for the weather growing up. That was until I met my wife, who started my love affair with this iconic Swedish clothing brand specializing in outdoor wear.
All images courtesy of the retailers.
This advertising content was produced in collaboration between Vox Creative and our sponsor, without involvement from Vox Media editorial staff.