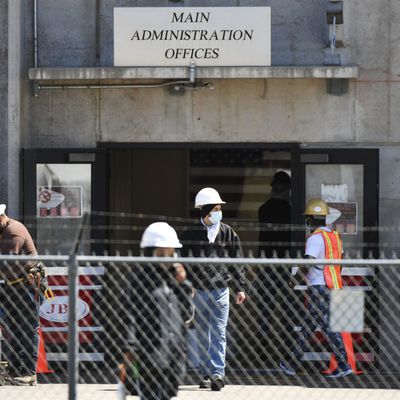 Coronavirus cases continue to climb at meatpacking facilities.
Photo: Michael Ciaglo/Bloomberg via Getty Images
The coronavirus pandemic has hit workers in meatpacking facilities particularly hard, with dozens of outbreaks at facilities in April that led to plant closures and worker walk-offs. Tyson Foods took out a full-page advertisement in major newspapers proclaiming the country's food supply chain was breaking, and President Donald Trump responded to the crisis by signing an executive order to keep the meat plants open, no matter the consequences of the virus.
Back in April, USA Today reported that over 150 of the country's largest meat-processing plants are in counties with some of the country's highest coronavirus infection rates. There's been no sign of progress on this front in May — not a surprise given that working conditions in these facilities are notoriously poor. According to the Environmental Working Group, counties with meatpacking plants report coronavirus infection rates twice the national average.
This week, the Washington Post reports that infections at Tyson Foods, Smithfield Foods, and JBS have gone from 3,000 to over 11,000 over the last month. Worker deaths have increased from 17 to no less than 63. Tyson has been particularly hard-hit, the paper reports, with cases skyrocketing from 1,600 a month ago to 7,000 as of May 25.
While the Centers for Disease Control and Prevention says that almost 5,000 workers in the industry were infected with the coronavirus at the end of April, the New York Times reports that the nonprofit Food & Environment Reporting Network estimates there are now 17,000 infections and 66 deaths. The outbreaks, though, may be worse than reported, as local officials have been given mixed messages from state leaders and the companies about how much information to share.
Since Trump's executive order, more than half of the 30 meatpacking facilities that had been closed have reopened. Four of those plants have since reported outbreaks, including Tyson Foods plants in Logansport, Indiana; Perry and Waterloo, Iowa; and one Smithfield plant in Sioux Falls, South Dakota. The Waterloo plant, the Post notes, reopened the day health officials in its county reported that 1,000 of the 2,700 employees tested positive for the coronavirus.
Speaking to the Post, representative Ras Smith says "Tyson did not go above and beyond," and describes the company's management of the outbreak "appalling." Smith and representative Timi Brown-Powers both tell the Post they think Trump's executive order encouraged Tyson to reopen more quickly, which the company says is not true. Tyson's director of media relations tells the Post, "We only reopen our facilities when we believe we can safely do so."
While these companies have reportedly spent hundreds of millions on protective gear, paid leave (JBS is reportedly paying vulnerable workers to stay home), and other measures, it's a question of whether enough can or is being done. Working conditions in meat plants are notoriously bad, and put workers at risk before the pandemic. The jobs have long been considered some of the country's most dangerous, and the facilities crowded and loud.