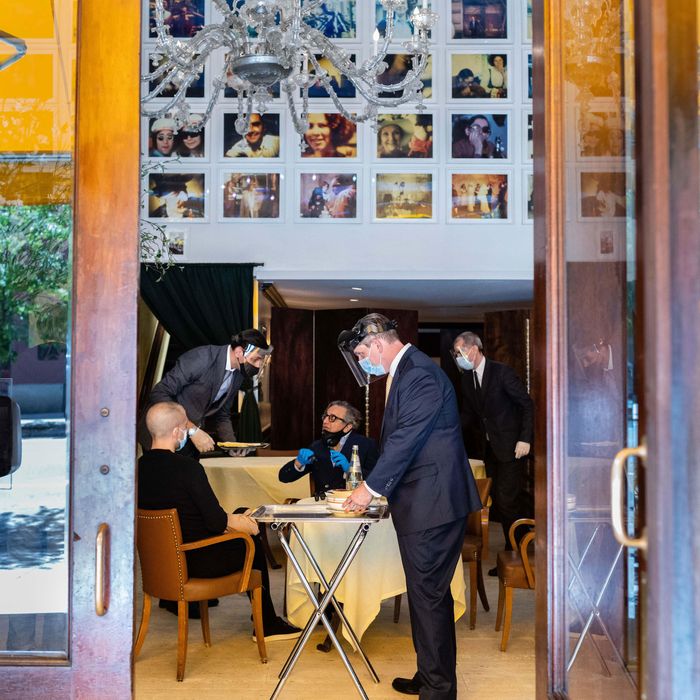 The future of service at Cipriani Downtown?
Photo: Timothy Fadek/Redux
Your future has been served. Yesterday, Soho restaurant Cipriani Downtown ran a test service with waiters wearing PPE. Photographer Tim Fadek documented the scene around 1:30 p.m., when he saw five individuals who, if not for their gloves, masks, and face shields, would look like they were teaching students in a culinary school. When he asked who they were, they identified themselves as management and said they were conducting experiments. "My third and last question was, 'What are you doing?'" Fadek says. "They replied, 'trying something out.'" (The restaurant, the men also confirmed, is not actually open to the public.)
It appears to have been a test service. Two "diners" were seated at the table, being "waited on" by three workers. Everyone was wearing PPE. One handling a service tray had a mask and face shield but no gloves; another, seated at the table while being "served," was wearing gloves and a pulled-down mask. "Our exchange was limited," Fadek says, noting the masks. "But they didn't seem to be too excited about talking to me."
When Grub Street called the restaurant to confirm, a worker declined to respond (by which, we mean they immediately hung up on us).
While Fadek says he's seen more restaurants reopening for takeout and delivery recently while out photographing "almost every day" in Chinatown, Soho, and the Upper East Side, this is the first time he's come across anyone testing out what dining-room service will feel like with PPE. It certainly won't be the last.