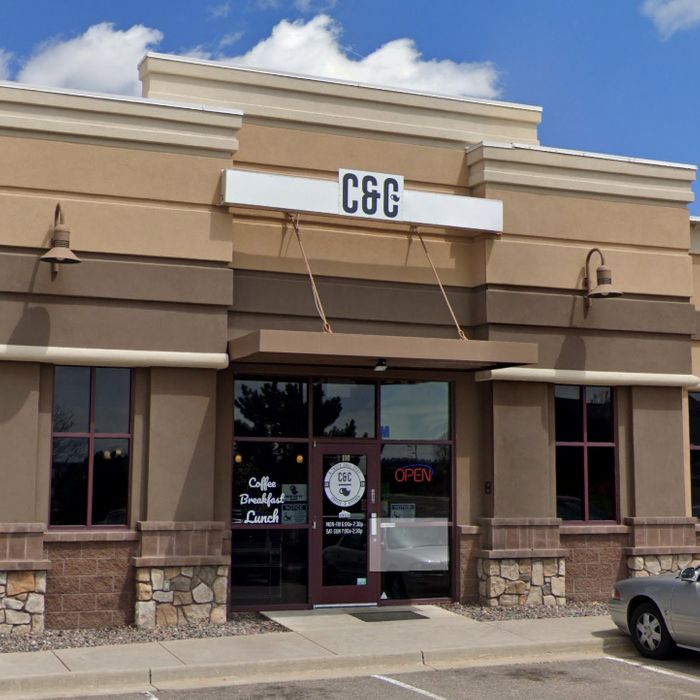 C&C defied Colorado public health orders when it reopened on Mother's Day.
Photo: Google Maps
On Mother's Day, crowds descended on a Castle Rock, Colorado, restaurant that reopened for dine-in customers, against the state's ongoing public health order that only allows for takeout and delivery. Photos and videos of C&C Coffee and Kitchen — which specializes in high-end coffee and breakfast foods like keto bowls and California–style breakfast burritos — from its owner April Arellano and reporter Nick Puckett show a packed dining room with barely anyone wearing face masks. Unsurprisingly, the incident immediately sparked controversy, provoking a response from Colorado governor Jared Polis's office, articles in national news outlets, and a cesspool of comments — supportive and otherwise — on social media and Yelp.
In a statement, Polis's deputy press secretary Shelby Wieman wrote that restaurants like C&C are "are endangering the lives of their staff, customers, and community" and called the reopening illegal. The Denver Post reports that C&C's owner Arellano posted on Facebook about the reopening in a since-deleted post in which wrote that she'll "go out of business if I don't do something." On Twitter, C&C's account tagged President Donald Trump, writing "we are standing for America, small businesses, the Constitution and against the overreach of our governor in Colorado!!"
Arellano, in a since-deleted Facebook Live video, reportedly says, "so much for some of those people saying nobody would show up." Plenty of people did — which could mean the restaurant gets its license revoked — and the photos and videos depict customers who appear not to be concerned with social distancing or wearing personal protective equipment.
In the video posted by Puckett, one customer gets the reporter's attention by waving her hands and cheering at the camera. In fact, according to Puckett, this wasn't a normal Mother's Day: Arellano says she did double her usual business on the holiday.
The scene brings to mind the anti-shutdown protests that have happened across the country, which have included a series of alarming (if overblown) incidents. Last week, North Carolina residents brought weapons, including a rocket launcher, into a Subway. Of course, large public gatherings during a pandemic can backfire and rather quickly. That's what happened in Madison, Wisconsin, where more than 70 people who tested positive for the coronavirus say they were at a protest outside the state Capitol.