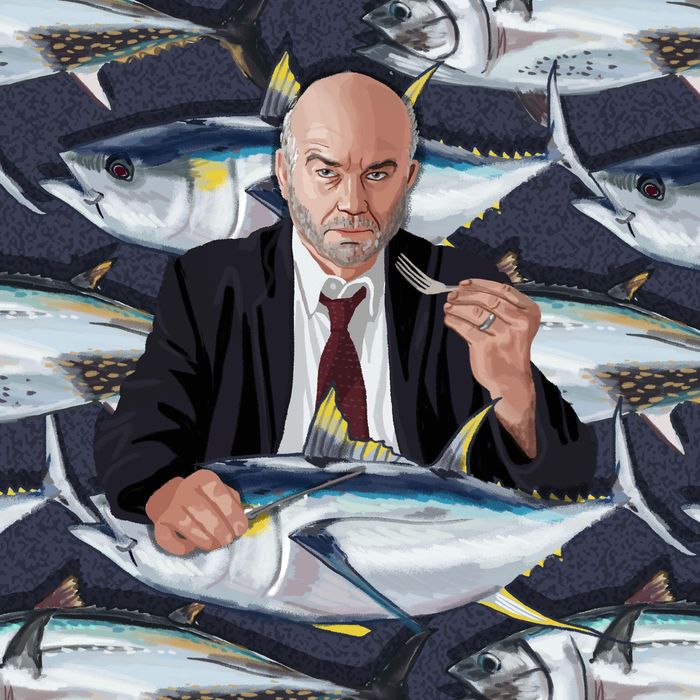 Bill Buford and his school of fish.
Illustration: Margalit Cutler
The author and food writer Bill Buford says that he is, like everyone else, spending too much time on social media these days. He explains, "I'll just think at the end of the day, What the fuck did I do today? What happened and why am I tired?" There's a good reason for the screen time, though: Since May 5, he's been on a virtual book tour for Dirt, his first book since since 2006's Heat. Though Dirt chronicles Buford's time living in Lyon, France, he is currently back in New York. "The city is in a tough spot," he says. "I don't know if I'm doing my bit to help it, but I do think I have a responsibility to witness it."
Thursday, May 21
My diary, which begins on the Thursday before Memorial Day weekend, is haunted by a meal made the night before by my wife, Jessica Green, promptly by 7 p.m., so that our two teenage boys, George and Frederick, could finish their homework and might even get to bed before midnight. Madame had made a beautiful vegetarian curry and at the last minute was persuaded by her husband to cook up some dumplings that had just arrived via Cascun Farm in Greene, New York. Cascun sells tasty chickens and an exceptional chicken stock. You now can get pretty good chicken stock here in New York, but Cascun's, in my humble opinion, is the cleanest and the most deeply flavored. In fact, I make my own stock at home — a new batch every weekend lately — but like to start it with several quarts of Cascun's. (The result is something like chicken squared, and doubly delicious.) In the aftermath of the virus, though, there was none to be found — Cascun stopped delivering to the city — and so I phoned and pleaded, secured five quarts, and agreed to try what Andrea Cascun described as her killer dumplings ("Many people swear they are the best they have ever eaten"), and once the menu highlight of Northern Tiger, a restaurant downtown.
The boys skipped the beautiful curry and went straight for a dumpling. They then stopped simultaneously, closed their eyes, and quietly uttered the word "Wow." (I guiltily had four helpings of the curry, but did, I admit, pop a dumpling into my mouth when Madame left the table.) There were two more boxes of dumplings in the freezer. The boys asked, "Can we have them again tomorrow?"
"But I am cooking," I said.
"Can we have the dumplings? Please!"
Not a chance.
My first dinner featured a Spanish omelet — a.k.a. tortilla Española. It has been among my favorite foods ever since I discovered it at a tapas bar in Madrid, three years after the death of General Franco, on my first trip to the Iberian Peninsula. Spain was different then, just emerging from being historically and culturally locked away, and felt very unmodern. My first tortilla bite was delivered to me on a toothpick. I ate it standing at a bar, with a glass of beer.
A tortilla is a rustic preparation that is best if your ingredients have a rustic integrity: good eggs, small farmer potatoes, and (even though expensive if you don't live on a hillside with olive trees) good oil. The timing is tricky. Too quick, and the eggs are runny. Too long, and the dish is burnt and ruined. Done right, it is a crispily browned, evocatively fragrant, savory cake. It is a unique confection, and my family loves the sight of it, but no one, except the chef, eats more than one slice. What gives? I've tried to make it into a Spanish picnic, accompanied by pickled vegetables and Iberico ham. But my children, incomprehensibly, don't like Iberico ham. Now I supplement my tortilla with smoked salmon, which doesn't seem Spanish in the least. My children love smoked salmon. It was, alas, nearly 8 p.m. before we sat down.
The latish hour was, alas, typical of when I'm in the kitchen. For this reason, Madame tries to make the meals on school nights — healthy meals, often involving copious amounts of tofu. (I confess I have never cooked tofu.) But Madame is a wine educator and, when life was normal, couldn't cook on the evenings when she had courses to teach at the International Wine Center. In her absence, my meals continued to arrive at the table on the late side, but with the built-in excuse that we didn't want to eat until she got home.
Friday, May 22
For the first couple weeks of the Virus Epoch, at the outset of our sons' education in their bedroom, I made us all omelets for breakfast (the French rolled way, delicate and scrumptious), with an avocado, some chicken-and-sage sausages, and toast with what we call David's jam (David of Berkshire Berries — his stand is at the Union Square farmers' market — the raspberry variety that the boys have been eating since they were a year old). They declared that they felt fortified and ready to begin their day. After two weeks, they lost interest in fortification and said that eggs were no substitute for Kellogg's Cocoa Krispies. My wife and I meanwhile continued with our protein: an omelet if we were in a hurry (in France I learned that scrambled eggs should be slow, an omelet quick), sometimes poached eggs on toast, and usually a couple of boiled eggs, the yellow still a bit runny. I like mine with slices of prosciutto. For some reason, it makes me feel that I am in Italy (where, as it happens, I never ate prosciutto for breakfast).
For lunch we did as little as possible: The boys ate the sandwich equivalent of Cocoa Krispies (e.g., peanut butter and jelly sandwiches) until it made them gag and they graduated to ham. My wife and I: leftovers. A leftover is one of a kitchen's great foods — already cooked and it feels like it's free.
Dinner was our big meal. Around 6 p.m., my son Frederick asked if we were having the dumplings.
"No," I said.
"What then?"
"Food."
"It's fish, isn't it?"
"Er, well, maybe."
I'd had other plans for Friday night. But then I got an email from Browne Trading Company in Portland, Maine, that halibut was in season. Stuck here on a New York street that just about every neighbor has abandoned (our
7 p.m. clapping session involves three people in the 20-story building across the street and one barking dog), I found that I was daydreaming about the sea and the wind and the briny outdoors, and declared that, yes, this is exactly what I wanted to eat, a kilo of freshly caught wild fish. It wasn't cheap, but what the hell? With all the money we had saved now that restaurants were closed, why not?
I had a basil plant that had once been large but that now, having been left outside during our frosty so-called spring, was a withered stump. Most of its leaves dangled brown and deathlike. But there were some healthy-looking ones, so I plucked off all its remaining leaves and built up a platter that made me think of anywhere but here: basil, olives, capers, lemon zest, and baby tomatoes that I oven-dried. (I cut them in half, carving out their insides, sprinkling the cavity with salt and sugar and thyme and filling up with olive oil before roasting them slowly — they're actually more like confit candy than food.) Then I plopped my delicious white fish atop it. It was served with rosemary roasted potatoes, and a salad — I don't know why: The boys hadn't eaten salad once in three years. Then again maybe they had lost their appetite waiting for their meal. At least it wasn't a school night.
Saturday, May 23
Saturday is the only day we ever eat linguine alle vongole because I like the clams that I can get on the day at the farmers' market — their freshness and that they're reasonably clean. There is also that the vendors drive in from the outer reaches of Long Island that morning. In the summer, you want your corn picked on the day. With fish, you want to know that it has just come from the sea.
But this Saturday was cold and very rainy and I was late getting out. It was afternoon before I reached the market, but I was lucky — there were still clams, and I bought three dozen, not paying attention, thinking about what else I needed, and got home to discover that the shellfish were almost as big as my fat hands. They were more steamboats than steamers. They could have been steaks. But they had lots of juice, a shot glass's worth in each shell, and the secret to the dish is less the clams than the salty, brackish way that they imbue the pasta with the flavors of the sea. We drank a bottle of Pigato, the fresh, bright white wine from Liguria — dinner as a mode of travel therapy — and afterward pulled out the fat critters' insides, holding them by their necks and sucking out their fat bellies like seafood lollipops.
Sunday, May 24
It occurred to me on Sunday that our principal daily activity, during lockdown, has been making food, cleaning up afterward, making more food, cleaning up again, and then doing it all one more time before bed. This particular Sunday, however, was possibly our most extreme day.
We began with omelets, at least Madame and I did. And then — shock — we got takeout. Daniel Boulud, a friend and mentor (whom we often saw when we lived in Lyon — Daniel regularly visiting his parents and siblings there), had just begun selling food from the sidewalk of his restaurant uptown. Today's was like a Provençal picnic: a salade niçoise, a roasted chicken with aïoli (which would save for Monday lunch), ratatouille (for Tuesday), and a chickpea preparation (for Wednesday) — plus focaccia, plus cheese, plus yummy dessert. It was so spoiling. It was so like it used to be. Except it wasn't.
Dinner was a tuna-burger preparation that I learned from Michel Richard, the eccentrically innovative Washington, D.C., French chef. He loved all burgers. He especially loved the tuna burger. And, more importantly, our boys love them, too.
Richard's preparation involves a soy-based marinade (with sake, ginger, scallions, black pepper, etc.). But first he would cut up the tuna by hand — it looked like a steak tartare — and then mashed it in a bowl with a stiff spatula, working it over and over, trying to render the fat. He sometimes added a splash of olive oil. But the principal activity was the mashing. The rendered fat allows the tuna to bind (you don't have to add, say, an egg to hold it together) so that you can cook your burgers rare without their falling apart. He also taught me to prepare a mayonnaise with lemon — plenty of the zest, plus a squeeze of the fruit — right at the end.
Richard served his burgers in a light olive-oil bun, which I didn't have time to do and regretted that I hadn't. Besides, I expected the brioche buns that we got from FreshDirect to be perfectly yummy, but they weren't. They were heavy, like a wad of bread smothering the delicate flavors of the fish. There was another thing Richard did — adding a bit of crunch. I can't simulate the magical potato wafer that he created, but I know that a Pringle comes close in texture. But I forgot the Pringles. Clearly I'm going to have to cook this dish next weekend.
Dinner, I admit, was late (no, correction — it was very late). But, with Monday being a holiday, at least it wasn't a school night. But the boys were developing dark circles under their eyes.
Monday, May 25
It had been a long time since we had meat, and our sons, who are growing at an alarming pace, seem to crave protein in a way that seems urgent. We've had good luck/bad luck getting beef, but have had great luck if we can cuts from a grass-fed animal: less unnecessary fat, a more delicate flavor, more digeste, as the French would say (and I know, what can be more pretentious than dropping in an unnecessary French word, but it seems, even to me, more elegant than, say, "It makes you fart less").
I found some at the butcher at the Flatiron outpost of Eataly. It was now officially a school night, but for some reason it was 10 p.m. before dinner was served. (Madame made sounds of disapproval but, like everyone else, was by then so hungry that it didn't matter. I have long regarded hunger as a food's most efficient seasoning.)
I made two sauces (we all lived in Lyon for five years, and the canteen of the boys' ordinary public school taught them to expect "la sauce"). One was for me and Madame, who deeply loves a béarnaise. The other was a red-wine reduction for the boys (who deeply hate a béarnaise).
After five days, I had somehow succeeded: The boys stopped asking for those dumplings. Madam, alas, is cooking again.