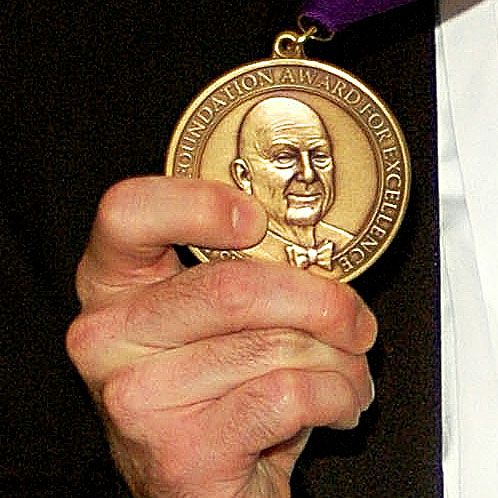 Podcasts, books, journalism, and more good stuff.
Photo: Rob Loud/WireImage
When the coronavirus pandemic disrupted public life and led to restaurant shutdowns around the country, the James Beard Foundation shifted from celebrating restaurants to trying to save them. Today, the day that its ceremony was originally supposed to take place, the foundation announced its nominees for its annual awards. Along with the chef and restaurant awards, it also released its nominees for the year's media awards. Check out the full list — congratulations to everyone nominated, and we hope you take time to celebrate, as you can and if you are able, during this time.
American
Cook Like a Local: Flavors That Can Change How You Cook and See the World
Chris Shepherd and Kaitlyn Goalen
(Clarkson Potter)
Jubilee: Recipes From Two Centuries of African American Cooking
Toni Tipton-Martin
(Clarkson Potter)
South: Essential Recipes and New Explorations
Sean Brock
(Artisan Books)
Baking and Desserts
Dappled: Baking Recipes for Fruit Lovers
Nicole Rucker
(Avery)
Living Bread: Tradition and Innovation in Artisan Bread Making
Daniel Leader and Lauren Chattman
(Avery)
Pastry Love: A Baker's Journal of Favorite Recipes
Joanne Chang
(Houghton Mifflin Harcourt)
Beverage With Recipes
Last Call: Bartenders on Their Final Drink and the Wisdom and Rituals of Closing Time
Brad Thomas Parsons
(Ten Speed Press)
The Martini Cocktail: A Meditation on the World's Greatest Drink, With Recipes
Robert Simonson
(Ten Speed Press)
The NoMad Cocktail Book
Leo Robitschek
(Ten Speed Press)
Beverage Without Recipes
The Complete Guide to Japanese Drinks: Sake, Shochu, Japanese Whisky, Beer, Wine, Cocktails and Other Beverages
Stephen Lyman and Chris Bunting
(Tuttle Publishing)
Red & White: An Unquenchable Thirst for Wine
Oz Clarke
(Little, Brown Book Group)
World Atlas of Wine 8th Edition
Hugh Johnson and Jancis Robinson
(Mitchell Beazley)
General
All About Dinner: Simple Meals, Expert Advice
Molly Stevens
(W. W. Norton & Company)
Milk Street: The New Rules: Recipes That Will Change the Way You Cook
Christopher Kimball
(Voracious)
Where Cooking Begins: Uncomplicated Recipes to Make You a Great Cook
Carla Lalli Music
(Clarkson Potter)
Health and Special Diets
The Beauty Chef Gut Guide: With 90+ Delicious Recipes and Weekly Meal Plans
Carla Oates
(Hardie Grant Books)
Cannelle et Vanille: Nourishing, Gluten-Free Recipes for Every Meal and Mood
Aran Goyoaga
(Sasquatch Books)
 
Gluten-Free Baking at Home: 102 Foolproof Recipes for Delicious Breads, Cakes, Cookies, and More
Jeffrey Larsen
(Ten Speed Press)
International
Black Sea: Dispatches and Recipes – Through Darkness and Light
Caroline Eden
(Quadrille Publishing)
Ethiopia: Recipes and Traditions From the Horn of Africa
Yohanis Gebreyesus
(Interlink Publishing)
The Food of Sichuan
Fuchsia Dunlop
(W. W. Norton & Company)
Photography
American Sfoglino: A Master Class in Handmade Pasta
Eric Wolfinger
(Chronicle Books)
Le Corbuffet: Edible Art and Design Classics
Esther Choi
(Prestel)
Oaxaca: Home Cooking From the Heart of Mexico
Quentin Bacon
(Abrams Books)
Reference, History, and Scholarship
Gandhi's Search for the Perfect Diet: Eating With the World in Mind
Nico Slate
(University of Washington Press)
A South You Never Ate: Savoring Flavors and Stories From the Eastern Shore of Virginia
Bernard L. Herman
(The University of North Carolina Press)
The Whole Okra: A Seed to Stem Celebration
Chris Smith
(Chelsea Green Publishing)
Restaurant and Professional
Dishoom: From Bombay With Love
Shamil Thakrar, Kavi Thakrar, and Naved Nasir
(Bloomsbury Publishing)
Eleven Madison Park: The Next Chapter, Revised and Unlimited Edition
Daniel Humm
(Ten Speed Press)
The Whole Fish Cookbook: New Ways to Cook, Eat and Think
Josh Niland
(Hardie Grant Books)
Single Subject
From the Oven to the Table: Simple Dishes That Look After Themselves
Diana Henry
(Mitchell Beazley)
Pasta Grannies: The Official Cookbook: The Secrets of Italy's Best Home Cooks
Vicky Bennison
(Hardie Grant Books)
Sour: The Magical Element That Will Transform Your Cooking
Mark Diacono
(Quadrille Publishing)
Vegetable-Focused Cooking
Ruffage: A Practical Guide to Vegetables
Abra Berens
(Chronicle Books)
Vegetables Illustrated: An Inspiring Guide with 700+ Kitchen-Tested Recipes
Editors at America's Test Kitchen
(America's Test Kitchen)
Whole Food Cooking Every Day: Transform the Way You Eat With 250 Vegetarian Recipes Free of Gluten, Dairy, and Refined Sugar
Amy Chaplin
(Artisan Books)
Writing
Eat Like a Fish: My Adventures as a Fisherman Turned Restorative Ocean Farmer
Bren Smith
(Knopf)
Notes from a Young Black Chef: A Memoir
Kwame Onwuachi with Joshua David Stein
(Knopf)
Women on Food: Charlotte Druckman and 115 Writers, Chefs, Critics, Television Stars, and Eaters
Charlotte Druckman
(Abrams Press)
2020 James Beard Foundation Broadcast Media Awards
Audio Program
The Food Programme – The Search for Esiah's Seeds
Airs on: BBC Radio 4 and BBC Sounds
It Burns: The Scandal-Plagued Race to Breed the World's Hottest Chili
Airs on: Audible
The Sporkful – When White People Say Plantation
Airs on: iTunes, Sporkful, Spotify, and Stitcher
Audio Reporting
California Foodways  – The Curious Second Life of a Prather Ranch Cow: Biomedical Research; Trans Man Finds – and Creates – Refuge in His Family's Small-Town Cafe; Legalizing Cannabis Impacts Food, Farming in Humboldt
Reporter: Lisa Morehouse
Airs on: KQED, California Foodways, iTunes, Google Play, Radio Public, SoundCloud, and Stitcher
Food Actually – Junk Food Actually
Reporter: Tamar Adler
Airs on: Luminary
Gravy – Mahalia Jackson's Glori-Fried Chicken
Reporter: Betsy Shepherd
Airs on: southernfoodways.org and iTunes
Documentary
Harvest Season
Airs on: PBS
Nothing Fancy: Diana Kennedy
Airs on: Premiered at SXSW in March 2019
That's My Jazz
Airs on: Vimeo
Online Video, Fixed Location and/or Instructional
Chef Studio: The Crumby Bits – Cricket Macarons
Airs on: YouTube
Grace Young – Wok Therapist
Airs on: GraceYoung.com and YouTube
Ready Jet Cook - How to Make Pad Thai With Jet Tila
Airs on: FoodNetwork.com and YouTube
Online Video, on Location
Eat, Drink, Share, Puerto Rico Food – El Burén de Lula
Airs on: YouTube
Handmade – How Knives Are Made for New York's Best Restaurants; How a Ceramics Master Makes Plates for Michelin-Starred Restaurants
Airs on: Eater and YouTube
In Real Life – Why Eating This Fish Could Save Coral Reefs
Airs on: YouTube and AJ+
Outstanding Personality/Host
Alton Brown
Good Eats: The Return
Airs on: Food Network
David Chang
Breakfast, Lunch & Dinner
Airs on: Netflix
Roy Choi
Broken Bread with Roy Choi
Airs on: Tastemade and KCET
Television Program, in Studio or Fixed Location
Good Eats: The Return – American Classic: Chicken Parm
Airs on: Food Network
Lidia's Kitchen – Trattoria Favorites
Airs on: PBS
Pati's Mexican Table – A Local's Tour of Culiacán
Airs on: WETA; distributed nationally by American Public Television
Television Program, on Location
Chef's Table – Asma Khan
Airs on: Netflix
Las Crónicas del Taco (Taco Chronicles) – Canasta
Airs on: Netflix
Street Food – Bangkok, Thailand
Airs on: Netflix
Visual and Audio Technical Excellence
Chef's Table
Adam Bricker, Chloe Weaver, and Will Basanta
Airs on: Netflix
Street Food
Alexander D. Paul, Matthew Chavez, and Shane Reed
Airs on: Netflix
The Taste of Place – Wild Rice
Jesse Roesler and Kevin Russell
Airs on: Vimeo
Visual Reporting (on TV or Online)
Fork the System – Moro Food of Muslim Mindanao: This Is Filipino, Too
Reporters: Joi Lee and HyoJin Park
Airs on: Al Jazeera English Digital, YouTube, and Facebook
In Real Life– Why This $300 Clam Is So Important to Native Americans and China
Reporters: AJ+ Staff
Airs on: YouTube and AJ+
Rotten – The Avocado War
Reporters: Christine Haughney, Erin Cauchi, and Gretchen Goetz
Airs on: Netflix
2020 James Beard Foundation Journalism Awards
Columns
What She's Having: "Popeyes' Fried Chicken Sandwich: A Delicious Distraction, a Cultural Lesson"; "Every Season Is Soup Season"; "Why a Somali Nook in East Boston Is One of the Country's Best New Restaurants"
Devra First
The Boston Globe
Power Rankings: "The Official Fast Food French Fry Power Rankings"; "The Official Spicy Snack Power Rankings"; "The Official Domestic Beer Power Rankings"
Lucas Kwan Peterson
Los Angeles Times
Rooted in Place: "In Service"; "Hair, Food, and Hustle"; "The Best That We've Got"
Rosalind Bentley
Gravy
Craig Claiborne Distinguished Restaurant Review Award
"Le Colonial Is an Orientalist Specter"; "The Ultimate Chaat Truck Crawl"; "The Fantasy — and Reality — of Dining at Chez Panisse"
Soleil Ho
San Francisco Chronicle
"NYC's Buzziest New Sushi Parlors Are Transcendent, If You Can Handle the Bros"; "Wall Street's Underground Russian Spa Is a Dining Destination for the Soul"; "Estiatorio Milos Is One of the Last Big Restaurant Scams in New York"
Ryan Sutton
Eater New York
"Peter Luger Used to Sizzle. Now It Sputters."; "The 20 Most Delicious Things at Mercado Little Spain"; "Benno, Proudly Out of Step With the Age"
Pete Wells
The New York Times
Dining and Travel
"In Pursuit of the Perfect Pizza"
Matt Goulding
Airbnb Magazine
"Interview With the Vampiro"
Dylan James Ho
Taste
"These Are the World's Best Restaurants: North America, South America, Africa and Middle East"
Besha Rodell
Travel + Leisure and Food & Wine
Feature Reporting
America's farmers in crisis during Trump's trade wars: "Left Behind: Farmers Fight to Save Their Land in Rural Minnesota as Trade War Intensifies"; "'I'm Gonna Lose Everything': A Farm Family Struggles to Recover after Rising Debt Pushes a Husband to Suicide"; "In Trump Country, a Season of Need on Family Farms"
Annie Gowen
The Washington Post
"The Great Land Robbery"
Vann R. Newkirk II
The Atlantic
"Value Meal"
Tad Friend
The New Yorker
Food Coverage in a General Interest Publication
The Bitter Southerner
Gastro Obscura
The New Yorker
Foodways
"An Indigenous Community in Mexico Finds Its Voice — and Strength — in Wild Mushrooms"
Michael Snyder
Los Angeles Times
"On Hawaii, the Fight for Taro's Revival"
Ligaya Mishan
T: The New York Times Style Magazine
"A Real Hot Mess: How Grits Got Weaponized Against Cheating Men"
Cynthia R. Greenlee
MUNCHIES | Food by VICE
Health and Wellness
"The AGEs Puzzle: How We Cook Food Is Killing Us. Scientists in SC Know Why."; "9 Easy Ways to Eat Fewer AGEs: A Stress-Free Guide"
Tony Bartelme
The Post and Courier (Charleston, SC)
"How Washington Keeps America Sick and Fat"; "Meet the Silicon Valley Investor Who Wants Washington to Figure Out What You Should Eat"
Catherine Boudreau and Helena Bottemiller Evich
Politico
"Protein Nation"
Shaun Dreisbach
EatingWell
Home Cooking
"6 Holiday Cookies That Will Win You the Cookie Swap"
Hilary Cadigan and Rick Martinez
Bon Appétit
"Fry Time"
Nancy Singleton Hachisu
Saveur
"In Praise of Schmaltz"
Rachel Handler
Grub Street
Innovative Storytelling
"Best New Restaurants 2019"
Kevin Alexander, Nicole A. Taylor, and Adriana Velez
Thrillist
"Food and Loathing on the Campaign Trail"
Gary He, Matt Buchanan, and Meghan McCarron
Eater
"Made in America"
Tim Carman and Shelly Tan
The Washington Post
Investigative Reporting
"How USDA Distorted Data to Conceal Decades of Discrimination Against Black Farmers"
Nathan Rosenberg and Bryce Wilson Stucki
The Counter
"'The Man Who Attacked Me Works in Your Kitchen': Victim of Serial Groper Took Justice into Her Own Hands"
Amy Brittain and Maura Judkis
The Washington Post
"The Young Hands That Feed Us"
Karen Coates and Valeria Fernández
Pacific Standard
Jonathan Gold Local Voice Award
"Forget Democratic Votes. Which Presidential Hopeful Will Eat 16 Iconic SC Foods First?"; "A James Island Meat-and-Two Secretly Switched to Carolina Gold Rice. Here's What Happened."; "In Prisons Across South Carolina, It's Not a Birthday Without Cake Made by a Fellow Inmate"
Hanna Raskin
The Post and Courier (Charleston, SC)
"In Search of Hot Beef"; "Chef Jack Riebel Is in the Fight of His Life"; "Harry Singh on the Perfect Roti, Trinidad, and Life in the Kitchen"
Dara Moskowitz Grumdahl
Mpls.St.Paul Magazine
"In a Wheelchair and Hungry"; "Where to Eat Regionally Inspired Mexican Food in New York City"; "How Sichuan Became NYC's Dominant Chinese Cuisine"
Robert Sietsema
Eater New York
M.F.K. Fisher Distinguished Writing Award
"A Mind to Stay Here"
Rosalind Bentley
Gravy
"My Mother's Catfish Stew"
John T. Edge
Oxford American
"An Undeserved Gift"
Shane Mitchell
The Bitter Southerner
Personal Essay, Long Form
"The Dysfunction of Food"
Kim Foster
Kim-Foster.com
"Love, Peace, and Taco Grease: How I Left My Abusive Husband and Found Guy Fieri"
Rax King
Catapult
"Seeking Jewish Identity at the Sabra Hummus Factory"
Orr Shtuhl
The Forward
Personal Essay, Short Form
"For 20 Years, happy hour has seen us through work — and life"
M. Carrie Allan
The Washington Post
"How the Starbucks Macchiato Ruined My Indie Coffee Shop Experiences"
Nicole A. Taylor
Thrillist
"In Memoriam of Hominy Grill, the Restaurant That Defined Charleston"
Ali Rosen
Plate
Profile
"First Course"
Zoe Tennant
Granta
"The Fruit Saver"
Tejal Rao
Women on Food
(Abrams Press)
"The Provocations of Chef Tunde Wey"
Brett Martin
GQ Magazine
Wine, Spirits, and Other Beverages
"How Climate Change Impacts Wine"
Eric Asimov
The New York Times
"May I Help You With That Wine List?"
Ray Isle
Food & Wine
"Seltzer Is Over. Mineral Water Is Forever."
Jordan Michelman
PUNCH