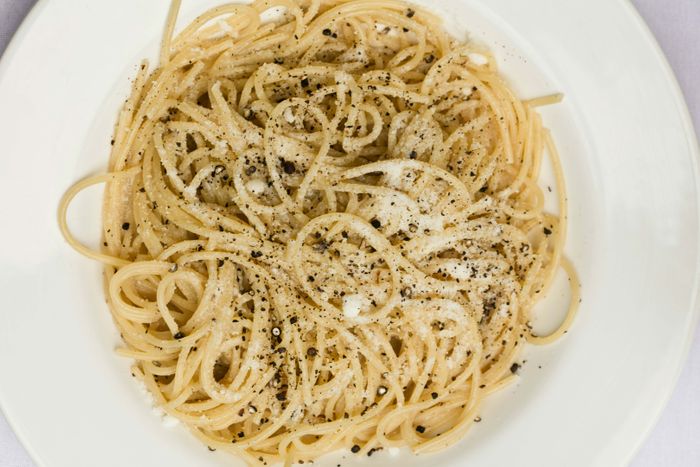 Sandro's cacio e pepe.
Photo: Melissa Hom
With restaurants still closed and our regular ranking of the best new things to eat and drink on hiatus, the Underground Gourmet has been spending a lot of time in the kitchen, thumbing through cookbooks and brooding over restaurant dishes we have known and loved. Here, a few random attempts at conjuring up those fading memories with an emphasis on simple comfort and minimal cleanup.
1. Jersey Omelet Eggs
If ever there were a time to perfect your classic French-omelet technique, it would be now, right? But after a few messy attempts at channeling our inner Jacques Pépin, we said screw it and made Kenny Shopsin's Jersey Omelet Eggs (Eat Me; Knopf). All you do is beat three eggs in a bowl, pour them into a hot pan with a knob of butter, and, in the words of the inimitable auteur, "cook the hell out of them." If you're feeling crazy-ambitious, add American cheese to the middle and fold the thing up like an envelope. Pancake-flat, pan-browned, and squeaky-textured, it's a greasy-spoon metro-area madeleine.
2. Japanese Sweet Potatoes With Peanut Butter
The strange-but-delicious signature spud at Hero's, a long-gone Greenwich Village baked-potato specialist that championed the pale-fleshed, dense and chestnutty Japanese variety. Cook a few in the oven until the kitchen smells like Thanksgiving, split them in half, then spackle liberally with Koeze Cream-Nut, Michigan's pinnacle of peanut butter. The superb sticky-chalky contrast of textures is like no other.
3. Canned Mackerel With Triscuits, Dijon Mustard, Cornichons
A slight variation on the first unforgettable bite of food we ever took at Prune in 1999. Crunchy, briny, and spicy, it makes the perfect cocktail-hour mouthful, despite (or maybe because of) the lift-no-fingers prep. Prune uses sardines, but Cole's-brand mackerel works nicely too.
4. Spaghetti Cacio e Pepe
Pre-pandemic, we'd been finishing our c.e.p. in a colossal skillet with a boatload of butter. Motivated by a profound desire to cut back on colossal-skillet washing, we switched our method to the traditional butterless recipe favored by that master of the pasta pot, Sandro Fioriti of Sandro's on the Upper East Side. Just drain the spaghetti and return it to the off-the-burner pot it was cooked in, stirring vigorously with reserved pasta-cooking water only, sprinkling in the cheese and pepper as you go. Now, having come to our senses, we actually prefer this version to the butter-enhanced one: The sauce is sharper, purer, and just as silky if you get it right.
5. Orecchiette With Broccoli Rabe
Another excellent way to avoid scrubbing supersized skillets when making classic pasta dishes is spelled out in The Four Seasons of Pastas (Avery Books), co-written by Porsena's Sara Jenkins. Get the orecchiette going in the usual roiling boil, then, after a few minutes, dump the broccoli rabe right into the pot with the pasta. Meanwhile, make the sauce (garlic, anchovy, olive oil, crushed red-pepper flakes) in a tiny, easy-to-clean sauté pan. Then just pour it over the drained orecchiette and broccoli rabe and toss well. Finish with black pepper, pecorino cheese, and olive oil.
6. Tunisian Tuna Sandwich
Housebound or not, we don't need an excuse to haul out the Ortiz Bonito del Norte and assemble this spicy Breads Bakery riff on pan bagnat: canned tuna, hard-cooked eggs, boiled fingerling potatoes, olives, and parsley on a roll. The recipe also calls for preserved lemon and harissa, but a jar of New York Shuk's harissa with preserved lemon is a handy shortcut.
7. Microwave Asparagus
Believe it or not, one of the best ways to cook asparagus is not unlike the method used for heating up an Amy's breakfast burrito. Put the asparagus in a dish with a little water and EVOO, grate some orange zest over the top, cover the dish with plastic wrap and slide it into the microwave for two minutes on high, then rotate the dish and cook for a couple minutes more. If you don't believe it, ask Andrew Carmellini, who got the recipe from his mom and likes it so much he included it in his first cookbook, Urban Italian: Simple Recipes and True Stories From a Life in Food (Bloomsbury).
8. Leftover Lasagna
Take a slab of old lasagna from the fridge and sear it in olive oil in a hot pan until it gets nice and charred, then give it a hearty splash of spicy tomato sauce. That's how Mark Ladner used to repurpose his spectacular 100-layer lasagna for lunch at Del Posto, but the technique works well with lesser lasagne too.
9. Romaine Dinghy
The unlikeliest sandwich ever scrawled on a specials menu has got to be the late, great Saltie's Romaine Dinghy: crisp romaine dressed with lemon, EVOO, chopped chives, and a touch of anchovy and piled high on focaccia with great gobs of mayo. In other words, it was a lettuce sandwich: A BLT minus the B and the T. But it worked like a charm. Its creator, chef Caroline Fidanza, would rather you bake your own bread and make your own mayo, but store-bought and Hellmann's will do during a pandemic.
10. Red Wine Prunes With Mascarpone
Dried fruit, cinnamon, sugar, whatever bottle of red you've got open — these unfussy ingredients combine to make a surprisingly sophisticated dessert (The Frankies Spuntino Kitchen Companion & Cooking Manual; Artisan). If you don't have mascarpone, try it with yogurt or ice cream. Or warm it up and spoon it over morning oatmeal.
*A version of this article appears in the April 27, 2020, issue of New York Magazine. Subscribe Now!