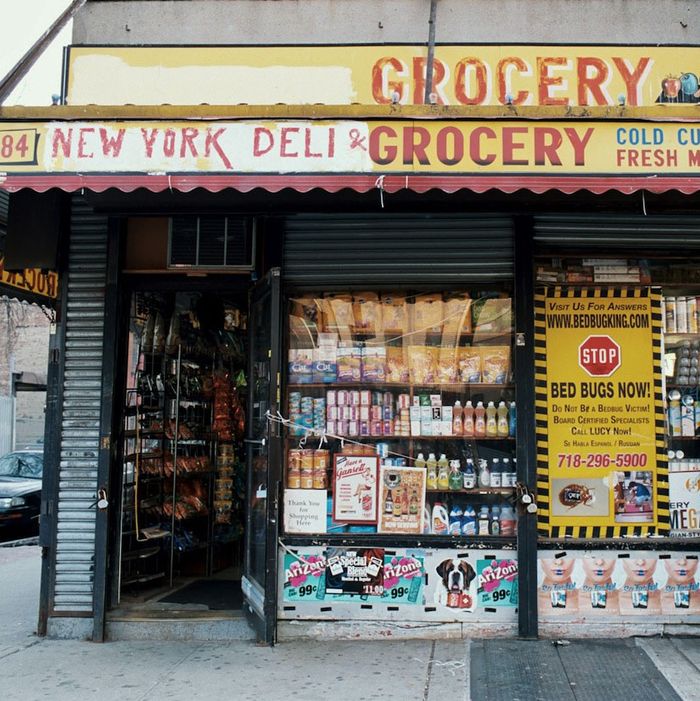 In a typical year, New York is at its most charming when spring begins. The ecology of everything in town reemerges from winter hibernation with a bright assuredness: Greenery reappears, along with outdoor seating, patio drinking, and neighborly loitering around bodegas; the doors of delis and the windows of cafés opened up to let in some brisk breeze. With their hinged limbs outstretched, it seems even the buildings breathe a bit easier.
Because of the ongoing coronavirus pandemic, New York's April awakening — residents seizing on sunny days to socialize, even if the temperature is in the low 50s — has been put on indefinite hold. Millions of New Yorkers remain huddled at home for the sake of public health. But stay-home orders have also been a chilling confirmation of hard times to come for New York's countless community-based businesses — especially the independently owned cafés, bodegas, delis and, restaurants that anchor corners and city neighborhoods at large.
Recently, at Lenox Coffee in Central Harlem, Rosa Prado, who co-owns the shop with her sister, said she won't shut down like many shops have, and they instead plan to remain open for to-go orders and delivery. But she did email her staff to let them know, in a bit of understatement, "I don't know what shifts are going to be like." Her local banker told her to expect the worst from the coming downturn, to even take out cash in case government action isn't enough and there's a Depression-style run on the banks. She admitted she thought it sounded a bit paranoid, "But now I'm paranoid, too."
With distancing measures quietly expected to stretch well into their high season in early summer, Prado also admits continuing to lease the space may become tough: "We'll be here — as long as we can."
Ten or so blocks away, Ali, a 45-year-old cashier at a bodega, was more sanguine: "Business is good." And judging from the nine or so customers milling in the aisles, or waiting for hot-food orders, he was right. He supports the distancing measures and thinks the mayor and governor "should do it for even longer." It will "hurt some," he said, "but it's for the best."
Some of that pain can be felt farther down the west side at a deli on West 108th and Columbus Avenue, where Anwar Alokam, 35, was wondering how he will stay open, much less break even. Even though his spot offers canned goods and grocery basics, he has the opposite problem of the yuppie grocers in tonier districts, whose emptied shelves were heavily trafficked on social media.
Fifty percent of his business, he says, comes from the before- and after-school rush of families coming from Booker T. Washington Middle School, directly across the street. Another chunk of it comes from nearby Columbia students walking back uptown after nights out. He refuses to fully lay off his staff, but with the university empty for the rest of the semester and public schools closed until at least late April, he's considering cutting the 24/7 store's hours down to noon through 6 p.m. in an effort to still make his rent of $9,000 a month in the gentrifying area. Even with evictions temporarily suspended, no one wants to tumble into debt with their landlord.
Farther downtown, below the Frederick Douglass Houses, past 96th Street where the architecture gets more glossy on the Upper Westside, the streets are mostly quiet besides a few workers, lone joggers, and dog-walkers. A man leaning against his fruit stand on 89th street and Broadway bemoaned how "there's been no business, nothing. Nobody's coming out."
Nearby, a big white sign above Carmine's, a popular Italian spot, hung from scaffolding declaring they were still open for delivery, nearly begging: "Let our kitchen be your kitchen." It seemed like almost half of the surrounding restaurants — holes in the wall and fancier staples — had announcements taped to their doors that they would be closed indefinitely, owners no doubt hoping their establishments won't be among the 75 percent of restaurants that could close permanently.
The good news is that some early help seems to be on the way. In addition to federal aid, Gregg Bishop, the commissioner of the New York City Department of Small Business Services, announced that the city will offer interest-free loans of up to $75,000 to businesses with fewer than 100 employees that can prove a 25 percent decrease in sales. The city is offering grants up to $6,000 to retain employees for two months; but only for very small businesses, with fewer than five employees.
Most workers interviewed, though, hadn't even heard of the city's proposals, and their employers were skeptical about any help from Washington coming in time. Instead, they remain deeply concerned about their livelihoods and families.
In Hell's Kitchen, where white-collar workers in midtown often scoot west for lunch and dinner, the streets were near barren. At a large deli on the corner of West 52nd and Ninth Avenue, Indira Rodriguez, 26, worked the register, wearing protective gloves and a welcoming smile.
Both her husband and her brother work in restaurants, and had been asked to stay home for at least two weeks, without pay. Her sister, who she says is now at home with two babies, was also laid off for at least two weeks from a restaurant. Nobody in the extended family was offered paid time off, leaving her the only breadwinner for now, commuting every day from Queens, risking an infection she cannot afford. Ms. Rodriguez says her sister can afford enough food for her and the children "for 15, 20 days," without her normal income, but after that, "nobody knows."
A senior Democratic official said in a text that the innumerable GoFundMe pages that have sprouted up for service workers may still be necessary for a while because "it'll take some time to get to folks just because of the nature of unemployment insurance. So they'll still likely need help in the gap."
Even Gregg Bishop, commissioner of the New York City Department of Small Business Services, expects that many service businesses won't live to see the other side of this.
If estimates from economists and early evidence on the ground are right, then to lessen human suffering it looks like the Feds might have to make an open-ended fiscal commitment to make affected neighborhoods like these whole again. To offer cash to everyone in need, until everyone can walk, eat, loiter and dine outside together again, with warm sighs of relief.